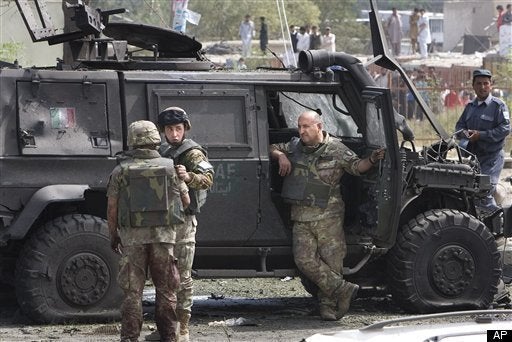 There is nothing more powerful than hearing someone speak from their heart.
That is why I was so moved by Barbara Lee's passionate speech on the floor of Congress September 14, 2001, eight years ago this week. She was the only member of Congress, in both the House and Senate, to have the courage to vote no against authorizing war in Afghanistan. Her voice shakes with emotion, but she stands her ground with strength and grace and the knowledge that she is speaking the truth that desperately needed to be heard. Hers was the only voice of compassion, of reason, during such a charged and painful time. When she said "Let us not become the evil that we deplore," she knew the quagmire that would result from such military engagement.
This week, many of us took inspiration from Barbara Lee and used our own voices to speak out against our woefully misguided war in Afghanistan. As one woman, she spoke for many of us eight years ago. This week, we each have the opportunity to follow her lead and channel the outrage and hope of everyone who wants us out of Afghanistan; each day, we flooded the blogosphere and phone lines and opinion sections of newspapers with the words that need to be heard about why we need to end our involvement in Afghanistan. If you haven't already, you can still use these tools from CODEPINK to make your voice loud and clear.
One of the best bumper stickers I've ever seen says "Speak your truth, even if your voice shakes." If you haven't ever blogged or called your Congressperson before, now is the time to do so, even if your voice shakes. It is up to us to remember Barbara Lee's brave example, her voice trembling with deeply felt conviction. We need more Barbara Lees to speak out against war. We can be those Barbara Lees, ourselves. We are the ones we've been waiting for. When we speak together from the heart, we truly can change the world.
Popular in the Community