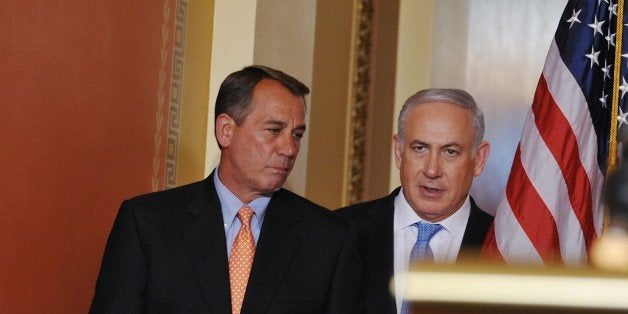 For the sake of diplomacy, peace, and respect for our ally Israel, to say nothing of stability in the Middle East, Speaker Boehner must cancel the joint session of Congress with Israeli Prime Minister Netanyahu. If he does not, I will refuse to be part of a reckless act of political grandstanding.
The Republicans may have read the Constitution on the House floor, but they don't seem to understand Article II, which vests the responsibility for foreign affairs in the president.
If the invitation was aimed to extract a better deal from Iran and protect our friend and ally Israel, then the speaker miscalculated, for it will do the opposite. If the invitation was aimed at scoring political points by undermining the administration, it's deeply troubling that the speaker is willing to undercut diplomacy in exchange for theatrics on the House floor.
The U.S. is in the midst of high-stakes diplomacy between five major powers and Iran. A joint session, organized in this manner, at this time, undermines the only way of stopping a nuclear-armed Iran: a negotiated solution. Preventing this would be not only inappropriate but extremely dangerous. Let me be clear: I would oppose such tactics by any speaker, Democrat or Republican. Leadership serious about bolstering Israel's security should be focused on using the historic, multilateral sanctions in place today that have brought Iran to the table. Sidestepping the White House in this way could easily fracture the united front America has built with Russia, China, Germany, and others.
Iran's extremists are eagerly awaiting any excuse to walk away from an agreement. If negotiations do fail to progress, it must be crystal-clear that it was Iran, not the U.S., who failed. This will be critical if we're to have the mandate needed to respond accordingly, and in a multilateral way in the future.
Netanyahu is finding this visit to be extraordinarily controversial within his own country. To schedule the joint session immediately before a national election is a dangerous and reckless precedent. I will not dignify this irresponsible joint session -- an affront to diplomacy, process, and security -- with my presence. Congress ought to heed the advice of experts. As former Israeli Ambassador to the U.S. Michael Oren recently stated when asked about the ill-timed joint session, "It's advisable to cancel the speech to Congress so as not to cause a rift with the American government."
There's still time for Speaker Boehner to reconsider his ill-advised effort. Wait until Israelis have cast their ballots, and find out if the time on the clock for negotiations runs out. I will not participate in a calculated slight from the speaker and the House leadership to attack necessary diplomacy. When nuclear security and Middle East stability hang in the balance, no member who cares about peace and Israel should participate in this effort to undercut our president.
Popular in the Community