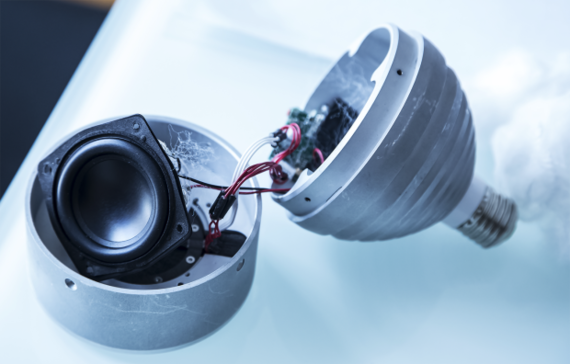 Home automation, once the wave of the future, is becoming more and more mainstream as tech giants like Google, Amazon and Samsung jump on the bandwagon in product development. Sample consumer options in this burgeoning market include the Hue Light Bulb by Philips, the Amazon Echo, which connects to the cloud, the independently funded Indiegogo development of Buddy Robot and the latest, a smart lightbulb and HD speaker in one.
LightFreq Square2, an Indiegogo project led by Devon Alli, has been hailed as "the smartest lightbulb with sex appeal," boasting 16 million colors to set the mood and tone of the room, as well as a whole house intercom system and high quality audio and streaming capabilities. Here are four ways a smart lightbulb and HD speaker device integrates your life into your style while maximizing efficiency:
Wake you up to unique and customized sound effects. Customize your morning alarm to play the music, weather alert or traffic alerts you desire. The product has a 40,000-hour lifetime and was designed with a built-in full range speaker.
Turn on and off all of your house lights. Too tired to go to every room to turn off the lights? Use Square2's switCH app to control every LightFreq product.
Talk to people in different rooms throughout your house without yelling. Your lightbulb is also an intercom! The Square2 comes with a built-in microphone and audio system, which you can use in your personal gadgets such as your watch, laptop, or smartphone.
Entertain effortlessly in your home. Square2 streams nearly all apps you use to listen to music. So if you'd like to play music when you're entertaining guests, you can take advantage of its ability to connect with all music streaming apps such as Spotify, Pandora, and iHeart Radio at the same time. You can also use the product's voice notification feature to check social media notifications.