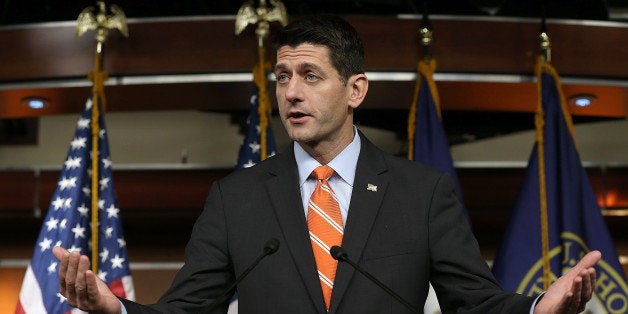 As Paul Ryan moves into his new role as Speaker, he has a lot of work to do.
Keeping Americans safe from terrorism. Protecting workers' rights. Safeguarding our natural resources. Diminishing the national debt.
These are the issues that Americans want their lawmakers to grapple with -- and indeed, that's the very same agenda House Speaker John Boehner and Senate Majority Leader Mitch McConnell planned to pursue with their newly-won control of Congress.
When they laid out those priorities in the Wall Street Journal last fall, they seemed prepared to work side-by-side with Democrats, adding that they were, "humbled by this opportunity to help struggling middle-class Americans who are clearly frustrated by an increasing lack of opportunity, the stagnation of wages, and a government that seems incapable of performing even basic tasks."
That was before an extreme flank of their caucus decided on a different course. For those individuals, defunding Planned Parenthood and restricting access to reproductive health care trumps everything else -- including operating the federal government.
Their arguments are asinine, as they plan to snatch away affordable, accessible care without offering any realistic alternative for the millions who'd be affected. Their logic is inconsistent, as you'll never find them chanting for life at a rally in support of universal background checks. And their actions jeopardized their own party's leadership.
It's no wonder that Speaker Boehner plotted his escape. And with all eyes now on the newly elected Speaker Ryan, it's worth wondering how he will handle his party's obsession with defunding Planned Parenthood.
No federal money is used for abortion except in cases of rape, incest, or the need to save the life of the mother, so defunding Planned Parenthood -- which really means keeping low-income patients from using Medicaid at their clinics -- will have little impact on abortion. It will instead have a disastrous impact on millions of women and men who turn to Planned Parenthood for basic health care: cancer screenings, birth control, and testing and treatment of sexually transmitted infections.
There will, however, be plenty of federal funds used for the pending inquisition into Planned Parenthood courtesy of House Republican's latest Select Committee. And while I'm honored to have been selected to serve on this committee as an advocate for women's health, the truth is that the Select Committee to Attack Women's Health is political theatre with no substantive purpose.
Over a dozen separate investigations have already found the core Republican claim on this issue to be false: there has been no marketing of fetal body parts and no misappropriation of taxpayer funding.
Another Committee on which I serve, the Oversight and Government Reform Committee wasn't able to turn up anything different. Chairman Jason Chaffetz, who interrogated Planned Parenthood president Cecile Richards, has even admitted that Planned Parenthood is blameless― legally and financially. "Did we find any wrongdoing? The answer was no," Chaffetz said at a recent House Judiciary hearing. When asked by CNN if he thought that Planned Parenthood had broken the law, Chaffetz replied, "No, I'm not suggesting that they broke the law."
Our country has serious problems to deal with: gun violence, income inequality, enduring racial bias in our criminal justice system, and discriminatory voting laws that target minorities and young people, to name a few. Why create another committee, or hold another single vote on a woman's right to choose when we haven't addressed the enduring unemployment affecting our middle class, or the crumbling infrastructure in every one of our districts?
As Speaker Ryan assumes his role as Speaker, I urge him to set a new course: stop letting extremists run your party, let go of the vilification of Planned Parenthood, and cancel the Select Committee. If the GOP isn't up to the task of solving the real problems our nation faces, it's time for them to follow Speaker Boehner on his way out.
REAL LIFE. REAL NEWS. REAL VOICES.
Help us tell more of the stories that matter from voices that too often remain unheard.