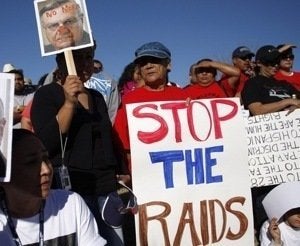 America's top religious and law enforcement leaders are taking a strong stance in favor of sensible immigration reform and it's made the anti-immigrant crowd very nervous.
In response, the Center for Immigration Studies (CIS), the anti-immigrant lobby's "think tank," released two reports, written by the same author, claiming that Los Angeles police chief William Bratton and Cardinal Theodore McCarrick, Archbishop Emeritus of Washington, don't know what they're talking about.
An offshoot of the Federation for American Immigration Reform – designated a hate group by the Southern Poverty Law Center – CIS' role is to halt the anti-immigrant movement's dwindling credibility.  They do this by releasing reports written by their "experts" to counter the views of actual auathorities in their fields.
CIS' credibility took a hit earlier this year with a report blaming immigrants for
global warming and another when CIS director Mark Krikorian
called on Supreme Court Justice Sonia Sotomayor to pronounce her name in a less ethnic-sounding way.  But the widening chasm between actual experts and the CIS peanut gallery has become almost laughable.
Let's meet one of the Center's "experts":  James R. Edwards, a principal of the MITA ("Man in the Action") Group. Despite not having a badge or a collar, Edwards is a CIS "expert" on law enforcement, the Bible and a number of other issues.
Here's how the Center for Immigration Studies and Edwards defend America's broken immigration policies:
Step One:  Law enforcement experts discuss changes to our ineffective immigration enforcement policies – July 22, 2009.
Step Two: CIS releases a report claiming to be the real law enforcement experts - October 27, 2009.
On July 22, over one hundred leading law enforcement officials gathered in Phoenix for the National Summit on Local Immigration Policies.  According to the Arizona Republic:
Police administrators were especially critical of the government's "287(g)" program, which provides for state and local police to enforce immigration law.
On October 27th, CIS released a report basically claiming that the chiefs don't know what they're talking about.  Trouble is, Edwards and Jessica Vaughn, the authors of the report, have absolutely no real law enforcement experience.
Step One: Religious leaders pray for immigration reform – September 15th, 2009.
Step Two: CIS releases a report claiming to be the real Biblical experts – October 6, 2009.
On September 15th, 2009 - Bishop John Wester of the Diocese of Salt Lake City, Bishop Prince Singh of the Episcopal Diocese of Rochester, Bishop Minerva Carcaño of the Desert SW Conference of the United Methodist Church, and Dale Schwartz of the Hebrew Immigrant Aid Society and other leaders came to the US Capitol to pray for comprehensive immigration reform, and for Congress to resist the hateful rhetoric of the anti-immigrant movement.  A similar call was made later by the National Association of Evangelicals and reflects the official positions of every major religious denomination in America.  Throughout 2009, hundreds of events on immigration reform have been organized by religious communities across the nation.
Then, on October 6th, the Center for Immigration Studies' biblical "expert," Robert Edwards, released a report essentially claiming that nearly all major religious leaders in America are misreading the bible.
CIS or the Pope?  CIS or the top cops in America?  When it comes time for a real debate on immigration reform, we don't think Congress will have to think twice about the choice.
Calling all HuffPost superfans!
Sign up for membership to become a founding member and help shape HuffPost's next chapter