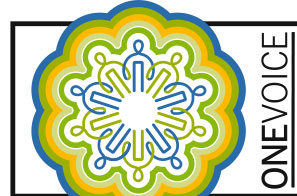 For more than a year the OneVoice Movement had planned to hold historic One Million Voices to End the Conflict Peoples' Summits. Regretfully, the Summits, originally scheduled for October 18th, were forced to be postponed after OneVoice Palestine staff and performers at the Jericho event faced threats in the weeks leading up to the events, and OneVoice could not identify means of ensuring the safety everyone involved at the Jericho Summit. The Tel Aviv Summit was cancelled in solidarity with the Jericho event. A previously published article on the Huffington Post was revised to ensure the safety of OneVoice members.However, despite the cancellation of events in the Middle East, Echo events organized by students from Ottawa to Aberdeen and Boston to Palo Alto took place.
One day in late May, I got a call from an enthusiastic student named Brian Banks whom I had met briefly after giving a presentation at American University about the OneVoice Movement.
"So I was thinking," said Brian. "You know how you asked us to support the Israelis and Palestinians in your movement by doing things here in the U.S.? Why don't we hold our own event to help launch the One Million Voices to End the Conflict campaign?"
Thus began the OneVoice Echo; international supporters, youth-led, committed to amplifying points of consensus between the majorities on both sides of the conflict and making the hope of that message resonate in their own communities. OneVoice worked with Hafsa Kanjwal at Americans for Informed Democracy to create an electronic self-starter "toolkit" for students to organize events independently, groups in Colorado, Calgary, Scotland, the Midwest, Palo Alto and Irvine took on the Echo.
This network of student activists and communities in support of conflict resolution in the Middle East was shaken when the One Million Voices People's Summits in Jericho and Tel Aviv were postponed-- but strengthened their resolve to shoulder the added responsibility of standing for those who could not gather together on October 18th.
Why "The Echo"? Because students in the international community who are part of this movement participate out of a conviction that it is not our role to tell people in a land thousands of miles away how to live their lives or resolve their crises -- we can only stand in solidarity with messages of compromise and hope that come from the grassroots. We cannot speak for them; our role is to echo.
Miriam Asnes is finishing up a year as the International Education Program Manager and Echo Coordinator for the OneVoice Movement. Miriam came to OneVoice after living for two years in the Middle East, in both Cairo as a student at CASA and in Nazareth with Women Against Violence and the Palestinian-Jewish theater group Nemashim as a fellow of the New Israel Fund/SHATIL. She holds a BA from Harvard, an MA from the University of Michigan.
Hundreds of supporters gathered on Parliament Hill in Ottawa, Canada to support OneVoice and witness the Canadian Government's acknowledgement of the importance of this movement. Representatives from the five major political parties voiced their support for the OneVoice Movement and specifically its new Canadian branch. OneVoice Canada's first major event included array of interesting speakers such as community and religious leaders, activist, peace workers, local students and Palestinian and Israeli youth. Also in attendance were the Head of the Palestinian delegation to Canada, Amin Abou Hassira, and a representative from the Israeli Embassy.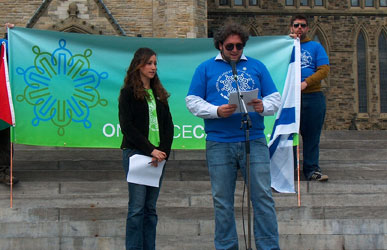 In the eyes of the OneVoice Canada team members, the event was a great success. The general public, special guests and speakers alike seemed interested and supportive of the OneVoice Movement -- many of them agreeing to sign the OneVoice Mandate and add to the growing number of signatories. Several attendees were keen to get involved locally and help spread the messages of peace and moderation, which is always encouraging to the team. Finally, OneVoice Canada announced a new website to come shortly, www.OneVoiceCanada.ca, and publicized their plans to branch out and pledged to start new OneVoice chapters in cities and on campuses across Canada over the next few years.
Joel Tietolman received a BA and an MA in Philosophy from the University of Ottawa, and is now in law school. He has served as President of the Hillel, and fouded the Local AEPi - International Jewish Men's Fraternity. Sarah Aouchiche has a Bachelors in Psychology from York University, and is currently studying law at the University of Ottawa. She has volunteered for Salam/Shalom and was also the youngest board member of the North American Muslim Foundation. Corey Balsam is studying Public Affairs and Policy Management - Human Rights Concentration, and trains intensively in the Brazilian art of Capoeira. Hanan Mukbel Studies Law and International Developement and Globalization at the University of Ottawa. Corey Shuster is a young professional who is currently studying towards a Master's in Conflict Resolution at St-Paul's University.

Washington, DC:
Dozens of students and community activists from the DC area and as far away as Pennsylvania and New York met to discuss the opportunities and challenges facing the future of the OneVoice Movement. The assembled group then listened to messages of support from several dynamic speakers, including Darya Shaikh, US Executive Director of OneVoice; Rabbi Scott Sperling, Director of the Mid-Atlantic Council of the Union for Reform Judaism; Imam Yahya Hendi, Muslim Chaplain at Georgetown University; Dr. Tamara Wittes, Senior Fellow at the Saban Center for Middle East Policy at the Brookings Institution; Seth Green, Founder of Americans for Informed Democracy; and Derrick N. Ashong, an artist, activist, and lead singer of Soulfège, an Afro-Diasporic band committed to encouraging grassroots activism through music.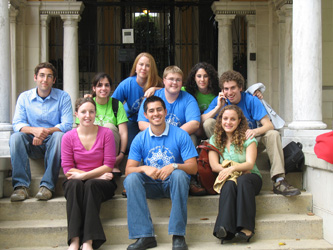 The meeting culminated with a statement expressing solidarity with and unwavering support of the brave Palestinians and Israelis who are working under very difficult circumstances to promote a fair and just resolution to the conflict. A clear and consistent majority on both sides of the conflict desires a negotiated settlement that will lead to a free, independent, and safe Palestine living alongside a free, independent, and safe Israel. Furthermore, the moderate majority in Israel and Palestine has allies around the world, including here in the United States.
This week was not the end but a new beginning. The OneVoice Movement will continue to grow and to play a role as a grassroots organization dedicated to fulfilling the will of the majorities in Palestine and in Israel.
Kareem Elbayar is a JD / MA International Affairs Candidate at the George Washington University Law School in Washington, DC. Brian Banks is a sophomore at American University majoring in International Studies. Lauren Barr is a freshman at American University, studying International Relations and Economics. Dalia Deak is a senior at the Islamic Saudi Academy in Alexandria, Virginia. All contributed to this article.
The Boston Echo event, sponsored by Students for Peace and Borderless Educations, was held at the Middle East Club and included speakers highlighting a message of hope from Israel, Palestine and Lebanon and a comedy duo "Stand up for Peace", Scott Blakeman and Dean Obeidallah. The evening also featured student and professional bands playing Arabic, Spanish, Jewish and American music, video about the OneVoice campaign, interactive peace art and art exhibits, belly dancers and Middle Eastern cuisine.
The evening was a huge success, adding members of the Boston community to the 600,000 people who have signed the mandate. We stood in solidarity with the Palestinian and Israeli people to support them in a more just, peaceful, and prosperous future for them and their future generations.
Elise Moussa is a Lebanese-American Christian Bostonian currently pursuing a Masters at Boston Colleges and is the Co-Founder of Borderless Educations and the Founder and Director of Americans for Informed Democracy Young Professionals Boston Network.
Yoni Vendriger was born and raised in Tel-Aviv. After a two-year service as a movie maker in the Israeli Defense Forces Yoni came to Boston where he founded Students for Peace. Through cultural and social events, dialogue and soon-to-launch website and news room, SFP works on promoting peace and co-existence among students of all backgrounds.