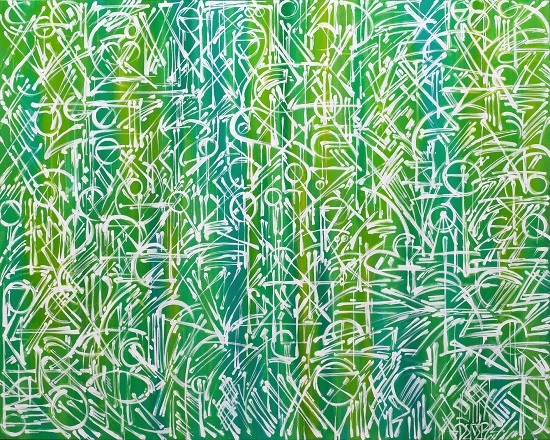 A few weeks ago, I was having lunch with Defer from K2S and we recalled the origins of graffiti in the City of Los Angeles and the first crew, the L.A. Bomb Squad, which has been rumored by the citizenry, mild scholars, and some academics to be the first graffiti crew in the city. The name itself has a touch of finesse coupled with aggression and authority that reflected the political and social climate of the day, stemming from the LAPD's bomb squad, Operation Hammer, and CRASH (Community Resources Against Street Hoodlums,) all part of the draconian policies implemented by law enforcement. It was common in those days for police to beat up graffiti writers/taggers and spray paint their faces to teach them a lesson, something he suffered as well. In the early days of Los Angeles graffiti, a lot of people added the suffix ER to their newly adopted tag/graffiti names such as Pale, which became Paler, and Alex Kizu chose the name Def because of the Def Jam hat he wore at the time. He added the -er suffix, the name Defer was spawned, and he hasn't looked back since. Defer's grassroots commitment to graffiti and lettering began with the L.A. Bomb Squad, and shortly thereafter was part of the founding of K2S (Kill 2 Succeed) in 1985 with fellow colleagues: Crime/Rick, Geo, Risco, and Prime. Having grown up in Boyle Heights surrounded by street gangs and exposed to gang culture, block letters, and cholo placasos, the trajectory of his work can be better understood through a sociological lens. The ecology of one's environment plays a pivotal influence on creativity and style, thus in Defer's case, his mastery of bold typeface is nativist to Los Angeles street culture.
One of Defer's life changing experiences was a graffiti battle in 1986 against the WCA (West Coast Artists) crew in the Belmont Tunnel. In the 1980s, the Belmont Yard was a haven for anyone interested in graffiti culture, pieces, throw-ups, or bombing in general, and the friendly and artistic rivalry taught Defer important social themes like teamwork, fraternity, cooperation, solidarity, and respect. Alex Kizu, who is of Japanese American ancestry and who's parents were relocated to internment camps during WWII, had a deep appreciation for these ideals that gave him a sense of purpose and belonging, considering the historical injustices suffered by his parents. Moreover, being part of a dominant Mexican American community that treated him as an equal provided balance and understanding and the role he was to play in society, which also helped develop his critical thinking skills. Defer came from the street, where bleak and somber experiences often sharpen your senses and force you to analyze your existence haphazardly, while simultaneously interpreting how demonized society views you. His work is dark and progressive, and it is only in retrospect that one can truly appreciate the negativity and difficulty of street culture where the gifted master takes back history and uses it as a portal to success. Typography, Asian calligraphy, lettering, font; these were all held in high-esteem by scholars and historians in ancient cultures, something reserved for nobleman. Alex 'Defer' Kizu has proved himself worthy of such a title.
After graduating from Cal State Northridge in 2011 with an arts degree, he was offered a show, Bridging Homeboy Industries, along with Fabian Debora and Juan Carlos Munoz at Otis College. I saw this exhibition and at once recognized the haunting and exhilarating rush one feels while standing before his work. Defer describes it as a deconstruction of components with an explosion of abstraction, using layer upon layer as a form of freedom and the ability to speak in tongues like a fluidity of spirit and meaning, but inaudibly. As I sat there listening to this explanation I thought about Marshall McLuhan's idea of the medium being the message and how this different form of communication completely obliterates structure and forces a change in perception. His work maintains elements of struggle, nostalgia, solitude, and reverence to negative and positive experiences. Sometimes he begins with a center piece and allows a spontaneous stream-of-consciousness with no constant pattern that serves as a form of social or political commentary. The result is a whimsical and cerebral experience for the observer that allows you to travel through a plateau of higher meaning and appreciation. Alex Kizu just wrapped up a mural at the 2014 Hawaii Pow Wow where he collaborated with other artists on a masterpiece, and his next project is in collaboration with the Getty Research Institute and the El Segundo Museum of Art for an installation related to a Los Angeles regional and artistic school of thought. Make sure to keep an eye on this phenomenal local artist who has just begun to flourish at an international level.
Photos courtesy of Defer and Bshigeta, 2014.
Popular in the Community