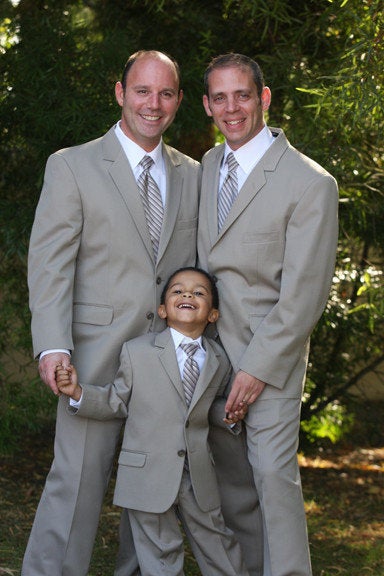 Yesterday, March 26, and today, March 27, the U.S. Supreme Court is hearing arguments in the Proposition 8 and DOMA cases, respectively. The decisions in both cases will address a common question: Should all Americans have the freedom to marry the person they love?
The children being raised by LGBT parents are in an excellent position to answer that question, and across the United States they are speaking out. The Family Equality Council and our coalition partners have filed a "Children's Voices" amicus curiae brief asking the Supreme Court to consider what these young people and their families have to say.
Jeffrey Friedman, Andrew Zwerin and their son Josh live in New York and are cited in this brief.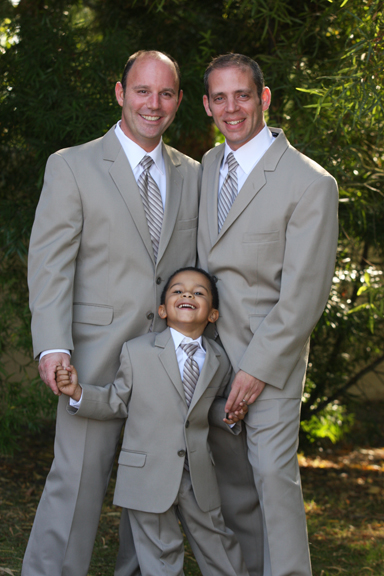 Photo courtesy of Jeff Friedman (left)
When Jeff and Andrew began dating in high school, they had to hide their relationship and who they were. They describe the world back then as "a completely different place." Now, after almost 29 years together, they are married and raising a son.
Josh is 9 years old and loves to play sports. His dads cheer him on at basketball, baseball and soccer games. On weekends the three of them like to spend time hanging out together, roller skating or visiting the bowling alley. The Friedman-Zwerin family is also involved with their Long Island synagogue and is celebrating Passover this week.
Their experiences in the community and at Josh's elementary school have been "100-percent positive," they say. When Jeff and Andrew got married in 2008, they received many "fantastic" notes of congratulation from Josh's classmates and teacher. Sometimes, Jeff recalls, having two fathers even gave Josh a bit of an advantage: "The fact that he had two dads who liked to watch football made him the coolest kid in kindergarden."
In third grade Josh was given an assignment: "Tell the class what makes you and your family special or unique." When Josh brought the prompt home, his dads immediately thought he could write about their family structure, or about being the only Jewish kid in class, or the only multiracial kid. But Josh struggled. "He genuinely couldn't think of anything to write about," says Jeff. "Josh told me, 'There's nothing special about us.' It was really a beautiful moment, to realize that after all the hard work we've done, something has sunk in." In the end Josh told his class about Judaism and being Jewish.
But because of their family structure, when Josh gets a new teacher or joins a new sports team, Jeff and Andrew make it a point to "jump in right away, introduce ourselves," they say. They want to soften any potential negativity. They're careful and proactive, says Jeff, because "my son doesn't need to feel uncomfortable."
However, there have already been incidents at school in which kids have said things to Josh like, "Everyone has a mom. How could you not have a mom?" In one instance Josh spoke with a classmate who refused to believe that he had two dads rather than a mom and a dad. So Josh asked his dad to come and talk to his classmate the next day at school. Jeff recounts, "I explained that it was true, Josh really had two dads. And this little girl just said, 'OK,' and ran off to play." Adults, though, are not all so easily accepting. Jeff believes that the best way to change people's minds is through "just living your life. When people see that is when they have the chance to gradually open their minds."
Jeff and Andrew are already teaching their son to overcome prejudice. They have made sure that "Josh understands we are trying to make things better for LGBT people," they explain. Jeff's advice to other LGBT parents would be this: "Have an open dialogue with your kids." He observes, "The more [Josh] knows, the more tools he has to cope. The more he knows, the better he can do. You want to shelter your child, tell them everything will be OK, but it won't always be. You have to be ready to face that."
Jeff, Andew and Josh were all active in New York's successful fight for marriage equality. When Josh had the opportunity to speak with several state senators in Albany, his message for them was, simply, "[My son] wants to be treated the same as any other kid." Yet when New York enacted marriage equality, it was hard to explain to a grade schooler the federal inequality still enshrined by DOMA. So for Josh, "everything's fine now," Jeff says. "He doesn't fully understand." But Jeff and Andrew feel this discrimination in many ways. For instance, they say that last year, "we paid nearly $7,000 more than if we could have just checked off 'married' on our federal tax form. That's a big deal."
And just a few bad incidents "can make you change the way you live, because you want to protect your family," they explain. While Jeff and his husband have been dealing with prejudice for decades, his concern is mainly for his child. "Andy and I can handle it," he says, "but you don't want to end up in a bad situation, because you never know the impact it will have on your son."
When Jeff had a heart attack seven years ago, the hospital told Andy that he couldn't fill out the necessary paperwork. A hospital employee said to him, in front of their 3-year-old son, that they weren't family. This left Josh upset, unsure whether they really were a family. Josh still tells the story, five years later, and Jeff and Andrew discuss the incident here. "And this," Jeff reminds me, "is when we live in a 'good state.'"
They have relatives in New Jersey, just a short drive from the Friedman-Zwerin's home in New York. However, crossing that state line means an immediate loss of protections and recognition for their family. During one trip to New Jersey, Josh had a medical emergency. Rather than immediately rushing to the hospital, Jeff had to get the folder of documents that would prove his relationship to his son. He explains, "I'm holding a kid who's barely breathing in my arms ... and I'm looking for paperwork, because I don't know if they'll treat him in a hospital without it. I had to look for things every other parent does not."
Living free of fear is not always easy. After incidents like these, Jeff feels that "we don't have the freedom to travel within the U.S. like other families." The injustice, of course, is that Jeff, Josh and Andrew are not different from any other family -- except for when they are treated as less-than-equal. "People like to stick on labels," concludes Jeff, "but in the end we're just people. Our similarities are greater than any differences."
Popular in the Community