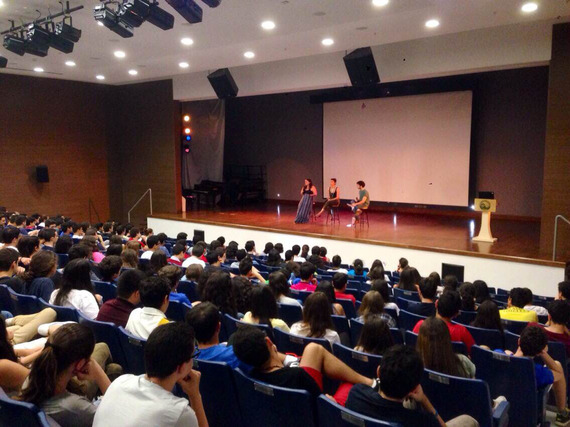 Feeling empowered by the success of our recent mental health event at the American University of Beirut, volunteers from our mental health awareness group (WA3I/وعي) spoke with hundreds of high school students this week in Beirut to help open minds and erase stigma related to mental illness. As far as we know, our event Tuesday at the International College (a high school in Beirut) was the first time in Lebanon -- and possibly the Middle East -- that a group of speakers shared their personal mental health struggles before a high school audience. It was the perfect way to mark Mental Health Awareness Month in Beirut.
From the stage, our volunteers spoke in detail about issues never discussed in Lebanon in public: suicide attempts, self-injury, hospitalization, eating disorders, alcoholism, and drug addiction. Breaking the silence around these taboos is no minor task -- some revelations were met with gasps. With bold honesty and compelling humility, these brave speakers opened a door to dialogue and understanding.
In the question-and-answer period that followed (moderated by school counselor Dana Taher Mirza), one student asked how to be a good support for a struggling friend. Another asked if medication alone can bring relief. From the audience's positive feedback after the event, we realized we're on the right track. Around the world, awareness raising sessions like ours have been shown to increase mental health literacy and favorably influence the attitudes of young people.
My inspiration for this venture came from my experience volunteering for "Ending the Silence" -- an educational program of the National Alliance on Mental Illness (NAMI). When I helped run this program in New England, we arranged for volunteers of all ages to speak about their personal struggles with mental illness at high schools throughout Rhode Island and Massachusetts. Similarly, our WA3I awareness volunteers in Beirut are reaching out to young people in Lebanon to put a human face on mental illness and eradicate the stigma associated with it. Because our first high school event was so well-received, we've already received a number of invitations to do future events just like it.
In addition to the usual pressures of growing up, young people in Lebanon are forced to contend with a host of literal and figurative triggers: ISIS gun battles on the Syrian border, deadly explosions on the Israeli border, and suicide bombers blowing up in Beirut. In addition to the current chaos of the Syrian war, young people in Lebanon also live with the legacies of the Lebanese civil war. By advocating for more acceptance of mental health care, we're trying to help those who are struggling with mental illness -- or just the difficulties of daily life -- to get the support that they need.
While on the surface our mental health awareness work in Lebanon looks like an innovation, it's more like a reclamation -- since the first mental hospitals in the world appeared in the Middle East. In the medieval cities of Baghdad, Cairo, and Fez, the earliest psychiatric hospitals treated whomever was in need of care, and set no limit on the length of a hospital stay. Treatments included medication, recreation, rest, aromatherapy, music therapy, comedy performances, and even massage with sweet musk and myrrh (and chains when needed). One 10th century medication I came across in my academic research on this all-too-often forgotten topic was named: "the key to joy from every sorrow and the gladdening of the soul" (مفتاح السرور من كلّ الهموم ومفرّح النفس).
Raising awareness about mental health is not just a regional imperative, but a global one. Mental illness affects people of all ages, and cuts through all race, class, gender, ethnic, and religious divisions. Our group alone consists of college students, graduate students, professors, and mental health professionals from a range of different backgrounds in Lebanon, Tunisia, Western Armenia, and America. In the sectarian minefield that is Lebanon, I've seen through our mental health events and my volunteer work at St. Jude's Children's Cancer Center in Beirut that coming together to confront physical and mental illness is one of the most effective and inspiring ways to transcend difference and find commonality in the vulnerability and mortality we all share.
Over the past few years, I've been saddened to see some of my students in Lebanon attempt suicide to escape their pain. I never could have imagined that I would eventually team up with them, as we've done this year in Beirut, to reach out and persuade others to get help. A constant refrain I'm now hearing from young adults in Beirut is: "We can change this -- our generation is different and more open-minded." Let's hope so -- because like so many other things in Lebanon, this too is a matter of life and death.
To learn more about WA3I, follow us on Twitter (@WA3ILebanon) and Facebook, or contact us at wa3ilebanon@gmail.com.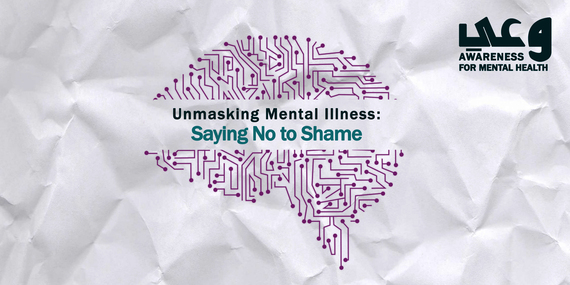 Related