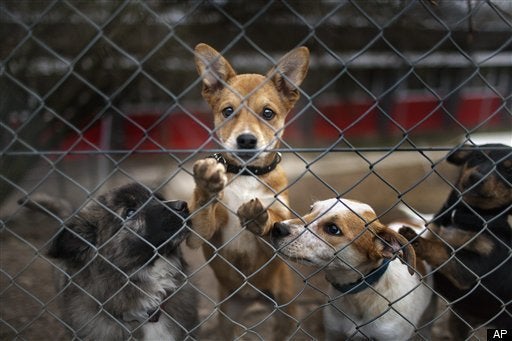 Often the most powerful weapon against animal cruelty is a telephone. This fact became all too clear last month when ASPCA investigators were called to the home of a Queens woman after neighbors reported hearing a dog crying. One of the witnesses used a cell phone to videotape the woman slamming her dog to the ground and striking him repeatedly with a snow shovel.
As a result, the woman was arrested by ASPCA agents and charged with animal cruelty. Her 11-month-old English bulldog, Spike, is being treated at the ASPCA's Bergh Memorial Animal Hospital. If this witness had not reported the cruelty, Spike may well have continued to suffer abuse -- or a much worse fate.
Sadly, Spike's case is all too common. Each year millions of animals suffer alone -- they cannot speak out against their violators. And the single instance of abuse you might witness is most likely not an isolated incident. ASPCA investigators discovered that Spike was abused repeatedly over the past few months. During his short life, the pup has sustained a hip fracture, a broken leg, three broken teeth, injuries to his ears and blindness in one eye. Though Spike's owner initially denied any wrongdoing, she admitted to the crime after being confronted with the video.

People often ask, "What can one person possibly do to make a difference?" The truth is, we wouldn't know about most instances of animal abuse without phone calls from concerned citizens who report cruelty in their neighborhoods. Last year, the ASPCA received more than 5,000 calls of suspected animal abuse. It all starts with you: You are our eyes and ears. Your involvement gives animals a voice against the abuse they cannot report themselves.
Spike's case reminds us how important it is to learn how to recognize and report crimes against animals . Reporting cruelty is always the right thing to do, and all tips are kept confidential. Cruelty involving animals in New York City should be reported to the ASPCA's Humane Law Enforcement hotline at (212) 876-7700, ext. 4450, or via email at humanel@aspca.org. Outside of New York City, you should find out who is responsible for investigating and enforcing anti-cruelty codes in your area. These people typically work for your local humane organization, animal control agency or police precinct.
Veterinarians who find potential evidence of cruelty in the course of doing their jobs should be one of the first lines of defense for an animal in trouble. Position statements by the American Veterinary Medical Association and American Animal Hospital Association both support reporting suspicions of animal abuse to the appropriate authorities. In the case of Spike, the young dog was taken to the veterinarian 12 times by his abuser's husband in the months leading up to the arrest. This evidence will undoubtedly play a key role in Spike's criminal case as it proceeds. The law in New York protects veterinarians who make good faith reports of suspected cruelty, granting them immunity from criminal and civil liability. While New York does not mandate that veterinarians make such reports, other states (such as Alabama, California, Colorado, Illinois, Minnesota, Oregon, West Virginia, just to name a few) do. New York should follow their lead, granting added protection to animals who are victims of a crime.
Spike is living proof that we all can play a part in creating more humane communities, ensuring that our four-legged friends are protected. Fighting cruelty is the heritage and the future of the ASPCA, but we don't work alone. Help spread the word and educate those around you. And, most importantly, if you see something, do something.
Ed Sayres is President and CEO of the ASPCA (American Society for the Prevention of Cruelty to Animals).
REAL LIFE. REAL NEWS. REAL VOICES.
Help us tell more of the stories that matter from voices that too often remain unheard.