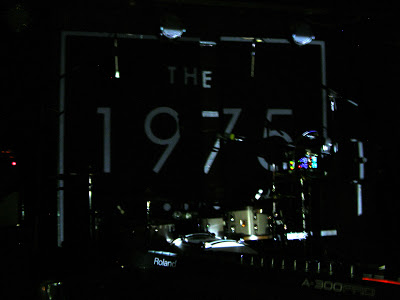 The 1975 have been one of the most talked about bands of the year, taking SXSW, music festivals around the world and critics by storm, and are soon to become household names. After four fantastic EP's, The 1975 who come from Manchester, England, released the debut album of the year, thus far. They took the best parts of their four EP's, added a few new tracks and found a record that would appeal to fans of New Order and One Direction (yes, I can't believe we just posted the both of those bands in the same sentence either), but it is true. The perfect blend of dance rock and pop hooks that proves that good pop music can be played with a guitar, and good rock can have pop/radio appeal. I spoke to singer and guitarist Matthew Healy about the bands sudden success, debut album, and hailing from Manchester.
This band formed in 2002 and has since grown to become one of the most talked about bands in England, then Europe, and now the U.S. How does this make you feel?
Amazed really. We're still the same four mates so it's quite surreal. We got so used to playing in our bands and making music purely as a pursuit of 'excellence' amongst our selves that we never really thought about being a big band. We put out our first record in August of last year, which is quite a wait if you consider the 10 years behind us, but we weren't ready until now; both as a band and individuals. The fact that people have embraced our music and seem really excited about what we are doing: it's been a really humbling experience and it's catalyzed a real spark within us. We understand who we are and we want to do a lot more than we did a year ago.
The name, The 1975, immediately makes a listener or fan understand where your influences are coming from, but who are some of your influences?
Michael Jackson, My Bloody Valentine, Peter Gabriel, Boyz II Men, Alexander O'Neal, Brian Eno -- lads of em.
How would you describe your sound to someone who has never heard of you before?
I don't think I would be able to. There is such a stark polarity in our material that it's very hard for us to be defined by one genre. We are an alternative rock band with elements of R&B, shoegaze and.... Michael Jackson?
Hailing from Manchester, England, the city has always been deep-rooted in a rich musical history from Joy Division, Stone Roses, Smiths, Oasis and so on. Do you feel an obligation to live up to the musical legacy of that city?
We don't really care to be honest. With respect. I wouldn't like to promote the assumption that all music born out of Manchester is just a tribalist yearning for past bands. It's really not, there's some really relevant music coming out of Manchester. We don't wear the 'Manc band' badge of honour. Our Geographical location has never seemed very relevant or inspiring to us. We don't really like the idea of being judged on the city we're from -- or the idea anyone being judged for that reason to be honest.
I think if you are at the forefront of a cultural revolution -- like Oasis and The Stone Roses were -- then your identity as people is as important to the whole package as the songs are, and that's really cool. But we're not those bands. We're The 1975. And we'd much prefer to create our own world as apposed to being harboured by a localized ideal.
After four EP's you are finally releasing a full length LP this year. What has that experience been like?
It was an incredible experience actually, something we had wanted to do since we were like 16. We co produced it along side Mike Crossey (Foals, Jake Bugg, Ben Howard -- a genius and good friend). We kind of fell in love with Mike, both professionally and personally. He was very delicate in the way he approached us and presented himself and his vision of what we could all achieve. He was more than aware of the uncertainty that can be presented when you depart from a certain way of thinking or in this case -- producing records, so he just made sure we understood we would be going in on a co production level. He didn't steam roll over how we do things. But once we hit the studio with him, his knowledge and technical understanding really brought the creative process to life. He just knows his shit to the ground and we've made an album that we couldn't have been close to without him.
Your music is about discovery and finding yourself. What has been the biggest thing you have learned about yourself being in this band and being a musician?
That everything we do as people, everything is in the pursuit of losing ourselves. If only for a minute.
Where does The 1975 go from here?
To every continent on the planet in the next 18 months. Except Africa. I don't know if people know us there yet. I hope they do. I would quite like to go there anyway I reckon it would be cool. I've never met and Monkey or an Elephant and its on the top of my life list.
Popular in the Community