 A federal court has approved a nearly $13 million settlement in a nationwide class-action lawsuit initiated by women who worked as exotic dancers for the Spearmint Rhino adult nightclub in Oxnard.
It took more than two years for U.S. District Court Judge Virginia Phillips to approve the settlement as lawyers tried to show that the agreement represented all the dancers' interests fairly.
Two women who danced at the Spearmint Rhino in Oxnard launched the suit: Christeen Rivera and Tracy Dawn Trauth. They claimed they were wrongly treated as independent contractors rather than employees entitled to benefits. They sought back wages, tips, attorney fees and damages.
According to the suit, the women each earned an average of $500,000 a year in tips for lap and table dances. But the dancers alleged most of the money went to the club to cover "rent," the disc jockey, stage fees, overhead costs and even penalties if they didn't get enough men to purchase drinks during a shift.
In addition to the financial hit to the 16 companies that were sued, the clubs have agreed that within six months they will no longer treat dancers as independent contractors or lessees, but as employees, shareholders, partners or some type of owner. In California specifically, dancers will no longer be charged stage fees.
As part of the settlement, lawyers on both sides agreed to not speak to the media for six months.
Rivera and Trauth were eventually joined by 12 other Spearmint Rhino dancers who agreed to be named as class representatives in the lawsuit. Each of them will get an "incentive award" of $1,000 to $15,000 for the time they spent on the case and the personal and professional risk they took in allowing their names to be used.
The rest of the dancers' share of the $12.97 million settlement will be divvied up among an unknown number of dancers in six states who end up filing claims.
After attorney fees and incentive awards are deducted, dancers in California are entitled to 50.14 percent of the remaining amount. Dancers in Nevada will get 42.69 percent, and 7.16 percent will go to dancers in Kentucky, Idaho, Texas and Florida.
(c)2012 Ventura County Star (Camarillo, Calif.)
Distributed by MCT Information Services
Related
Before You Go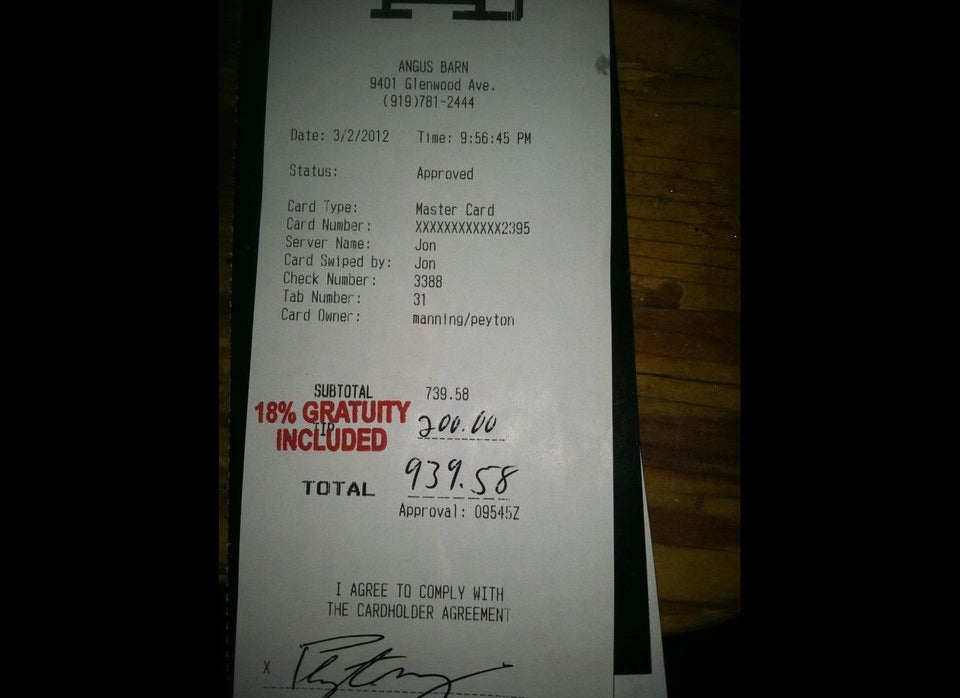 Most Outrageous Tipping Stories
Popular in the Community