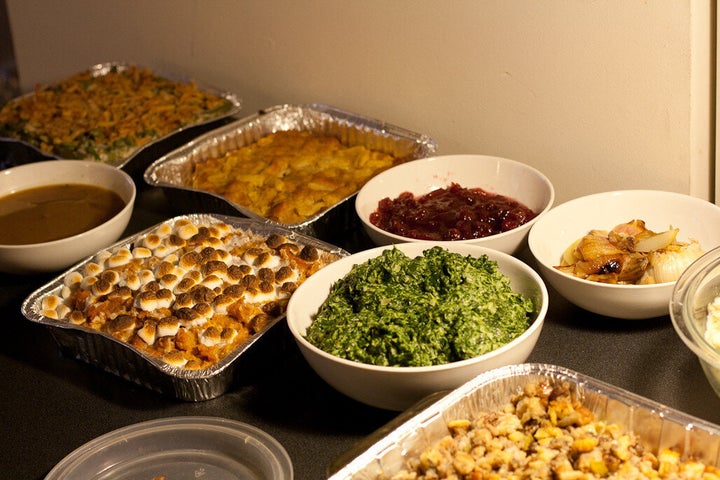 If you're hosting Thanksgiving or any holiday meal this year, you'll most likely welcome a few guests with special dietary requests. Different ones. Which could mean a lot of extra work for you (the host or hostess). Or a great excuse to get creative in the kitchen and take a few liberties with tradition.
The simplest solution is, of course, to go potluck style, ensuring everyone has at least one dish they can enjoy. But if you're up for the challenge, it's easy to keep all of the Thanksgiving favorites on the table without leaving anyone out. And by making a few adjustments to classic dishes, the kitchen will remain calm and everyone will leave stuffed.
Turkey
The Issue: Low-sodium diets
When people talk about the bird, they tend to focus on the brine: a salty solution that not only results in crave-worthy juiciness, but can also mean a huge helping of sodium per serving, depending on the brand and preparation. So while a smoked Butterball turkey with 660mg sodium per 3 ounces might be fine for most, it could be too much for grandma and grandpa and other sodium-sensitive guests. This year, to accommodate all your eaters, buy a non-plumped and non-brined turkey and make your own salt-free dry rub at home. Keep the meat moist by basting the turkey with its own roasting juices and other flavorful liquids (like citrus juice and wine). Or rub salt-free butter under the skin before cooking. And for a super low-sodium version, follow this turkey tutorial from the National Kidney Foundation.
Stuffing
The Issue: Vegan, vegetarian, gluten-free
Do your non-omnivore friends a favor and make that stuffing outside of the turkey this year. Instead of using beef or chicken stock, pump up the flavor with a homemade mushroom broth (rich with natural umami taste) and other non-traditional additions like pickled grapes or cherries. For your gluten-free friends, continue to remix the recipe by swapping out bread crumbs for cornmeal bread, wild rice, or quinoa.
Mashed Potatoes
The Issue: Lactose and dairy allergies
To make potatoes that satisfy all your guests, mash up those spuds without any dairy and then serve with mix-in options, like sour cream (for those that can eat it), chive oil, sauteed mushrooms, or a sundried tomato and chili pesto. Then guests can dress up their portions according to their preferences and needs.
Gravy
The Issue: Vegan, vegetarian, gluten-free, low-sodium, dairy-free
Turns out traditional gravies pose a lot of challenges to special-diet eaters. So to make sure everyone can pour something over their Thanksgiving plate, make two gravies: one from the turkey stock and the other using mushrooms, cranberries, or even lentils as the base of a savory dressing.
Pie
The Issue: Gluten-free, dairy-free, and nut allergies
Skip the store-bought crust and collect a bunch of mason jars. Like the mashed potatoes, give guests the power of choice and lay out all the pumpkin pie parts: crumbled crust or gluten- and nut-free granola, spiced pumpkin pie filling, cinnamon-flavored whipped cream, and candied walnuts. Then let guests fill their cups as they wish.
Related