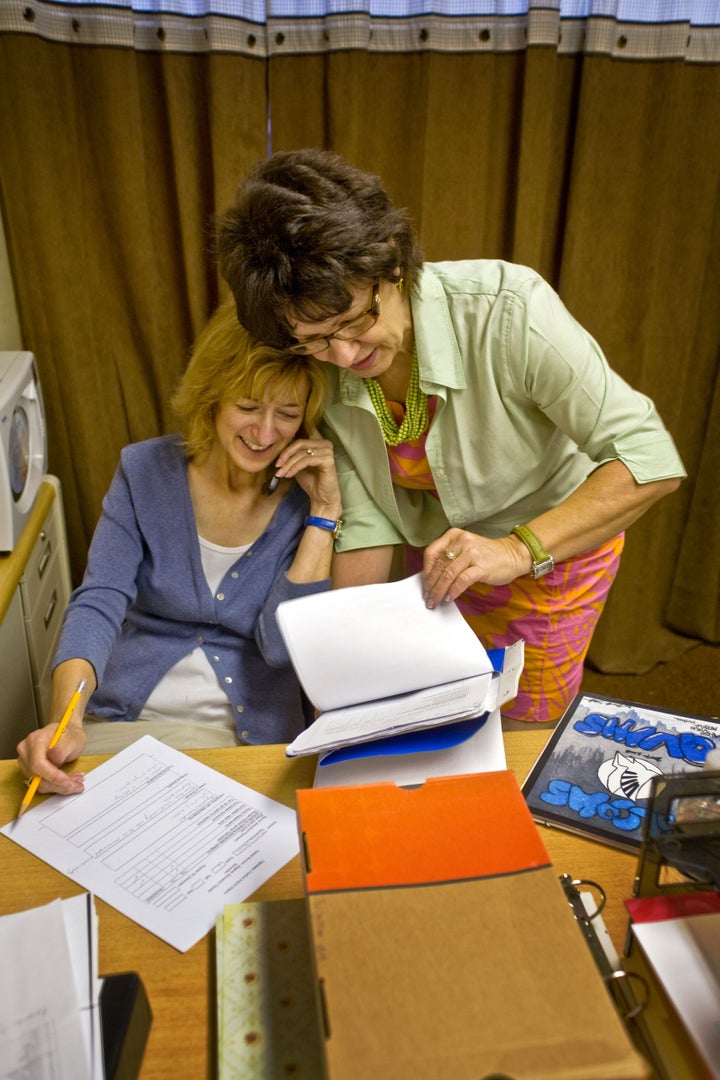 By the time Krista McGhee pulled her son from school in the Riverside Unified School District, she said the fourth-grader had taken to hiding under his desk, been bitten by his classmates and been bruised by a teacher's aide trying to restrain him. McGhee's son, who has Asperger's syndrome, had been in a special day class for emotionally disturbed children since second grade – a setting she said had devolved into "a nightmare."
Fearing for her son's safety, McGhee asked the district to hold an emergency meeting to discuss his individualized education program, a federally mandated document that guides the goals and services for each public school student who receives special education.
A program meeting requires the participation of a specific group of people, including special and general education teachers. Instead, two district officials presented McGhee and her son's father, Mark McGhee, with what the parents said was a "take it or leave it" settlement: Their son would be placed at the school they wanted, but they would waive several rights under state and federal law, including the right to request changes to his individualized program for the next 16 months and the right to file claims against the district during that time.
"I was just at my wit's end," Krista McGhee said. "I felt like a soldier with battle fatigue. … I felt backed into a corner." The McGhees signed the agreement within an hour.
The McGhees and another parent, Mojdeh Ghadiri-Asli, claim in lawsuits that Riverside Unified pressured and duped them into signing agreements that violate state and federal special education laws.
"They're sort of blindsided," said Heather McGunigle, the Inland Empire director at the Disability Rights Legal Center and an attorney for the families. "Even though they got something out of the contract, what they lost was something significantly greater, which was the right to participate, which they were not aware was going to happen."
The lawsuits – the McGhees' was filed in October, Ghadiri-Asli's last year – are pending in U.S. District Court in Riverside. Jack Clarke, an attorney for Riverside Unified, said the school district is "actively trying to resolve these matters through negotiation and discussion with the families through their legal counsel."
A practice for settling disputes
It is not illegal or even unusual for school districts and families to enter into settlements regarding special education placement and services. But the practice needs parameters to protect parents' procedural safeguards, McGunigle said.
McGunigle said she believes there are other parents at Riverside Unified with experiences similar to those of her clients. The district serves about 4,500 special education students.
"They (Riverside Unified) engage in this sort of method of administration, and they have a practice of doing this," she said.
The practice is one the district's director of special education, Tim Walker, has been criticized for in the past. In 2008, under a settlement with the Santa Monica-Malibu Unified School District, Walker resigned as the district's deputy superintendent after coming under fire for using confidential settlements in special education disputes.
Prior to Walker's resignation, the district commissioned an independent evaluation of its special education program. The report, conducted by Lou Barber and Associates and released in March 2008, found Santa Monica-Malibu, which served about 1,400 special education students annually, used settlement agreements "to a much greater extent than school districts in the region" – more than 140 over three years.
While most districts declined to disclose the number of settlements they signed, all said the agreements were used "on a very limited basis," the report said. Several districts said they'd signed no settlements for several years; others estimated using fewer than 10 to 15 during the school year. The Southwest Special Education Local Plan Area, which includes 12 Southern California districts and about 12,500 special education students, reported about 20 settlements through March of the school year.
Walker is not named as a defendant in the Riverside Unified lawsuits and did not return requests for comment. At a 2006 Santa Monica-Malibu school board meeting, he defended the practice of resolving disputes as "the least contentious level," according to The LookOut News in Santa Monica.
Rick Miller, superintendent of Riverside Unified, said he could not speak to the district's use of settlements. Miller, who joined the district in 2009, after Walker was hired, said he was not aware of the district's special education practices being different from others in the state. He added that in any kind of settlement, not just in special education, "nobody is compelled to sign anything."
In court documents, Riverside Unified said that the McGhees and Ghadiri-Asli had "considered its (the agreement's) effect" and that the settlements were "fair and enforceable."
The parents say they did not know what they were getting into when they signed.
Although the McGhees were allowed a week to review the settlement's terms, Krista McGhee said they could not afford an attorney. In the meantime, if they kept their son home, he could be considered truant and they could face steep fines, she said. If they did not sign, their son would have to return to a classroom they believed was unsafe.
Ghadiri-Asli said she was offered just a few hours to review her two-page settlement. She wanted the district to retain her daughter, who has severe language, visual and social behavior impairments, in sixth grade; the district disagreed. Officials gave her until 5 p.m. that day to sign a settlement that would keep her daughter in sixth grade but required she waive several rights for the remainder of the school year, she said.
"You don't have anybody to talk with, and you have this paper that says 'sixth grade' – and that's what I want," Ghadiri-Asli said. "The rest of the letter didn't have any meaning to me. It was a legal letter."
Ghadiri-Asli, whose native language is Farsi, said the document was difficult for her to understand. Before changes are made to a child's special education plan, districts are required by the federal Individuals with Disabilities Education Act, or IDEA, to provide prior notice and other information to parents in their native language. But Riverside Unified did not do so, Ghadiri-Asli said.
The lawsuits ask the court to award the parents' children compensatory education and services, damages, legal fees, and costs.
McGunigle also wants the lawsuits to bring about a policy change at Riverside Unified, so that parents know when they are entering into a settlement negotiation and that the terms of such agreements are clear and explicit.
Making sure parents are informed when they sign special education settlements is "just common sense," said S. James Rosenfeld, director of the Academy for IDEA Administrative Law Judges and Hearing Officers and of the Seattle University School of Law's education law programs.
"The question is, what do you have to do to assure they have to know? That raises questions about the right to legal assistance," he said. "Most families with special education problems do not have the resources to hire an attorney."
The trend toward settling special education disputes began several years ago, after two U.S. Supreme Court rulings, Rosenfeld said.
In 2005, the court ruled that the onus is on parents who disagree with a district's special education plan for their child to prove that the plan would not provide the "appropriate" education guaranteed by federal law. A year later, the court said parents who prevail in special education disputes cannot recover fees paid for expert witnesses, whom Rosenfeld said "you simply cannot win these cases without."
A formal negotiated settlement typically comes after an administrative hearing has been requested or held, or possibly as the result of mediation, Rosenfeld said. To regularly employ formal settlements at an early stage of a dispute "sounds pretty fishy," he said.
While settlements often state that prior claims are resolved, requiring parents to waive future claims against a school district, as Riverside Unified did, is concerning, said Julie Waterstone, director of the Children's Rights Clinic and an associate clinical professor of law at Southwestern Law School.
"Kids change, their needs could change, so if you're saying, 'I'm never going to raise an issue again,' you're essentially precluding them from participating in the team process," she said.
That process, Waterstone said, tends to work best "for the more sophisticated and savvy parents who are very familiar with the education system. It works for parents who have the ability to hire lawyers. It works less well for monolingual Spanish speakers and parents with limited resources."
Rosenfeld is now developing an arbitration system for special education disputes that he said would "eliminate the advantage schools have of having an attorney and parents don't." He said it would also be cheaper and faster than due process or mediation. He'd like the outcome of arbitration – which could include waiving certain rights – to be binding for the remainder of a school year.
"Assuming for the parents this is a knowledgeable waiver, fully informed," Rosenfeld said, "why shouldn't they be able to do it for a year?"
Joanna Lin is an investigative reporter for California Watch, a project of the non-profit Center for Investigative reporting. Find more California Watch stories here.