 Should students with disabilities be held to the same academic standards and tests as other kids their age?
That decades-old question is being revived by a debate in New York. Some advocates charge that a proposed tweak to the state's No Child Left Behind update may shortchange vulnerable students -- and, if approved, could spread to other states. They want these kids tested alongside their peers, so that they won't fall behind as each grade passes them by. Others, though, say tougher testing for kids with disabilities can have its own detrimental effects.
New York Education Commissioner John King has proposed allowing up to 2 percent of the state's students with "severe disabilities ineligible for the alternate assessment" to be tested at their instructional ability -- not their chronological grade year -- up to two full grade levels below a student's current grade level. The tweak would, for example, allow an 8th grader with autism to be tested on exams written for sixth graders.
"When we take students and test them two levels below their enrolled grade and say you only have to master that content, … they get trapped in a cycle of low performance that happens regardless of their own abilities," said Lindsay Jones, who heads public policy for the National Center for Learning Disabilities. "There's a group of kids who will be lost under this proposal."
The National Center for Learning Disabilities, a New York-based group that represents 500,000 parents of students with disabilities, sent New York a letter protesting the change on Thursday, arguing it would result in such students receiving less rigorous instruction. Civil rights groups are considering similar letters.
The proposed New York amendment "is both inappropriate and offensive" to nearly 400,000 students eligible for schooling under the Individuals with Disabilities Education Act, including nearly 150,000 with specific learning disabilities, the group wrote in the letter, provided to The Huffington Post. "We urge the Board of Regents to reject it." The group instead advocated "access to high standards and accurate measurement of student growth."
The group contended federal law prevents New York from making the tweak. The letter asserted that allowing "out of level" testing would "take students off track," and create a new category of students not recognized by federal law.
King's proposal comes as New York seeks to renew the waiver that allows state educators to bypass parts of the No Child Left Behind Act. After Congress failed to reauthorize No Child Left Behind, President Barack Obama and U.S. Secretary of Education Arne Duncan told states in 2011 that they could escape some of the law's strictures -- particularly those punishing schools for low raw test scores -- by agreeing to preferred policies. Those policies include teacher evaluations that take test scores into account, and a new system for setting school performance goals. New York's waiver was approved in May 2012.
In November, the U.S. Education Department told states that had already received waivers that they could ask for a one-year extension by showing how the waiver improved education outcomes. In an October 2013 letter, King outlined "smarter testing options" in proposing the new testing for students with disabilities. If the state regents adopt his proposal, King will present it to the U.S. Education Department in seeking the waiver extension by the end of February.
Advocates for students with disabilities said they hope the proposal doesn't make it that far. "If New York's request gets approved, other states will try," said Jones. "We won't really know how these students are doing. It's a way to game the system."
For years, the U.S. Education Department allowed 2 percent of students with disabilities to take a test based on lower standards. Some states, however, wound up testing up to half of all students with disabilities on this exam.
Education officials have since moved away from the practice. Testing students at lower grade levels, according to Dianne Piche, who oversees education initiatives at the Leadership Conference on Civil and Human Rights, was used decades ago in segregated schools in the South to justify teaching black students at lower levels than white students.
Over the summer, Duncan said he would seek to abolish the 2 percent rule, instead allowing only 1 percent of students with the most severe disabilities to take an alternative test.
Advocates said they worry New York is trying to bring these excoriated policies back.
"New York is not proposing to create a new separate assessment for students with disabilities, but its amendment is based on a similar theory -- separate out students with disabilities and test them on lower academic standards," the group said in the letter.
Piche called the New York proposal "regressive."
"We are resurrecting issues with racism and disabilities that we never resolved," Piche said. "For a progressive state like New York to revert to practices that were embedded by the old South is horrifying."
Instead of lowering standards, underperforming students with disabilities should be encouraged to learn at higher levels, the National Center for Learning Disabilities said. "They will be permanently behind," under the proposal, the group wrote. "To the extent that New York's students with disabilities are failing to perform at a proficient level on the state assessments in Reading and Mathematics, the response should be changes and enhancements to students' instructional programs."
Tompkins cited several letters to King's office supporting the proposal. One, from the Syracuse University Parent Advocacy Center and Mid-State Region Special Education Center, expressed "tentative support" for out-of-level testing, pending the final proposal. Amy Zogby, director of that group, wrote that testing students "so far beyond their current ability" takes a toll. "Assessing a child closer to their instructional level will provide more accurate information," she wrote.
Another letter, from Naomi Brickel project coordinator of the Hudson Valley Special Education Parent Center, expressed similar sentiments. "We are aware that students, and their parents alike, frequently become frustrated, resigned, and disheartened when required to participate in a state assessment process that is not aligned with their day to day instruction, often leading to significant angst and anxiety and even subsequent behavior issues," Brickel wrote.
Under King's proposal, test scores of students who are tested at lower grades than peers, if proficient or higher, could count toward the accountability rankings of the lower grade level. That is to say that a sixth grade student tested at fourth grade standards could count toward the state's fourth grade proficiency goals.
The National Center for Learning Disabilities called the state's desire to use out-of-level tests to satisfy testing goals "a double sucker punch and will only result in unreliable and inaccurate information."
"It's cheating the system," Jones said. "It's implying that they're going to pass a fourth grade test so the fourth grade proficiency rate will look good, but they're a sixth grader."
Before You Go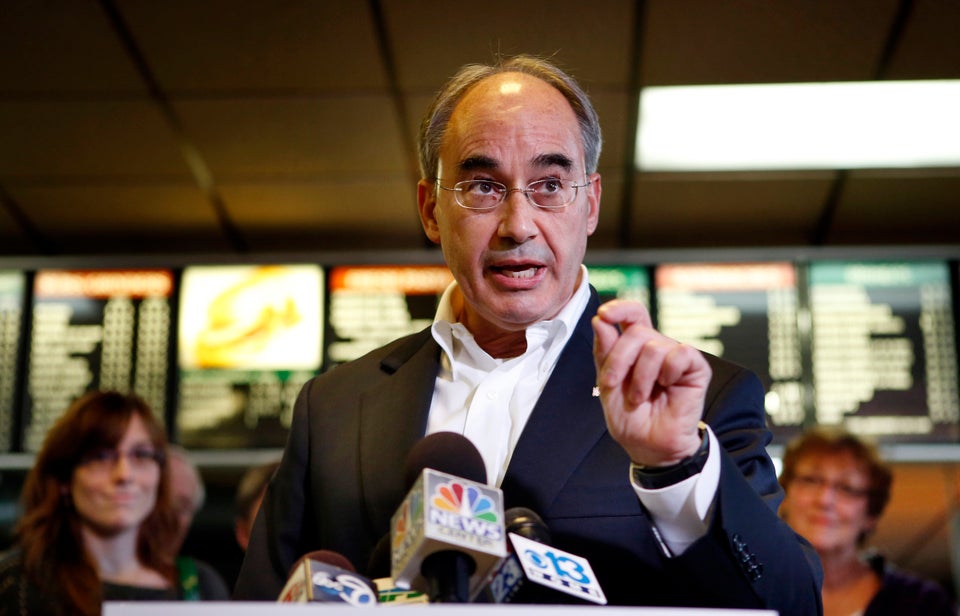 Great Political Names
Popular in the Community