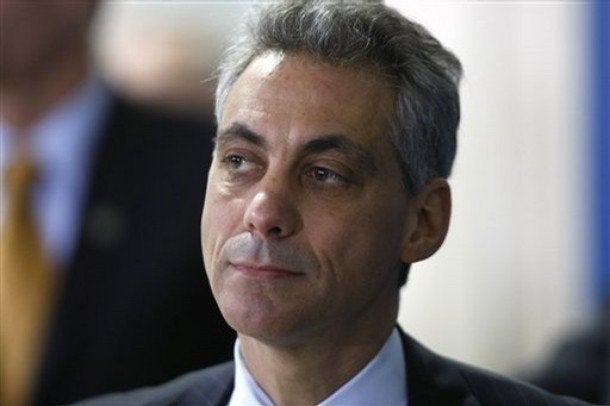 Look, if you've read my work at all, you know I don't have a lot of good things to say about lots of politicians (pardon the understatement!), and I don't spend my time shilling for anyone simply because they have a D behind their name. So I hope you take that into consideration when you read what I'm about to write:
As the Washington Post reports today, Tom is running in the March 3rd special election primary in Illinois' 5th district to replace Rahm Emanuel - one of the worst influences on Democratic politics in a generation. The idea that a lawmaker as soulless as Emanuel could be replaced with a progressive - any progressive - is an amazing thought. The idea that he could be replaced with one of the greatest living progressives in America is beyond amazing - it should make you contribute whatever you can right now.
As I said to start, I don't use phrases like "one of the greatest living progressives in America" often - if ever. But I mean it when I say it about Tom. I've written two columns about him in the last year (here and here), and if you've read any of his work, you know why I use superlatives to describe him.
At a time when progressive labor and economic advocacy was seen as "uncool," Tom was courageously articulating a progressive vision. At a time when most political lawyers were cashing in and representing huge corporations - at a time when it was the toughest to spend a career working in the legal trenches for workers - Tom chose to spend his career using his law degree to represent those workers.
Tom is, in short, a real inspiration - and he's a personal inspiration to me. Not only is he the progressive hero I've described, not only has he worked throughout his career to take on the most corrupt machines in Chicago politics, but he's also just about the best writer in the country. His writing is so good that when I read his stuff, I feel bad about my own writing - bad that my writing could be so much less than his. Read some of his writing here.
The reason his writing is so good is because he's so simultaneously brilliant, progressive and politically savvy - all skills that would make him a congressional powerhouse. As just one example, consider his idea for labor law reform - the Six Little Words. I mean, how brilliant is that? And hell, I was only describing secondhand what his idea is - you should read his writing on it, or listen to him talk about it.
As you can see from Tom's announcement speech this week, his campaign is fundamentally about the question he asked in his famous book - the haunting question of the labor movement: Which Side Are You On? Tom's on our side. That sounds like a cliche because so many hack politicians have used that kind of rhetoric - but it's actually genuinely true with Tom Geoghegan.
You can read more about Tom at his new campaign website. But after you do that I hope, as I said to start, you will make a contribution to Tom Geoghegan for Congress. Right here. Right now. This race will likely be low-turnout and low-media and it will almost certainly be decided in the Democratic primary. That means grassroots fundraising is going to be key. Please throw a few bucks his way - as a skilled grassroots activist with a solid public profile in Chicago, Tom's got a real shot at winning this thing, but grassroots fundraising is going to be key. If we had even one Tom Geoghegan in Congress, it would be a huge step forward for our movement.
Popular in the Community