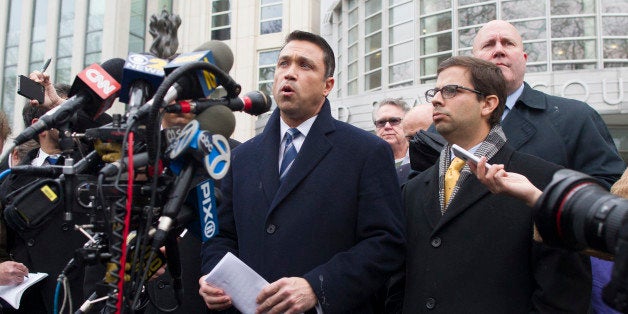 This post was co-authored with Jordan Ragusa.
Special elections would appear to be scripted for a television audience. A sitting Congressman dies in office, resigns in disgrace, or is appointed to the U.S. Senate; the governor schedules a peculiar off-cycle contest; candidates wage last minute campaigns in relative political isolation.
New York's recent special election in the 11th congressional district certainly had compelling storylines. It featured the downfall of Rep. Michael Grimm for felony tax fraud, a candidate at the center of the Eric Garner case in district attorney Daniel Donovan, and a diminutive yet aggressive city councilman in Vincent Gentile.
Despite their peculiarity and intrigue, special elections happen with considerable frequency. On average, there are 12 special elections per congressional term. In fact, special elections for U.S. House seats are also pending in Illinois and Mississippi.
But just how "special" are special elections? Not very, we argue.
As political scientists, we were motivated to study special elections in 2013 when one happened in our backyard, South Carolina's 1st congressional district. Like New York City's contest, the race to replace Congressman Tim Scott had its share of drama. The South Carolina contest pitted disgraced former governor Mark Sanford against a well-financed opponent with considerable name recognition, Elizabeth Colbert-Bush, sister of comedian Stephen Colbert.
In addition to their compelling storylines, there are other reasons to think that special elections are different than regular congressional contests. First, they feature a ballot with two non-incumbents, a rarity in contemporary American politics. And second, they exist in political solitude because they don't happen alongside 434 other congressional elections.
But while special elections generate considerable media attention and have unique features, we studied all special elections for the U.S. House between 1995 and 2014 and found that they resemble regular open-seat elections in nearly every major way. As we explain in our study, a candidate's fate in special elections mirrors that of open-seat elections and is determined by the same factors: the incumbent president's popularity at the time of the election, the candidate's political experience, the amount of money the candidate raised, and the district's partisan leanings and racial composition.
In other words, once you strip special elections of all their glitz and glam, what you see is that they look like regular congressional elections.
Even before the May 5 contest in New York, we knew from our basic statistical model that Republican candidate, Daniel Donovan, had a considerable edge. While New York's 11th district leans slightly Democratic in presidential elections, this feature was negated by Obama's low approval rating. Donovan also had a 3-1 edge in spending according to data from the Federal Elections Commission and is further advantaged by the fact that 75 percent of the 11th district's residents are white.
Plugging these factors into our model, we estimate that Donovan would garner 58.2 percent of the vote. He received 59 percent.
Special elections often get a lot of media attention and political pundits certainly prognosticate about the meaning of the results. But don't be fooled by the political clamor, special elections are actually pretty typical contests.
Gibbs Knotts is professor and department chair of political science at the College of Charleston. Jordan Ragusa is assistant professor of political science at the College of Charleston. Their article on special elections is forthcoming in the Journal of Elections, Public Opinion, and Parties.
Calling all HuffPost superfans!
Sign up for membership to become a founding member and help shape HuffPost's next chapter