The Lovinger Theater at Lehman College in the Bronx was the host to a very unique educational experience that should be promoted and expanded to many other issues. The theater was the host to the Multicultural Music Encounter XII 2014 events.
The event that took place Saturday, June 14 focused on the Retire 21 campaign. This is a grass roots community campaign to retire Roberto Clemente's #21 from all of baseball. Something that many fans would want, but very few are involved in.
Just like many progressive and righteous causes, the people that would most benefit from them are not necessarily the ones organizing, creating the critical mass to bring about that change. This is why this particular program that the Multicultural Music Encounters promotes is so important.
Saturday's event focused on the Retire 21 campaign by providing not just a panel discussion on the topic, but followed by a classical musical experience fit for the best concert halls in the country.
The panel discussion included myself, as I am the chairperson and main catalyst for the Retire 21 campaign. I was joined by, Mr. Ruben Ríos, a retired serviceman who was also an athlete who had the opportunity to come in contact with Roberto Clemente on numerous occasions, and Mr. Robert Navarro, a Grammy Award-winning arranger and pianist who composed the score for this occasion.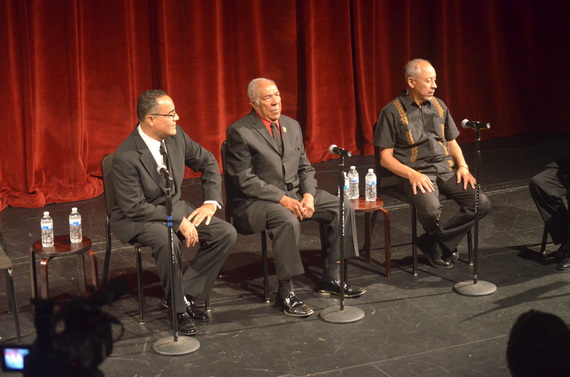 Dr. Luis Mojica, the Executive Director of the Multicultural Music Group was the Master of Ceremonies and he also served as the moderator for the panel. The panel focused on the history of the Retire 21 campaign, how it started, what is the procedure for retiring a number in baseball, and what are the obstacles retiring Clemente's number? Most of these questions were directed at me and I gave detailed information on how I got involved in this campaign. I explained that I knew what most people know about Clemente. That he was a great baseball player and that he died in a plane crash taking supplies to Nicaragua, a country suffering from a devastating earthquake. That was what I knew, until I met a senior activist from El Barrio, Mr. Willie Soto who forced me to look beyond baseball and realize that this was a matter of self-respect. After that meeting with Mr. Soto I left knowing that I had to learn more about Clemente. I research and learned that Clemente was much more than baseball. He was also an organizer, and an activist who fought against Jim Crow laws.
Clemente also supported the Civil Rights movement, he supported the Black Panther Party's breakfast program in Pittsburgh and was a great humanitarian, and the rest is history.
Mr. Ríos spoke about Clemente as a very humble superstar baseball player that never allowed his stardom to affect the way he interacted with regular people. He offered several personal anecdotes as to how Clemente related to his community.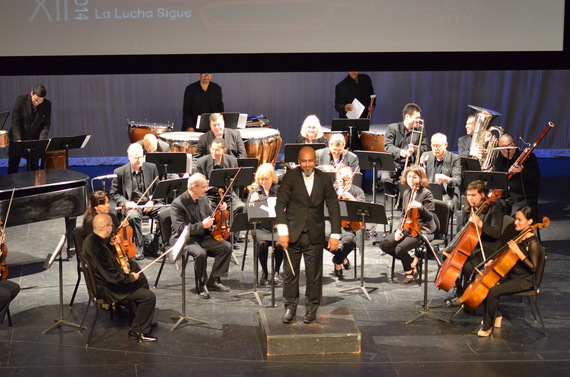 Mr. Navarro explained the task he was charged with to write the musical score for this project. "It was difficult because I wanted to feel the subject matter, I wanted to learn more about Clemente to translate that into music." He spoke about how he was able to see one of the documentaries on Clemente and learned a lot. However, he expressed that it was another movie that he saw almost as if God working in his mysterious ways by accident, he was turning the channels of his TV and came upon a movie about two young Anglo boys who did the impossible to drive from California to Pittsburgh to be there for Clemente's 3000 hit. That movie, "Chasing 3000" helped Mr. Navarro focus on the value of that number 3,000th hit and helped him to focus on that aspect for the piece he composed.
After the panel discussion, the audience of mixed, seniors, middle age and youth were treated to a lovely musical composition that had everyone on their feet when it was over. 'I'm not a classical music buff, but that piece was beautiful" was a very common comment heard my many in the lobby after the event.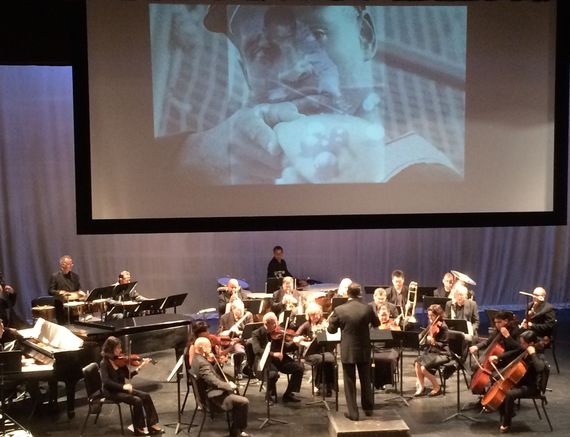 Mr. Navarro really captured the essence of the Retire 21 campaign and particularly the issue of Clemente's 3,000th hit in his musical piece. When I heard the musical performance I could almost visualize the 3,000th hit of Clemente. I always believed that there is a lot of spirituality around Roberto Clemente and the # 21 that seems to appear in all facets of his life. Just prior to going to the event I stopped at a McDonald's to buy a coffee and the number given to me on my receipt was #21."
That spirituality came across and was felt by many in this unique and wonderful musical encounter for a great cause. Everyone was reminded to help retire the number by going on line and signing the petition. And to spread the word to everyone: www.retire21.org