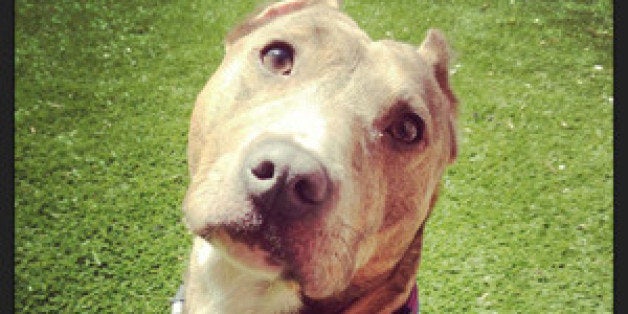 Una the dog was probably born deaf. The tilt in her walk is newer, likely from being hit in the head. Despite the congenital problems and the ones that were inflicted upon her, this young pit -- who was given up by her owners to a high-kill shelter -- is a sweet, loving dog, who is going to make a fabulous pet once someone looks past her challenges.
Each of these 52 animals has something that's making it a little harder for them to find a family: Coda the schnauzer barks when she's left alone; Chim the kitten has a neurological disorder that makes him a little wobbly (he wears an adorable cap to protect that delicate noggin).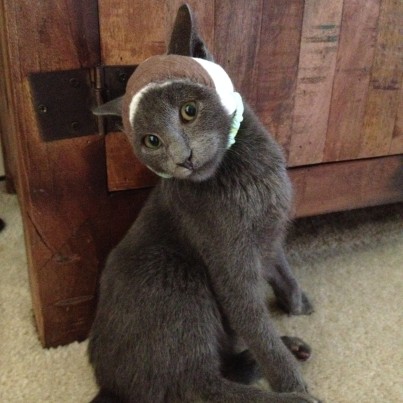 Photo credit: Karen Bean
Bring them home, and some of these guys will need you to monitor a tricky medical condition; others will need you to communicate using sign language. Every single one will repay that extra effort, and then some.
"Our goal is to educate our community on the joys and blessings special needs animals can bring to our lives," says Erika Proctor, founder of the Virginia-based group Green Dogs Unleashed, which specializes in rehabilitating and finding homes for deaf and blind dogs. "They offer the same unconditional love, happiness and giggles to their loving families... and in many cases are easier to train!"
Fluffy Gandalf the rooster -- who just had the bad luck to be born a kind of animal most people don't want to keep around -- certainly proves that true: he's already learned to walk on a harness.
Check out Gandolf, Una and all the rest of these special animals below, with descriptions provided by their shelters:
PHOTO GALLERY
Adopt These Special Needs Animals!
The adoptable animals in this slideshow come from rescue groups across the country:
Green Dogs Unleashed in Troy, Virginia; Noah's Arks Rescue, a South Carolina-based rescue specializing in helping abused animals; Best Friends Animal Society, a no-kill sanctuary in Utah; the Bryan & Amanda Bickell Foundation, a pit bull advocacy group based in Chicago; Animal Care League in Oak Park, Illinois; Recycled Pits, PAWS Chicago, ALIVE Rescue and Friends of Chicago Animal Care and Control, in Chicago; Almost Home Foundation, also in Chicago; It's A Pittie Rescue and Stardust Sanctuary, both in Illinois; the Baltimore Humane Society; Homeless Animals Rescue Team and King Street Cats, in Northern Virginia; the St. Louis Senior Dog Project; San Francisco's Family Dog Rescue; PAWS in Lynnwood, Washington and the Washington Humane Society in Washington, D.C.
We are always looking for stories about animals. Do you know a rescue group doing great work, or another rooster who walks on a harness? Get in touch at arin.greenwood@huffingtonpost.com
REAL LIFE. REAL NEWS. REAL VOICES.
Help us tell more of the stories that matter from voices that too often remain unheard.