What does a 42-year-old mother of four do when she loses her job and ends up in a homeless shelter? Not to mention that her youngest daughter has special needs and must be in stable surroundings or her well-being could be in danger.
She does not give up. She strives to to maintain stability even though her life, at the moment, is turned upside down. She keeps her hope and her head up and continues to do everything she can to take care of her family and make the best of a devastating situation. She is Adelina Mateo and this GLAM4GOOD post and video honors her incredible hard work, heart and dedication to her daughter Jazel.
Adelina lost her job due to downsizing and was forced to move into a Brooklyn shelter with her family when she could no longer afford to pay rent. Her daughter Jazel, who is 16, has been diagnosed with autism spectrum disorder. Jazel displays significant speech and language difficulties, struggles with expressing and regulating her emotions and suffers from significant unpredictable mood swings that can result in emotional outbursts. A predictable and routine environment is critical for a child like Jazel because any sudden change or uncertain situation can create anxiety that affects her well being. It is imperative that Adelina provide a secure environment for her daughter, but how do you do that in a homeless shelter? It's not easy, but that is just what Adelina Mateo accomplished.
My friends at Birch Family Services, the organization that nominated Adelina for a GLAM4GOOD day of recognition, tell me Adelina represents the strength and determination of Birch parents and parents of children with autism or developmental disabilities. Adelina's daughter Jazel goes to school at Birch, which is an incredible organization that provides education, habilitation, and residential services to people with developmental disabilities. Birch also helps families overcome the lifelong obstacles they face in raising children with special needs. "In the face of adversity, Adelina worked tirelessly to make sure her family was cared for and that Jazel continued to thrive," says Katie Joyner, Deputy Director of Development for Birch. "Adelina has spent most of her time thinking about her family and very little time focused on herself. A GLAM4GOOD day of attention will make her feel special and appreciated and allow her to take the time to celebrate the wonderful things she has accomplished for her family. Parents of children with special needs can often feel undervalued--experiences like GLAM4GOOD are an incredible way to remind them of the impact of all that they do for their children and also acknowledge their dedication to helping their child succeed in the face of obstacles."
After almost a year in the shelter and a tremendous amount of hard work, Adelina is back on her feet, grateful for the help and support she and her family received and also excited to be living in a new home. I decided that there was no better place to GLAM4GOOD and celebrate Adelina and Jazel than in the home Adelina and her family have worked so hard to establish, so my team and I headed to Brooklyn.
To kick off our GLAM4GOOD day, my friends at Lane Bryant, the most recognized name for fashionable plus-size clothing, gave Adelina and Jazel an incredible shopping spree. Adelina found some gorgeous outfits for her new job and Jazel picked out some fun, fashion-forward looks as well. Suave Professionals generously stocked Adelina's new home with a year's supply of hair care products and gave Adelina and Jazel new hair cuts and styling tips. My good friend, talented celebrity make up artist Susan Houser, treated Jazel and Adelina to a makeup session and got them ready for a party we hosted in their honor with the help of Creative Kitchen.
On our GLAM4GOOD day together, I asked Adelina what it is like to be a mother of a child with special needs. "One the hardest things," Adelina says, "is dealing with how people look at your child and always assuring them there is nothing wrong and they are safe to interact with her." Adelina also told me that she has to be aware of what is going on with her daughter and who her daughter is interacting with, requiring her constant vigilance. Adelina wants other women out there who are dealing with a special needs child to reach out for help. "We need to acknowledge first, that there is a problem with our child," says Adelina. "There is help for these children and for parents and siblings as well so that everyone can work together as a team. There is no reason to ever give up on your child's future."
I asked Adelina what was the best part of our GLAM4GOOD experience, and she told me that although she felt like a "Queen For A Day", it was the way GLAM4GOOD affected her daughter that was most special for her. "Before Jazel knew she was beautiful but was not taking care of herself enough. Now she is taking care of her hygiene better, dressing up and wanting to look good. Its given her attitude a beautiful lift up."
For the GLAM4GOOD team, it was an honor to give Adelina the recognition she deserves, to feel her happiness and watch Jazel thrive and express a tremendous amount of joy while being pampered too. We hope that this beautiful video of our day together will help shine a light on organizations like Birch Family Services so that families with special needs children know that there is help and support available. Please watch the video of our day and read the important, informative tips that Birch Family Services has given to GLAM4GOOD to share with parents everywhere.
1. BE PATIENT: Focus on the tasks at hand--therapies, academics, or activities that will help your child make gains. While it will take time, and there will be setbacks, you will see progress and greater independence over time. It's natural to focus on the future and the kind of person your child will be at 10, 15, 25, etc., but focusing on the present and your child's progress will allow you to appreciate their accomplishment more and fear the future less.

2. PICK YOUR BATTLES: If today isn't the day to have your child clean up their toys or brush their own hair, let it go. If the toys stay on the floor a bit longer or you child's hair looks messy, it's ok. Know when to insist and when to let your child be a child. Choose the battles worth fighting and you and your child will avoid unnecessary stress.

3. TAKE CARE OF YOURSELF, YOUR RELATIONSHIPS AND OTHER CHILDREN: Parents tend to put their children and family members' needs before their own, but if your needs aren't met you can't take care of others. Always take time for yourself--whether it's getting in some exercise, meeting friends for dinner, or running errands--make sure your physical, mental, and emotional needs are met and then you'll be better prepared to care for your loved ones. Having a child with autism often places stress on the other children in the household, so be sure to make time for your other children, giving them their own special moments with you.

4. FOCUS ON YOUR CHILD'S ABILITIES: Children on the spectrum are not broken or wrong, just different. Autism is a different processing system and children on the spectrum have their own distinct strengths. Focus on your child's abilities, not their deficits, and put your effort into helping your child reach their full potential. You will be amazed what they can accomplish in a supportive environment.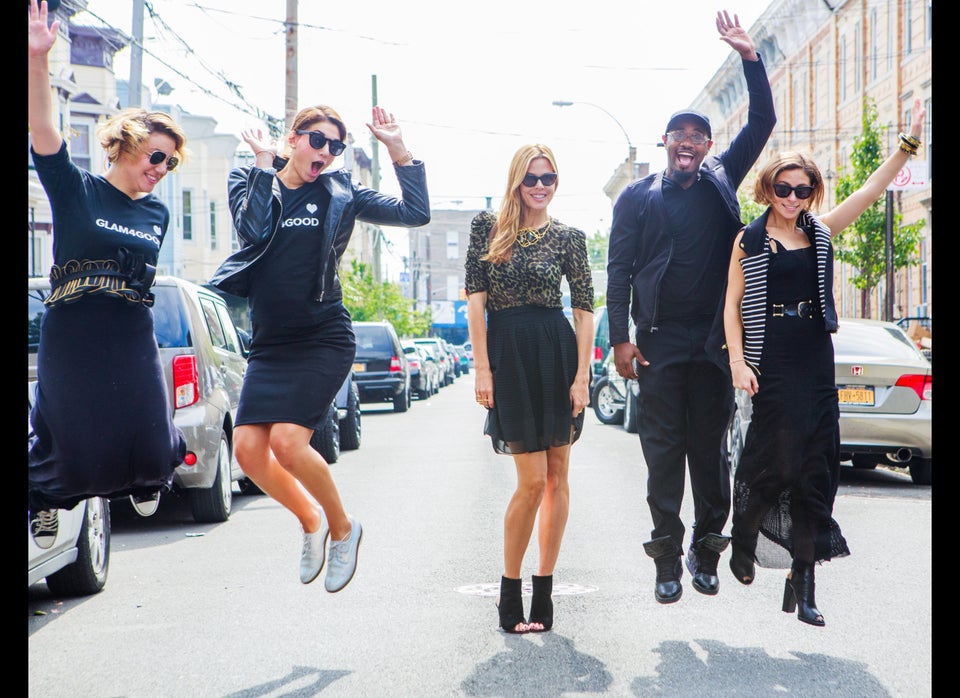 Deserving Mom & Daughter GLAM4GOOD