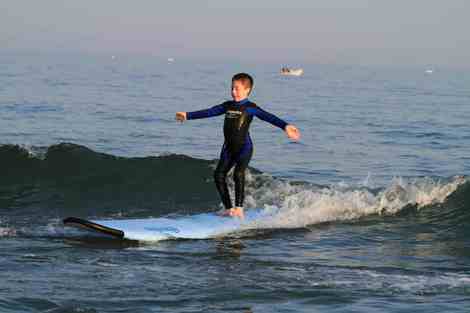 I had been surfing for less than a year when I attended my first Special Surfer Night in Kennebunk, Maine. At the time I was coming to grasps with the realities of surfing -- the sheer physicality of it and the mindset needed to face that next wave. For the past few months on the water I had felt just on the edge of being completely out of control, while all the while pretending to be totally stoked in front of my often far more skilled peers. As my time in the water progressed, I came to appreciate the humbling nature of surfing, the camaraderie that exists between surfers, and while those early mornings paddling out were still filled with a bit of fear, there was also almost always a smile plastered on my face. I was learning to let go and have fun.
When my friend Tom Gale, one of those far more experienced surfers who wants everyone to understand the joy of catching a good wave, suggested I volunteer for a Special Surfer Night of course I agreed. A night with my fellow surfers providing support for young people with special needs so they could experience an evening in the water, no way could I turn that opportunity down. Bonus, as a beginner surfer I would be paired with an experienced one to help out.
Special Surfer Nights is a free program offered on the third Tuesday of June, July and August for youths with autism spectrum disorder. The experience is an opportunity for these young people to break from their routine and focus on the joy of surfing for a couple hours. Surfing can be challenging to anyone, but with a little help from some volunteers it is doable.

Gale remembers every person he has worked with.
"Each one has some fear going into it and helping these special kids to transform that into excitement, happiness and joy is such a thrill," he said. "They show the surfing "stoke" in ways that are so honest and unfiltered. They are beaming, hugging you, just totally stoked. And you can see that their parents are touched by it all too."
Nanci Boutet , the owner of Aquaholics Surf Shop in Kennebunk, has organized these events for the past decade as a result of her friendship with Maureen Dow, a special education teacher, who works with children with autism and asked if she would take a few kids with autism spectrum disorder out for a surf class.
"We feel very fortunate to be able to offer these kids and their families a fun and enriching night of shenanigans in the water," said Boutet.
The first thing you see when arriving for a Special Surfer Night are the parked cars, some of which have surfboards bundled on top, lined up along each side of the road that runs alongside Kennebunk Beach. By one of the primary access points to the beach are pickup trucks with racks of wetsuits in the back. Once on the beach, there is the image of a couple hundred people in wetsuits with fluorescent colored wristbands - yellow designating helper volunteers (think traffic controllers close to the shore) and green for surfer volunteers (more experienced surfers who are out where the waves are breaking).
Families come from as far as Rhode Island and Massachusetts. Before long, there are 80 to 100 children in the water clambering to their knees on a board, steadying their feet, or just lying down and riding the waves. Their parents watch from the beach cheering, sometimes taking photographs.
Tim Frechette of Biddeford, Maine, is one of those proud parents. His 10-year-old son Hunter, who has Down Syndrome, has been participating in Aquaholics special surfer night for three years. Frechette said he has seen Hunter make tremendous gains and that he can now stand on a surf board on his own.
"Aquaholics has brought a new level of happiness and acceptance to my son's life," Frechette said. "These memories will bring us such joy for the rest of our lives. We can not thank Nancy and (her husband) Mark enough for their glorious generosity."
Volunteers who take part in the program also experience the benefits. "Anything that is weighing you down is gone within a few minutes of hitting the beach," said Gale. "The spirit of these kids is infectious."
Boutet aims to grow the program by raising funds to purchase additional equipment to open up registration to more families. Aquaholics supplies youths with wetsuits and surfboards for what usually amounts to a one to two hour surfing session.
For more information on the program visit the Special Surfer page of the Aquaholics website.
Image of Hunter Frechette by Tim Frechette.