Long before the concept of branding took over the field of entertainment, many performers were known as "specialty acts." Neil Simon's 1972 comedy, The Sunshine Boys, dealt with a pair of aging vaudevillians who, over the course of many years, had grown to hate each other. With CBS trying to lure them back together for one final appearance in a show celebrating the history of comedy, the two men struggle to achieve a moment of detente. A similar plot twist appeared in 1991's For The Boys (which starred Bette Midler and James Caan).
Over the years, specialty acts have ranged from classically trained musical comedians like Victor Borge and Anna Russell to escape artists like Harry Houdini and Doug Henning; from mimes like Marcel Marceau to comedians like Harpo Marx. In each case, the performer's personality and/or notoriety was directly linked to the skills he performed in public. Here is former vaudevillian Eddie Cantor performing two songs in 1923:
In the following clip, the vaudeville team of Hite, Lowe and Stanley perform one of their specialty numbers. The gimmick, of course, is that Henry Hite (who was billed as "the tallest man in the world") stood 7 feet, 6-3/4 inches high. Lowe was a midget and Stanley a man of average height. Watch them in action:
Created by Burr Tillstrom during the early days of television, the Kukla, Fran, and Ollie show was beloved far and wide. With subsidiary characters such as Madame Oglepuss (a retired opera singer), Beulah Witch, and Fletcher Rabbit, the improvised puppet show became notorious for its ad-libbing. The following clip (in which Kukla tries to sell his lemonade to a wider market) offers a prime example of what made this act adored by millions:
With the onset of talking pictures, several silent film stars saw their careers come to a crashing halt. Carol Channing became known far and wide for her comedy skit entitled "The Inside Story."
Jonathan Luskin's short play, Ecce Homo, brought some laughs and tenderness to the recent Best of PlayGround Festival. Gus (Brian Herndon) and Fanny (Holli Hornlien) portrayed a team of vaudevillians about to perform their act for the very last time. Although they've finally made it to the Palace Theatre in Times Square, it's 1932 and the Great Depression dominates the headlines.
Not only has the famous team of Lund and Lund arrived in New York City just in time to see live entertainment get replaced by moving pictures, they're also flat broke. To make matters worse, their placement in the program means that they're following a child entertainer who sings and dances with his pet duck!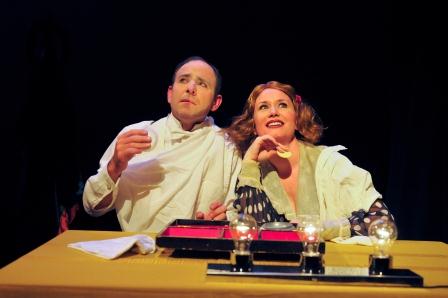 Gus (Brian Herndon) and Fanny (Holli Hornlien) in Ecce Homo
Photo by: Mellopix performance

Resistant to change, Gus is determined to get Fanny to improve the sneeze that signals her entrance. Fanny, however, has already signed a contract with a movie producer to record their act on film for posterity. While Fanny is ready, willing, and eager to embrace the future, Gus clings to the past.
As directed by Molly Noble, Ecce Homo had a tender sense of futility that deftly contrasted Gus's perfectionism with Fanny's practicality. Scheduled midway through the evening's program, it served as an dramatically effective and sweetly entertaining palate cleanser.
I did not know that ventriloquism got its start as an ancient religious practice. Nor did I know that people thought early "belly talkers" could channel the disembodied voices of dead spirits. Although several generations of ventriloquists were indeed condemned for practicing witchcraft, ventriloquism began to evolve into an art form in the early 20th century as more and more performers found a home on the vaudeville circuit.
Ventriloquism is an art form with a hidden asset. Once a person becomes an established performer, he can continue to work as long as he can get bookings and remain healthy. And let's be honest: In today's economic climate, there's something to be said for getting paid to entertain people with your hand stuck up a puppet's ass.
If there is one class of performer that qualifies as a specialty act, it is the professional ventriloquist. Folks who grew up watching Edgar Bergen perform with his dummies (Charlie McCarthy and Mortimer Snerd) -- or Shari Lewis work with her famous sock puppet (Lamb Chop) -- took those characters to heart. The following clip from one of Shari Lewis's appearances on Sesame Street easily demonstrates the appeal of a talented ventriloquist:
Mark Goffman's new documentary, Dumbstruck, goes behind the scenes to examine the challenges facing aspiring ventriloquists as well as established performers whose work may keep them at sea for months at a time as they entertain audiences aboard cruise ships. Goffman follows five of the "vents" he met at the Vent Haven Convention in Fort Mitchell, Kentucky (an annual event that draws nearly 500 ventriloquists). His subjects were:
Terry Fator: A native of Coriscana, Texas, Terry spent 22 years struggling to make it as a professional ventriloquist. After winning "America's Got Talent," he signed a $100 million contract with the Mirage Hotel in Las Vegas. Wherever he travels, his shows sell out. His show business dream has come true.
Dan Horn: A long-time professional, Dan has been entertaining audiences for nearly three decades. Because much of his work involved entertaining audiences aboard cruise ships, after 25 years of struggling to maintain a long-distance marriage his wife finally asked him for a divorce.
Kim Yeager: A native of Mansfield, Ohio, Kim has spent most of her career entertaining children with her dummies. Her mother continues to wonder when Kim will get married and give up "her puppet children." After an attempt to get a cruise ship booking falls through, Kim eventually throws in the towel and gets married.
Dylan Burdette: A shy teenager from rural Kentucky, Dylan has wanted to be a professional ventriloquist since he was five years old. His father can't understand why Dylan has chosen to create a character that is a black pimp for his dummy and worries about Dylan's height and lack of interest in more traditional father-son activities, like tossing around a football.
Wilma Swartz: A 6'5" tall woman who learned ventriloquism after her jaws had to be wired shut while she recovered from an automobile accident, Wilma is eccentric and, at one point, about to lose her home to foreclosure. Shunned by all but one of her blood relatives, she turns to the online Vent community for financial help. To celebrate her return to financial stability, Wilma performs a wedding between two of her puppets at the Vent Haven convention.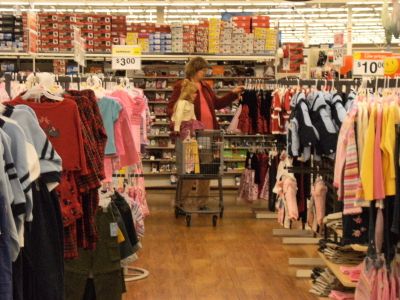 Wilma Swartz working the aisles at Wal-Mart with one of her puppets

Goffman (who has had a great deal of experience working in television) is keenly aware that he found some wonderful subjects at the Vent Haven convention. "I think we captured the most unusual year in a very unusual art form. Every character that we followed had some kind of incredible life changing experience while we were shooting."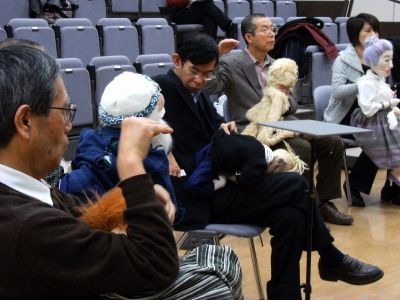 A workshop for Japanese ventriloquists

Dumbstruck includes fascinating footage of Dan Horn conducting a workshop with Japanese ventriloquists as well as Kim's naive attempt to get a cruise director to insert her act into a carefully pre-programmed show. The program notes indicate that Goffman ran into some unexpected hurdles while trying to film Kim's adventures at sea. According to the press kit:
"Shooting on the cruise ships proved quite a challenge. While their video cameras were allowed on board, their plans to shoot a documentary on the ship were not well received. The Goffmans discovered that pornographers often take advantage of cruise ships for low-budget shoots. At the time the Goffmans were trying to film a ventriloquist act onboard a cruise ship, there was rumored to be a guerrilla porn filmmaker on board shooting in one of the cabins. Kim, an aspiring cruise ship entertainer, is a former Miss Ohio runner-up and very attractive, and her voluptuous dummy Bertha, weren't helping the Goffmans' case. The cruise director threatened to leave the entire crew in The Bahamas if they didn't turn off their cameras. From that point on, filming on the ship became truly run and gun."
It would be easy to approach Dumbstruck as a documentary about the larger human freak show. But what one finds in Goffman's film is a heartwarming group of performers who have found their voice in one of the oddest performing styles. Dumbstruck gives new meaning to the old phrase "Reach out and touch someone." Here's the trailer:
As I headed down the aisle for the opening night performance of Blue Man Group at the Golden Gate Theatre, I noticed that the orchestra pit had been raised so that it was level with the main floor and outfitted with an extra two rows of seats. Most of the people in those rows were donning see-through plastic hooded raincoats that covered everything but their faces.
My first thought was: "Oh my god, they could make so much money if they advertised this as a special bukkake seating section!" Before the show started, digital signboards were used to help warm up the audience as a phantom voice asked theatregoers not to send text messages during the show because "it intimidates older people."
But as the performance progressed, I became equally fascinated with the production's heavy use of technology as by the raucous entertainment unraveling onstage and around me. What may have initially seemed like a trio of Buster Keaton-like magician/musicians clad in shiny blue greasepaint over latex skull caps has evolved into a mass-marketable phenomenon for the LED generation.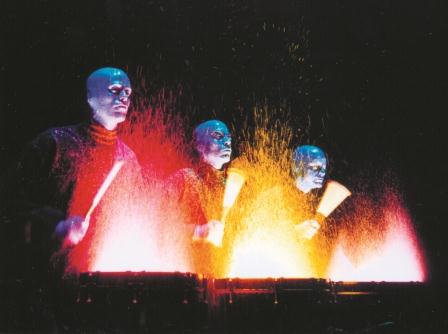 Blue Man Group (Photo by: Ken Howard)

Since 1991 (when their original show opened in New York), Blue Man Group has evolved into a powerhouse worldwide entertainment franchise (like Cirque du Soleil) with long-running anchor shows in Boston, Chicago, Las Vegas, Orlando, Tokyo, and Berlin. Blue Man Group has appeared in numerous advertising campaigns. One of their stage productions currently entertains passengers at sea aboard the Norwegian Epic.
Whether tossing Day-Glo colored marshmallows into each other's mouths, pouring phosphorescent paint onto drums in order to produce special "eruptive" effects (which are sometimes captured on a framed piece of canvas), or bringing a member of the audience onstage for an extended act of good-natured humiliation, Blue Man Group knows how to keep its audience wildly entertained.
Videography plays a key role in the show, whether a camera is being aimed at the audience or down a theatregoer's open throat (I loved how deftly the audience was tricked into viewing video from a standard esophagogastroduodenoscopy).
In the following video, Blue Man Group appears as guest artists performing their "Etude for PVC (PVC IV)" with a Japanese orchestra.
Whether interacting with giant iPad mockups or asking audiences to pay careful attention to the basic rules from their "Rock Concert Instruction Manual," Blue Man Group offers a solid 100 minutes of high-tech family entertainment. Working with Hostess Twinkies, vacuum cleaners, PVC pipe, and taiko drums, the three entertainers prove that nothing -- not even Andrew Wyeth's famous painting of Christina's World -- is sacred. The show builds to a happy climax during which huge inflated balloons equipped with programmable LEDs are pushed out from the stage into the auditorium with the audience being encouraged to get up and dance, bounce the balls around the theatre, and enjoy a grand moment of communal silliness.
Popular in the Community