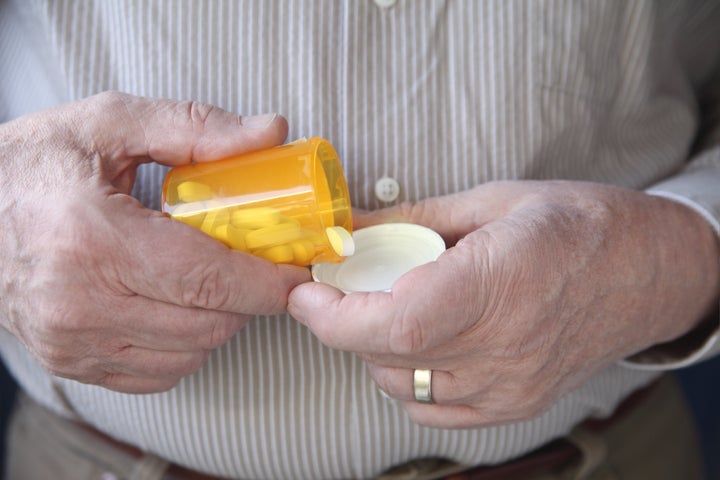 The holiday season is a time to reflect on and cherish our relationships with family, friends, and others that we interact with every day. But for thousands of HIV patients in Los Angeles, this holiday season will mean the loss of the critical relationship they have with their local specialty pharmacist.
In the last few weeks, health insurer Anthem Blue Cross began to notify thousands of HIV patients that starting January 1, they will no longer be able to receive their medication and care from their local pharmacy. Instead, they'll have to order their drugs through the mail from CuraScript, a mail-order pharmacy based in Florida and owned by Express Scripts, the nation's largest pharmacy benefit manager (PBM).
Mail-order pharmacy may sound good, but it comes at a stiff price for patients, the government, and employers who pay for the drugs. For patients that take specialty drugs (expensive medications that treat serious, chronic diseases like HIV, cancer, and hemophilia), mail order isn't just expensive, it's simply not a viable option for care. Specialty patients often have many prescriptions that treat and manage their diseases, and it's critical the drugs be taken on schedule and in the right order and are properly administered, or there can be dire consequences. For an HIV patient, waiting for another shipment when a prescription gets lost in the mail or the wrong drug is delivered isn't an option.
Not surprisingly, when mail order screws up, as it often does, the consumer must rely on her community specialty pharmacy to help out. Specialty pharmacies, the pharmacies that carry these rare, expensive drugs, build strong personal and clinical relationships with their patients, making sure that they receive the drugs they need when they need them. Most also provide a full slate of advising and counseling services to help patients and their families navigate the challenges of living with a chronic and often debilitating condition. Many specialty pharmacies also have programs to help low-income patients afford their ever rising co-pays. That's why patients lose when they are forced into mail order.
But wait -- some may say mail order will save the health plan money. But the reality is that mail order leads to tremendous waste, and the PBMs make money by dispensing as much as possible at the highest cost. Patients are frequently delivered the wrong medication or too large of a supply that they can't use, running up needless costs that get passed on to the payor of the patient's plan, which is usually their employer, and ultimately to the patient.
Even more crucial than the difference in cost for HIV patients forced into mail order is the loss of the clinical relationship they have with their pharmacists. Specialty pharmacists are experts not only at dispensing medications, but also identifying and preventing the potentially dangerous interactions between different drugs. Many HIV patients take a large number of different drugs each day just to treat their HIV, in addition to prescriptions they may have for other conditions. It's critical that they have a local pharmacist who knows their treatment regimen, their lifestyle, and their medical history, to ensure they get the care they require and that their health isn't endangered. Although progress has been made in treating HIV since its discovery three decades ago, if treated incorrectly or incompletely, HIV can drastically and quickly reduce a patient's quality of life, or worse.
To compensate for taking away access to their local pharmacy, Anthem is essentially offering to HIV patients an anonymous, uninterested voice at a 1-800 number that almost certainly won't know a patient's history and won't be able to provide remotely the same level of care as a local pharmacist. This may be nothing short of catastrophic for the thousands of patients who are affected, and is trivial and superficial compensation for disrupting a successful model of patient care for a vulnerable population.
HIV patients can't afford to have their insurance company put profits in front of their health. For most conditions, switching patients to mail-order drug delivery is just questionable corporate conduct; for HIV patients, it's a critical hazard for their health and well-being. Anthem must reverse their decision immediately. If not, California Attorney General Kamala Harris should take action to stop this effort to profit from these most vulnerable patients.
Calling all HuffPost superfans!
Sign up for membership to become a founding member and help shape HuffPost's next chapter