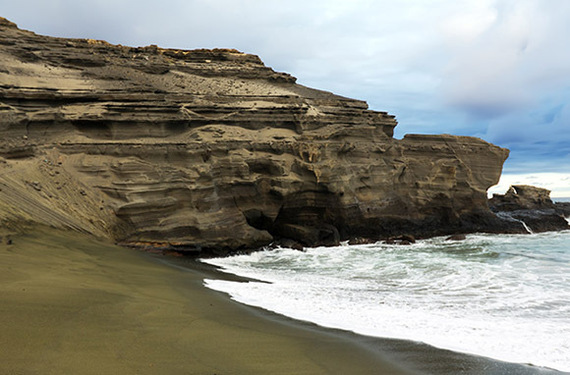 (Photo: Papakolea Beach/Shutterstock)
After a long, hard winter where everything was colored in white (and then grey, and then black) snow, you deserve some color in your life. Escape to these seven spectacularly hued beaches, where you won't believe the color of the sand.
Red: Red Sands Shore, Prince Edward Island, Canada
There's a whole lot of red to be found at the aptly named Red Sands Shore on Prince Edward Island. There are red cliffs, red clay roads, and, of course, the red sand. All make for extremely vibrant photo opportunities.
Orange: Porto Ferro, Sardinia, Italy
Limestone, volcanic deposits, and crushed shells combine to make Porto Ferro's sand a unique orange color. All of that orange is framed by a backdrop of green trees, which contrasts the color to make it pop even more.
Green: Papakolea Beach, Big Island, Hawaii

This beach's sand is actually made from a semiprecious volcanic stone called olivine. The stones are eroded and crushed by the ocean, which makes the sand this amazing green color.
Pink: Pink Sands Beach, Harbour Island, Bahamas
This Bahamian beach is pretty in pink. Pulverized red shells mix with white sand to give this beach 3.5 miles of rose-colored shoreline.
Purple: Pfeiffer Beach, Big Sur, California

Garnet and heavy minerals give this sand a deep-purple hue on parts of the beach. If you want to see the phenomenon at its most colorful, come after a heavy rain.
Black: Vik Beach, Vik, Iceland
Vik Beach's deep-black-colored sand was created by hot lava from the Katla volcano flowing into the ocean. Once the hot lava hit the cold water, the lava shattered and turned into the dark sand that you see here today.
Rainbow Beach, Queensland, Australia
See all of the colors on this list (and many more) at Rainbow Beach in Queensland, Australia. Here, erosion from the surrounding sand cliffs has resulted in as many as 72 different hues of sand. (The shades come from the cliffs' rich mineral content.)