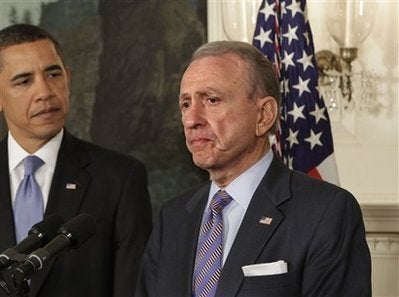 The Pennsylvania Senate Straw Poll, sponsored over the course of five days by some of the leading progressive groups in the state and nationally, shows that 85 percent of Pennsylvanians (and 86 percent of national respondents) support a movement to draft Rep. Joe Sestak to run against Specter in the upcoming primary.
"I am honored that so many of you took the time to vote in the recent grassroots Straw Poll," Sestak said in a statement. "Let me tell you, I and many others were paying attention. If I decide to run it will be in large measure because of the grassroots energy of so many people like you. Until I and my family make that decision, please accept my thanks and my best wishes as you continue be active participants in our people-powered democracy. Thank you so very much!"
The figures, while far from scientific, reflect a growing progressive lament over the likelihood that Specter will breeze through to the Democratic nomination. A poll of MoveOn.org members conducted last week showed that an identical 85 percent of respondents would consider supporting a challenge to Specter if the Senator did not back President Obama's agenda.
The early word after Specter's defection was that the primary field would be cleared for his candidacy. But polls like these could certainly prove tempting enough to compel Sestak to run.
Calling all HuffPost superfans!
Sign up for membership to become a founding member and help shape HuffPost's next chapter