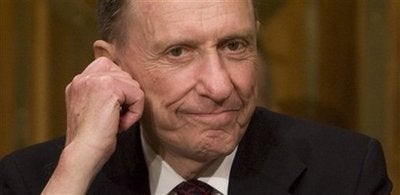 EDITOR'S NOTE: The story below includes references to polling conducted by the firm Research 2000. The reliability and accuracy of Research 2000's polling has since been called into serious question by a report published in June 2010 by a group of statistical analysts.
Just released poll numbers, commissioned by Daily Kos but conducted by the non-partisan Research 2000, don't show the type of stable backing that Sen. Arlen Specter was likely hoping for in the Pennsylvania Democratic primary.
Thirty-seven percent of Democrats interviewed in the state said they would definitely support the former Republican. While only 16 percent said they would definitely vote for someone else, the more telling figure is found when you add in the people not yet willing to fully commit. Sixty-three percent of Pennsylvania Democrats are either open to supporting another candidate, committed to voting for someone else, or considering the possibility. In short: there is room for a primary challenge.
Whether the right challenger will materialize is another question. Head to head, Specter does well against his prospective opponents.
Specter (D) 56
Joe Sestak (D) 11
Undecided 33
Specter (D) 60
Joe Torsella (D) 5
Undecided 35
But those Democrats suffer not from poor standing among Pennsylvania Democrats but a lack of state-wide name identification. Fifty-six percent of those polled had no opinion of Sestak, 85 percent had no opinion of Torsella.
And yet, in a hypothetical general election matchup all three would defeat the Republican who seems poised to get the nomination.
Specter (D) 55
Pat Toomey (R) 31
Sestak (D) 37
Toomey (R) 32
Torsella (D) 35
Toomey (R) 33
The headline of the Research 2000 poll was supposed to be that former Pennsylvania Governor Tom Ridge would have faced a steep uphill climb in the Republican primary had he entered the race. But those figures -- Ridge at 33 percent, Toomey at 41 percent -- are now moot, with Ridge saying he won't run.
Ridge himself, in an interview with radio host Michael Smerconish, said polls weren't part of his decision.
"The polls people were sending were very flattering, very optimistic," he said. "But you and I both know that's today's snapshot. And it's a competitive environment out there and what voters think today may not be what they think tomorrow depending on the kind of campaign you run. So while the polls were very appealing, I must tell you if I'd have listened to the polls way back when, I probably would have never run for Congress or governor for sure. So polls have never driven a particular decision."
Ridge seemed content with his choice, and said of Specter's party switch, "He made that personal decision. I suspect I'm more comfortable with mine now than he may be with his."
Popular in the Community