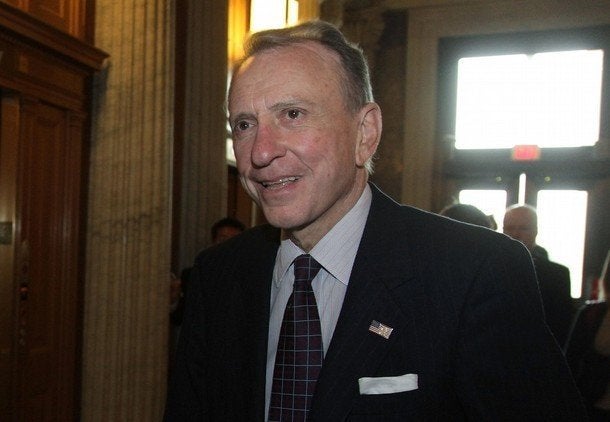 Congressional Democrats and labor officials pledged on Tuesday to push forward with the Employee Free Choice Act even as their best hope for a Republican defector, Sen. Arlen Specter, said he would oppose the legislation.
In private, union hands said they were stricken by and furious with Specter's pronouncement, pointing out that the Pennsylvania Republican had co-sponsored the legislation in 2003. One noted that Specter's main excuse -- that it was not best to consider measures that would increase unionization during a recession -- was debunked by history.
"Traditionally labor law is enacted during tough economic times," said one high-ranking official. "Look at the National Labor Relations Act that Specter himself cited," which was put into place during the Great Depression.
Angered but not deflated, these officials insisted that the EFCA debate was in no ways dead. Majority Leader Harry Reid struck the first note, telling reporters Specter "is not the only Republican who has indicated a willingness to see something done ... He's not the only suspect."
A Senate Democratic aide deeply involved in passing the legislation was slightly less defiant but similarly hopeful. "Look at it this way," said the aide. "It is not a complete set back. We are still going to move forward and we are open to compromise ... and bringing folks to the table."
Republicans, meanwhile, were downright gleeful. "This is not going to happen now," said Grover Norquist, president of Americans for Tax Reform and the man who broke the Specter news, "unless someone gets hit by a meteor or something."
Specter has certainly changed the playing field. A legislative battle that resembled trench-warfare has suddenly become far more diplomatic. Compromise on EFCA, in particular, began popping up frequently in Tuesday afternoon conversations. Specter, in the statement announcing his opposition, opened the door to supporting reform in labor law.
"In seeking more union membership and negotiating leverage, Labor has a valid point that they have suffered greatly from outsourcing of jobs to foreign countries and losses in pension and health benefits," said the Senator. "The better way to expand labor's clout in collective bargaining is through amendments to the NLRA rather than through eliminating the secret ballot and mandatory arbitration."
Meanwhile, the main Democrat leading the EFCA charge in the Senate, Iowa's Tom Harkin, showed a willingness to meet Specter on some middle ground.

"I am disappointed by Senator Specter's statement that he cannot support the Employee Free Choice Act in its current form. I do, however, welcome his recognition of the need for labor law reform. There can be no doubt that working Americans are looking to us to make the workplace a fairer, more secure place for them."
Indeed, in light of Specter's proclamation, the onus now seemed to be on finding a more palatable legislative vehicle to move the tenets of EFCA forward. But the most publicized alternative up to this point -- Democratic strategist Lanny Davis' proposal that would keep the secret ballot in place and not touch mandatory arbitration, while allowing provisions that would make it easier for some workers to organize -- was dismissed out of hand.
"That proposal made current law look like compromise," said the Democratic Senate aide.
Popular in the Community