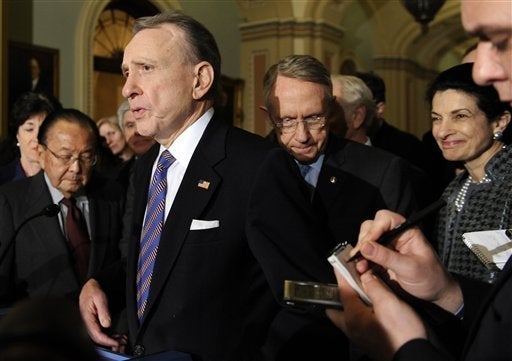 UPDATE: Senator Specter ended speculation on where he would come down on the Employee Free Choice Act by declaring, on the Senate floor, that he would oppose the legislation until the economy improves.
"The problems of a recession make this a particularly bad time to enact Employee's choice legislation," he said. "Employers understandably complain that adding a burden would result in further job losses. If efforts are unsuccessful to give labor sufficient bargaining power through amendments to the [National Labor Relations Act] then I would be willing to reconsider Employees choice legislation when the economy returns to normalcy. I am announcing my decision now because I have consulted with a very large number of interested parties on both sides and I have made up my mind."
Addressing the politics of the situation, he declared: "This announcement should end the rumor mill that I have made some deal for my political advance. I have not traded my vote in the past and I would not do so now."

Labor officials are incredibly distraught and, in some cases incredulous, noting the Specter co-sponsored the bill in 2003 and voted for cloture just last year. But while it is a setback for the legislation's chances, Democrats are not conceding defeat. According to the Huffington Post's Ryan Grim, Senate Majority Leader Harry Reid declared after Specter's speech that "He's not the only Republican who has indicated a willingness to consider something being done... He's not the only suspect."
Some big news emerged Tuesday in regards to the debate over the Employee Free Choice Act, with a prominent Republican strategist declaring that Sen. Arlen Specter will vote against cloture on and passage of the bill.
Americans for Tax Reform president Grover Norquist broke the news during a speech at the Capital Research Center Labor Summit, saying that Specter's chief of staff had let it be known that he would oppose the legislation, which would make it easier for unions to organize. Norquist's remarks were subsequently reported on the Twitter account of Larry Farnsworth -- the former Speechwriter and Deputy Press Secretary to Speaker Dennis Hastert -- and seconded by Dave Weigel of the Washington Independent.
If true, it represents a major blow for EFCA supporters. Specter was the one Senate Republican to vote for cloture when the bill came to the floor in 2007. And with 60 votes needed to avoid a filibuster, his defection presents a major parliamentary hurdle for the legislation's passage.
The Pennsylvania Republican is likely to face a major primary challenge from Club For Growth president Pat Toomey in the 2010 election, which may have factored into this apparent decision.
Said Toomey of Specter's announcement: "It's nice to see Sen. Specter reverse his position in a positive direction on card check, but I wish it didn't take primary opposition to get him to do it."
On the other side of the political coin, several unions had let it be known that they would have put their political muscle behind the Senator had he voted to support EFCA.
According to an attendee at the CRC Labor Summit, Norquist "was giving a speech at lunch time" when he told the crowd: 'By the way I have breaking news. When I was eating lunch I got a call from Specter's Chief of Staff saying he was voting against cloture.' [The Chief of Staff] had apparently read a prepared statement to Grover over the phone and the Senator's office will apparently be releasing that statement later today."
A call and email to Americans for Tax Reform were not immediately returned.
Sen. Specter has confirmed to Americans for Tax Reform that he will vote against both cloture and passage on the Employee Free Choice Act
Labor officials, meanwhile, are nervous about the development, though one cautioned that this could be another example of "Norquist overreaching."

Popular in the Community