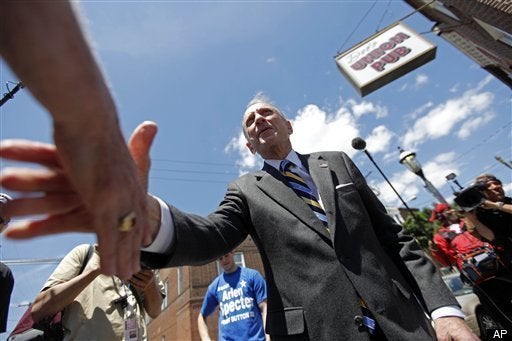 With Sen. Arlen Specter (D-Penn.) positioned to potentially lose his first election in more than 40 years, he is drawing parallels to another Senate Democratic aspirant who stumbled dearly as the vote neared.
Specter, of course, is a far different figure than Martha Coakley, the Massachusetts Attorney General who lost what once seemed to be a sure thing to Sen. Scott Brown (R-Mass.) in January. He's spent his career in Congress whereas Coakley never stepped foot in elected federal office. His shortcomings have more to do with incumbency and a party switch. Her drawbacks were a bland personality and a seeming indifference to the act of campaigning itself. His campaign is in a Democratic primary. Hers was for a special election.
"It's apples to oranges," said Chris Nicholos, Specter's campaign manager. "We didn't have any stumbles, we all knew the race would become close once Congressman Sestak spent his money. Coakley was a special election. Ours is not. So I would say it is an apples and oranges thing."
But if Specter comes up short on Tuesday, the trajectories of the two figures will be remarkably similar: a large lead in the polls squandered in the closing weeks; a campaign that seemed late to react to its diminishing position; and a final plea for help from endorsers that could prove too little, too late.
"The comparison is fairer in the sense that Specter like Coakely, as an advantaged Democratic candidate, underestimated his opponent, relying on the establishment to overcome an impatient and frustrated electorate that is ready and willing to support a reasonable alternative," said Gary Ritterstein, a former Sestak staffer and Democratic political consultant with the firm Tru Blu Politics. "Where they are different is that Specter had the early establishment support and failed to capitalize while the establishment dragged its feet with Coakely until it was too late."
On Monday, Quinnipiac University released its final poll for the Pennsylvania Democratic primary. In it, Rep. Joe Sestak (D-Penn.) led Specter by the slimmest of margins: 42 to 41 percent. Months ago, such a result would have been unimaginable. Specter was coasting (Coakley-like) towards winning the Democratic nomination, having become an staunchly liberal voice in the Senate following his party switch in the spring of 2009.
And then, with weeks remaining, the landscape abruptly changed. Sestak, as Terry Madonna, director of the Franklin & Marshall College Center for Politics and Public Affairs noted, wisely "husbanded" his money till the end of the campaign, turning the election "into a five-week process rather than a twelve-week process." An ad recalling George W. Bush's endorsement of Specter proved particularly effective. But it would be trite to credit the turnaround to an ad alone.
Senior operatives in the state marvel at the groundwork Sestak put into running for office. The congressman is rumored to run a tight ship, demanding that staffers come in early, dressed in business attire no matter the occasion -- all for a wage level that, for some, was less than the minimum requirement. It was an ethos seemingly inherited from Sestak's days in the Navy. But it also caused an uncommonly high rate of staff turnover.
The diligence, in the end, has been vindicated by results. The congressman visited all 67 counties in the state in the course of hosting 500 separate campaign events -- a rather Herculean effort considering just how wide a terrain had to be covered. He now has ten offices statewide and more than 5,000 volunteers, according to Jonathon Dworkin, the communication's director for the Sestak campaign.
He's also had to essentially build a statewide voter database from scratch. "Congressman Sestak has had to find supporters, tell them when to vote, express a sense of urgency, identify those people and following through," said Ritterstein. "For Joe Sestak, it has not just been about raisin his name ID. It's about persuading people to vote for him and not his opponent and then turning him out... he's had to make all those contacts with voters for the first time."
Whether Sestak can turn those contacts and his army of volunteers into an effective ground game will mark the difference between pulling off a Scott Brown-like upset or falling tantalizingly short. Pennsylvania politics represents a weird amalgam of interests, constituencies, and media markets. Finding a winning formula to appeal to voters (even just within one party) across one state is often a difficult task. The fact that Arlen Specter has run and won five statewide races to this point may prove to be his saving grace.
"There are two things in there," said Chris Bravacos, a longtime Republican strategist in the state who now heads the firm Bravo Group. "One is, certainly Arlen has won every race since 1980. He lost two races before that. So if there is anyone who understands field operations and what it takes to close, it's him. The open question is: can he do that effectively in a Democratic primary?"
As Bravacos notes, the institutional advantages for the Get Out The Vote (GOTV) campaign all seem to be in Specter's favor. The senator has the endorsement of many of the key lawmakers in the state as well as the major unions. While he has spent his entire career on the Republican side of the aisle, his intrinsic understanding of the politics of the state have provided him with crossover appeal. It is all but assured that he will win the populous Democratic enclaves in Harrisburg and Philadelphia. The question is by how much.
"Arlen will win the city and win it convincingly," said Madonna. "That's his base. He has lived there. He was the District Attorney there. That's his home. Sestak has only been there since 2006. Arlen has friends. He's done favors. He knows every politician there... My question is not whether he will win it but by how much"
There are other questions as well. Can Specter translate his well-tuned GOTV approach to a Democratic setting after years of running as a Republican? One top D.C. operative said that he was not "terribly impressed with Specter's ground game operation" days before the vote was held. "It is not the Cadillac of plans." And while Madonna notes that Specter's supporters have been "awakened" by his late drop in the polls, external but related factors could overwhelm the newfound sense of urgency. Chief among those factors is the anti-incumbent mood sweeping elections beyond Pennsylvania.
"It may be taking over everything else," said Madonna.
Specter's campaign, naturally, touted the "depth and breadth" of its ground game operation. "It will far surpass that of Congressman Sestak, given the fact that we are using the folks who have endorsed us during the campaign [to help get out the vote]," said Nicholos. "I don't know what size of operation Mr. Sestak will have."
The Sestak camp, likewise, struck a positive tone with respect to their GOTV operations.
"Obviously, Senator Specter has run a lot of statewide campaigns and Congressman Sestak is running his first statewide campaign," said Dworkin. "But if you look at the organization we have put out: last July he was going to every county in Pennsylvania... I think it shows very well that we are well-positioned and prepared to have that kind of statewide operation needed. We aren't worried about it at all. If that was the case, you wouldn't have had the surge from the congressman."

Popular in the Community