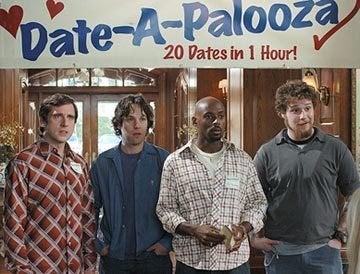 Guys! Tired of ending up on tedious dates with women who wear a size 8 or up? Want to meet the skinny woman of your dreams? If you're willing to spend $40, I know just the place! 21 Waverly Place, actually, at Murphy and Gonzales. Tonight, at 7:30, at an event from OnSpeedDating.com.
The event description reads:
Date women size 0-8.

"We all have relationship 'deal-breakers', and that does not make us shallow, we're just single New Yorkers that know what we want and are attracted to. Obviously there is more to it than just height or size, but for many of us that initial "attraction" factor is at least a starting point.

According to the National Center for Health Statistics, the average clothing size for adult women in the United States is a 14, making our upcoming "Skinny Minny" night for svelte women size 0-8 anything but average. Guys, no need to worry about meeting a biggie-size chick "down-sizing" to an 8 like when you're dating online. We'll be checking labels at the door!

(Here's the full the event page)
Checking labels at the door. I'm trying to imagine that right now. A giant bouncer dude with huge biceps, checking your pants size. Fun.
Since online dating and meet-up groups got popular, they have become increasingly specialized, with an emphasis on "find YOUR kind of person, because you already know what you want!" There are sites for bookworms, for people who read certain blogs, for physically handicapped people, for Jews, for conservative Christians and people who like their toast only lightly crisped. OK, I made that last one up. There is speed-dating for men who want to meet women of below-average weight. I wish I could say I made that up.
So for all you NYC women who were worried about selecting the "curvy" option on OKCupid's describe-your-body section and who have fretted over whether or not guys in this city prefer their women catwalk thin -- there's hope! The hope is that they'll go to this speed-dating event and get off your dating site.
Everyone is entitled to their preferences. It's very uncool to judge anyone for preferring anything, actually. So I'll close with a single word, open to interpretation: Wow.
Popular in the Community