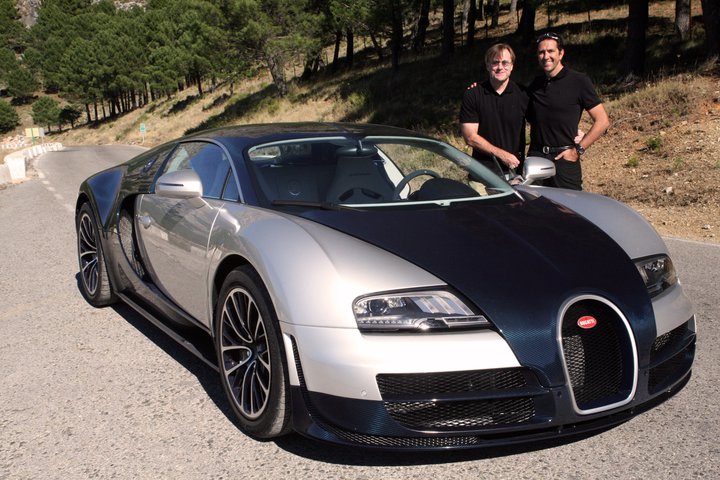 There's crazy and there's nuts.
After months of planning, last year I traveled to Wolfsburg, Germany, and the secretive Ehra-Lessien track to test the 1,001-hp Bugatti Veyron. During the nail-biting excursion, I managed to hit an astonishing 407.5 kph (253.2 mph) on the 21-km oval, a record for journalists, then quickly got out of dodge to tell the tale ("Strap in and Hunker Down," July 2009 Automobile magazine). To this day, the drive stands as one of my riskiest adventures. Traveling the length of a football field and a quarter per second leaves little room for error, and an error at that speed would have been fatal.
Fast-forward a year. Wouldn't you know it: Bugatti develops an even faster version of the Veyron, the Super Sport, adding another 200 hp. Pierre-Henri Raphanel ran the beast full throttle at Wolfsburg this past June, setting a new world record for production cars of 431 kph (268 mph). He said it was the scariest thing he's done, and he has raced in Formula 1.
When I read the news, I was disappointed (no longer had I driven the world's fastest car at top speed) but hopeful (maybe I could take this new one even faster). When an invite from Bugatti arrived, enticing me to Spain, my heart jumped. The good news: I'd be able to test the car, which retails for a cool $2.7 million; the bad, I would be allowed only on public roads -- not on a track -- so top speed was out of the question. Still, it's a once-in-a-lifetime experience to get behind the wheel of a machine like this, so I gave Bugatti the thumb's up and set a personal goal of 322 kph (200 mph), respectable by any standard.
Over three weeks in October, Bugatti brought 30 of the world's leading auto journalists to Sevilla for tests. I was in the last group, on the last day. We had gathered at the beautiful Hotel Cortijo Soto Real. Each journalist was given a half-day to drive the car, with one of Bugatti's test drivers in the passenger seat, the theory being that the pros would discourage us from driving too wildly. We were also cautioned that since the roads are public, police would be patrolling. Unofficially cops would look the other way, but not always. Fines for speeding would be 100 euros for every 10 kph above the speed limit. And, if we were clocked going too fast, jail was possible.
As luck would have it, my test day dawned sunny and dry. I would be paired with Loris Bicocchi for the first leg, which included winding up a tight road in the Sierra Margarita mountains. Raphanel, the world record holder, would be my companion on the return drive. He had been coach for my 407.5 kph run in Wolfsburg last year, and was comfortable with my desire to give the newer Veyron a real pedal-to-the-metal test.
I took it easy with the car until the end of the session, when Raphanel brought me to the high speed area. He cautioned that only a few journalists had managed 300 kph, and none had gone above 310. My desired 322 would be pushing the limits. When I saw the road, immediately I understood why. It is a fairly short stretch -- maybe 2.5 km -- with just two lanes going downhill and over a bridge, with a fairly sharp left-hander at the end.
In a normal supercar, this would be ridiculously insufficient. But the new Bugatti, with 1,200 hp, accelerates from 0-300 kph in 15 seconds! If there were any traffic at all, of course, I would back off. The speed limit on that stretch is 90 kph, and closing on another car at 300 kph would be dangerously quick.
After a thorough check for traffic, I flew over the hilltop at 150 kph, as instructed by Raphanel, then hammered the throttle. The thing took off like well, a pent-up Doberman. I was concentrating too hard to look at the speedometer, so Raphanel called out speed in 5-kph increments: 295, 300, 305, 310... 315. In no time, I was on the bridge and the pavement was running out. I jumped off the gas at the last possible nanosecond, then broke hard for the left-hander. Did I make my 322 kph? Raphanel said no; we had hit 318 kph (197.61 mph), 4 kph short.
Back at the Soto Real, we celebrated anyway. While I had missed my personal goal, I did get the record for journalists. And 318 kph in this newer, faster Veyron on a smallish road is a lot more difficult than 407.5 kph in the older model on a big, empty track -- and a lot more dangerous. All that said, I would never try it again.