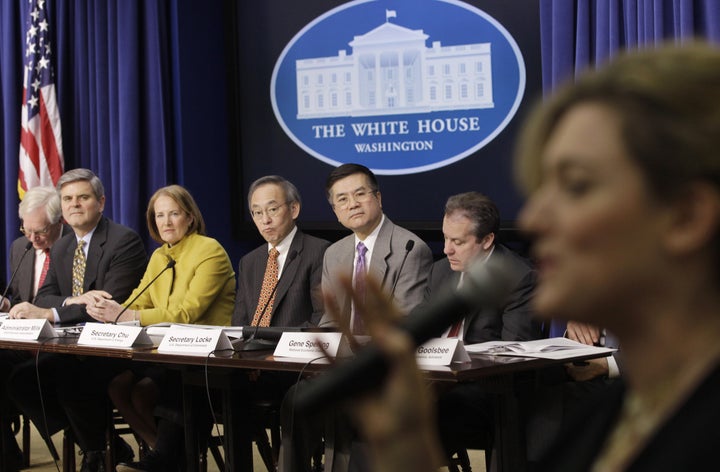 Earlier today we had the honor of attending the White House launch of "Startup America," a national campaign designed in the spirit of President Obama's statement this past weekend that "America will win the future by out-innovating, out-educating, and out-building our competitors."

We applaud the president's new focus on entrepreneurship and innovation, and support his efforts to inspire American businesses and thought leaders to mobilize in partnerships for purpose. We are both ready to do our part, and hope that you are too. In fact, go to the Startup America Partnership website and tell us more about how you can help!

The White House is doing its best to make things happen when it comes to partnering with and inspiring the business community to engage in initiatives to rekindle the proud legacy of American leadership in innovation. Today, everyone from NEC Director Gene Sperling to serial entrepreneur Brad Feld shared their belief that entrepreneurship is a core American value and a key source of our competitive advantage in a 21st century economy, as emphasized in the President's State of the Union speech and today with the White House launch of the Startup America initiative.
But come on folks, we know the president, and the government as a whole, cannot do it alone. We all need to work hard together to realize this vision. We must embrace opportunities to forge public-private partnerships, which have proven a successful model for building momentum to renew America's reputation for greatness.

The StartUP America Partnership (SUAP) is launching simultaneously as the private sector counterpart to the Obama administration's effort to spark, and accelerate, high-growth firms in America. Just as quality education, affordable college and career training programs are vital ingredients for fostering the next generation of American innovators, so too is this new Startup America initiative important to create the supportive platform for entrepreneurs to thrive.

As mentioned in the Wall Street Journal today, this initiative is part of a larger partnership for the purpose of spurring entrepreneurship. SUAP convenes an alliance of the country's most innovative entrepreneurs, corporations, universities, foundations, federal agencies and other leaders working together to rapidly grown the number of American entrepreneurs. Designed to encourage private sector investment in job-creating startups and small businesses, SUAP will provide a launching pad for innovators of the next Google or Facebook to come along. As we have seen with those examples, successful entrepreneurs grow their enterprises quickly, creating quality jobs in communities across America. The Startup America Partnership will empower entrepreneurs with the skills and resources to grow 21st century companies and industries to solve some of our toughest global challenges in clean energy, medicine, advanced manufacturing, information technology, and other fields.

Steve Case, chairman of the Case Foundation, summarizes this effort as follows:

"America's story has been forged in large part by entrepreneurs who have against great odds created innovative products and services that have changed the world - and created millions of jobs. Our nation once again looks to these creative risk-takers to unleash the next wave of American innovation, and I am pleased that President Obama has made supporting and celebrating entrepreneurs a major priority of his economic strategy. I am honored to chair the Startup America Partnership, and look forward to working with the White House to champion the creation of new start-ups, and help accelerate the growth of speed-ups."
National Economic Council Director Gene Sperling echoed the excitement at today's launch, noting that, "We are seeing the importance of the public-private partnerships building momentum from both the private and public sectors and non-profits. This is the exact right time to have a start-up. It is these times that people come together and take a chance."

The two of us are jumping into this effort with both feet, and are ready to get to work immediately.Dr. Washington will serve as the interim CEO of the Startup America Partnership.

Marc is launching ARTISTS & INSTIGATORS, yet another innovative and ahead of its time effort echoing the principles of the Partnership by convening a variety of stakeholders -- from socially motivated corporations, foundations, private investors, and education reformers -- to help craft a new engine that re-imagines how the next generation of entrepreneurship will be realized. Marc and his team are developing the A&I Practicum, a call to action to realize $1 billion in investment by 2016 in 750 new startup companies, create 20,000 apprenticeships, and democratize access to entrepreneurial learning amongst high schools, community colleges, universities and veteran job retraining programs. The belief is that we can no longer afford to be incremental. It is the responsibility of the private sector to activate on our President's "think big" challenge. This is our generation's time. Angst is clearly in the air. But if you look between the lines, there is also a rising energy from those who are eager to activate and are looking for the platform to realize their ambitions.

To learn more about the Startup America Partnership initiative co-funded by the Ewing Marion Kauffman Foundation and the Case Foundation, please visit startupamericapartnership.org and follow the latest developments on Twitter. [@startupamerica]

Together we can inspire an ever-greater diversity of communities and individuals to build the next generation of exceptional American innovators and entrepreneurs.

Related
Popular in the Community