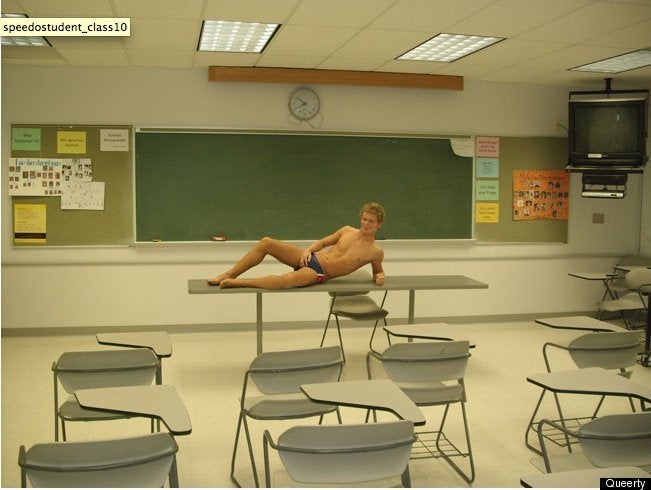 A University of Hawaii-Manoa student has taken exhibitionism to a new level, according to Queerty:
Since at least January, Tim, a gay 22-year-old senior at the University of Hawai'i-Manoa, has been recording himself masturbating, and uploading the videos to Xtube. He goes by the username "SpeedoStudent1," which represents his fetish for all things Speedos, Lycra, and jocks; he got his first Speedo at age 19 and has been hooked ever since.
Tim has caused a ruckus on campus by filming some of his endeavors in school buildings, prompting the school to issue a warning in the student newspaper:
A UH student has been endangering students by leaving his body fluids on desks in many classrooms. His blog, Hawai'i Speedo Student, shows pictures and videos of himself masturbating in buildings such as Kuykendall, Moore, Webster, Physical Science, Watanabe and possibly more. He is currently being investigated for violating student conduct codes. Please take appropriate precautions like disinfecting desks and washing hands frequently. He is self-described as 5 foot 7 inches with frizzy blond hair, blue eyes and a slim build. Do not attempt to approach the student. If you notice him or anyone else exhibiting sexually deviant and psychotic behavior, call Campus Security at (808) 956-6911.
But Queerty reports that Tim sees his project as sexual art:
"After I came out earlier this year [2009], I discovered I love showing off in front of a camera. Taking naked or nearly naked pictures is both arousing and artistic for me. I enjoy doing it and I enjoy the thought that other guys might be getting off on it too." He chose his username, not surprisingly, because "I have a big fetish for speedos. I always tan and swim in them and wear them as underwear most of the time. Most of what I put up here will hopefully have to do with speedos, but I'll make sure there are plenty of nude pics too."
More titillating details on Tim's blog (NSFW!).
What do you think? Should the Speedo Student be expelled? Or is this just free expression at its raunchiest?
Popular in the Community