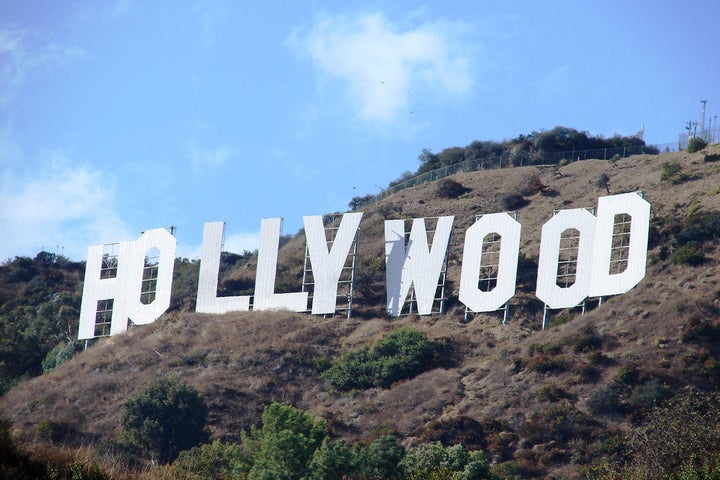 Hope Harris is making her way to the 595 North Event Venue and Lounge -- in the heart of Atlanta -- for the SESAC Strip showcase. She is going to see her friend, Aaron Alexander -- son of record executive and producer, L.A. Reid -- perform and to network with industry professionals. But first she has to finish a 12-page research paper on the dynamics of comedy for her theater class.
It's difficult for Hope to stay focused while her phone is constantly vibrating with text messages from her friends who are awaiting her arrival, and from her mother who is making sure that Hope is properly prepared for the event: Does she have something to wear, are her eyebrows done and does she have enough copies of her resume to give to all of the important people at the party? This is a daily conversation between Hope and her mother, and is what makes Hope's college experience slightly different from the norm.
Hope dreams of becoming an A-list Hollywood actress. She has dedicated the past four years to building her reputation as a serious and promising professional in the television and film industries.
When asked if graduate school was in the near future, the Spelman College senior leaned back in her chair and chuckled. "I'm not the grad school type of gal," Hope says playfully. She is dressed casually in a purple and pink striped sweater, a pair of jeans, a toboggan and Chuck Taylor sneakers.
"It's been a push to get through these last four years," she continues in a more serious tone. "I've had such a unique experience because I've been working professionally in my career path while attending school. I'm usually not even here that often."
In fact, Hope travels to Los Angeles to take acting classes every chance she gets. Last summer Hope participated in a three-week intensive acting program with the Lee Strasberg Theater and Film Institute in Los Angeles. She was one of three Americans selected for the program.
"The amount that I learned in the three weeks this summer was greater than all that I've learned in the past 11 years of acting. I can literally say that, hands down. And I usually don't like giving that much credit to a resource," Hope says.
Hope will return to the Lee Strasberg Institute as a full-time student in September. She plans to start out with the one-year program and will later decide whether to complete an additional year.
Hope's growing success did not come quickly. She has spent years learning and developing her craft. Hope realized her passion for acting when she was only 10 years-old. She signed her first contract with an agent at age 16.
"I came home one day from soccer practice -- I was heavy in athletics at that time -- and had an Irish accent that I just did not come out of for about two years," Hope recalls. "I literally developed it. I saw it on television and started watching all movies with it and started reading all of my books in an accent. I created a whole entire character. My parents were like, OK, either she's crazy or she's talented."
Hope's parents acknowledged their daughter's talent and later enrolled her in a performing arts middle school where she studied theater and dance.
"I took my first theater class and fell in love. I was lucky because I literally had the best theater teacher you could possibly have for your first time. A couple of years later, she actually left the school to become one of the top extras casting directors in New Mexico," Hope says.
New Mexico is one of the premier locations for film. Hope -- an Albuquerque native -- took full advantage of her exposure to the film industry when she was growing up.
"By the time I was 16 or 17, there were nonstop television shows and films being shot out there. I was on film sets every other day," Hope says.
Hope was merely observing and learning from the sidelines. She was not fully prepared to be in front of the camera just yet. She opted to take more time to master the art of acting before jumping into the professional industry too quickly.
"I could have been a child actor because I could do it so easily. But acting is not just about portraying another character. It's about becoming another individual. You have to dedicate time to evaluate yourself. You have to dedicate time to break down how you think, speak, walk and blink," Hope says.
Hope did more than sharpen her acting skills. She familiarized herself with other aspects of film such as casting and production.
She is the first assistant director of the AU Cypher, a student-run documentary about conscious hip hop that is currently in production.
"The documentary consists of cyphers and interviews with professors within the Atlanta University Center that have a really big impact on hip hop at large," Hope says. "It's really crazy and amazing because we never expected to have so many influential hip hop power players here teaching."
Hope's unbreakable focus on acting and production is beneficial for the future of her career, but makes the social aspect of her college experience that much more challenging. She has to make a conscious effort to protect her image, even when the cameras are off.
"Of course, I've partied with my friends. But it's hard because my peers don't always understand and people don't always know not to take a picture of me with a cup in my hand. Even if I wasn't doing anything wrong, it can come off as a bad thing," Hope says.
Even so, Hope does not regret her decision to juggle college with her acting career.
"I wanted to have an educational background because it can bring you ahead of the game. If you have an in-depth understanding of what you can do with your craft, then you can speak for yourself and do for yourself. There is a lot that I can do for myself now because I know how to manage everything and how to manage a career," Hope says.
Hope is not completely independent. She still looks to her family for guidance and support. She describes her mother as the rock of her career since she comes from a family of artists and knows exactly what is necessary for Hope's career. She credits her father for making her fall in love with everything performance related.
Hope's sister works closely with her agent to ensure that Hope is doing enough work so that she is prepared when she steps into the industry full time.
"My sister is someone who can keep track of everything that is going on with me and contact my agent if things need to be relayed to her from me when I don't have the time to contact her myself."
Hope makes her sister's job an easy one to do. She recently starred in The Fall Out, a student-directed play about sexual identity and HIV, and how it affects the lives of those who come in contact with it.
Hope played Kimberly, a college freshman whom Hope describes as having the story book ideal of finding the perfect boyfriend and having the best friends in the world. However, Kimberly's innocent idea of college becomes distorted when she realizes her attraction for her best friend.
"It's really a big factor that happens every day in the Atlanta University Center. There's a lot of sexual struggle or a lot of people finding their sexuality, while others are doing the same but are not exactly going the same route," Hope says. "So, they end up selling each other out and it becomes this kind of really negative environment. That is what we wanted to bring to the forefront through Kimberly."
Hope wants to bring these issues to the forefront in commercial films as well.
"I realize that the task I'm taking on is much greater than just being one of billions of actors. There are not a lot of African American or Hispanic actors in the forefront and I'm representing both," Hope says. "I plan on defying all of the stereotypes and social constructs that are holding us back as far as our acting goes and as far as our roles go. I plan on stepping outside of all of that.
"That is why I'm building all of these genuine relationships with all of these people so that they can see me, being a Spelman woman, and being from New Mexico. All of that definitely defies all that you would think is true about an African American actress and her having to only do black movies or movies specifically for black people."
Hope's great intentions do not go unnoticed. Her hard work and enthusiasm as a participant in the Creative Minds in Cannes Film Program last summer caught the attention of Creative Minds owner, Rob Ford.
She is very passionate, hungry and willing to go after her dreams. She has this passion that I respect and appreciate because it reminds me of myself when I was on her path," Ford speaks of Hope. "She is a very lively, bright, talented young lady that I took an interest in. I was impressed with the fact that she was in LA on her own and didn't come to hang out or have a good time. I was like, wow, this girl is serious.
Ford encourages Hope to hold on to her passion and to follow her heart.
"She will be tested. She will meet people who will say 'I can do this for you,' and she will have to decide who is real and who is not. She is going to see people having success faster than her and having a greater lifestyle. She is going to have to compromise, at least mentally, like, 'Do I really want to waiver to make some money and get on the fast track?'" Ford says. "In times of doubt and confusion, Hope will have to reach within herself and say, 'Let's think about this. What do I want and how will I get it?' As long as she uses this sort of decision-making, she will be fine."
Calling all HuffPost superfans!
Sign up for membership to become a founding member and help shape HuffPost's next chapter