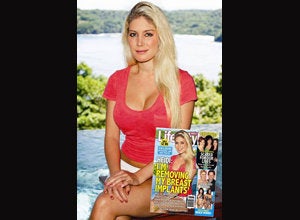 Spencer has previously said that seeing his wife post-surgery was the worst experience of his life. Now Heidi speaks about the indignities of letting him play nurse.
Life & Style's press release follows:
In Heidi's shocking interview with Life & Style, the reality star says she blames herself for her divorce from husband, Spencer Pratt. "Spencer begged me not to get the first surgery and it almost broke up our relationship," Heidi tells Life & Style of her 2007 nose job and breast augmentation. "Then he begged me not to get the second one and it did break our relationship."

Married for just seven months at the time, supportive Spencer was forced to wait on his new wife hand and foot. Among his responsibilities? Pulling Heidi's pants down so that she could go to the bathroom.

"It was just so much pressure," she tells Life & Style. "No one wants to be taking care of his wife -- who looks like she was in a horrific accident -- 24 hours a day, when he begged her not to do it in the first place. Spencer didn't sign up for this in our marriage."
Popular in the Community