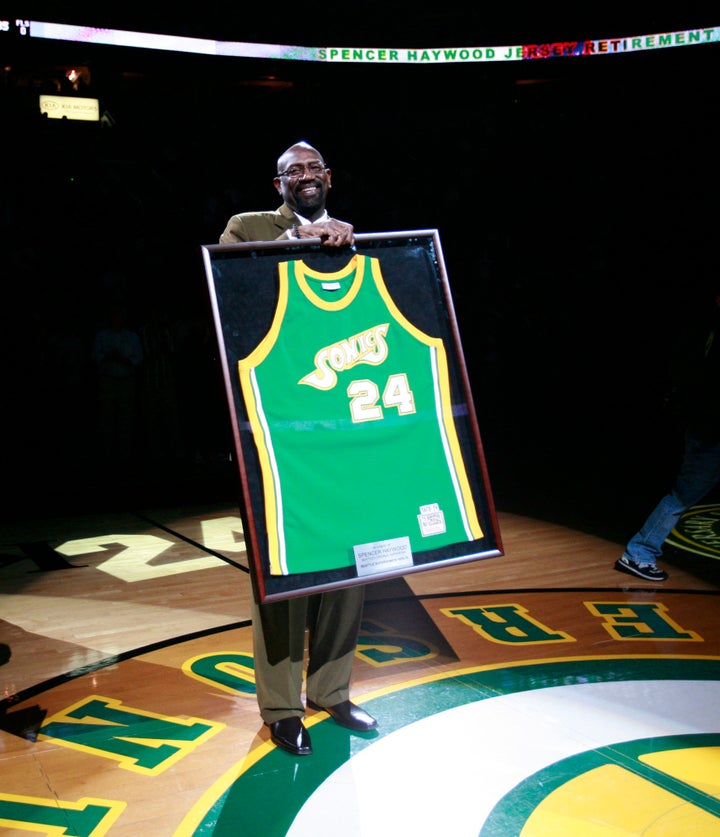 Spencer Haywood won an Olympic gold medal in 1968, at the age of 19, and was signed by the Seattle Sonics two years later after dominating the ABA. In a case that went to the U.S. Supreme Court, Haywood sued the NBA over a rule that prohibited players from being drafted into the league until they had waited four years after graduating from high school. He won that case. In 1980, he won a world championship with the Los Angeles Lakers alongside Kareem-Abdul Jabbar and Magic Johnson. Haywood -- considered one of the greatest power forwards of all time -- was named to the all-time ABA team and later to the All-NBA First Team twice.
The 62-year-old will be inducted into the Naismith Memorial Basketball Hall of Fame in 2012, an honor that he says current stars like Kevin Garnett and LeBron James "give him big ups for." Garnett recently thanked Haywood for paving the way for younger players, saying, "I think a lot of people don't understand the history of Spencer Haywood ... he's made an impact. I would like to congratulate Spencer Haywood for not just being born, but for opening a lot of doors for people to come through and display their talent in this great game."
"They call me the Godfather," Haywood says. "Am I James Brown? It means a lot [coming from them]. It's the highest honor."
Haywood recently caught up with The Huffington Post to talk about the ongoing NBA lockout, his upcoming Hall of Fame induction and whether or not LeBron deserves criticism for not yet having won a title.
What is your stance on the NBA Lockout?
What I don't understand is how and why this is taking so long. I thought they would have reached a conclusion before they started cancelling games. I do understand that everyone wants to negotiate and extend the deadline. Taking it to this level seems like it has gotten personal more so than the business.
How disappointing is it to come after such an exciting postseason and finals?
Not only the finals, but the year in itself. I thought this [season] was incredible; the best year that I can remember. I never experienced this kind of basketball in the NBA -- the fan participation, the height of this glory. I mean, there were a couple years there with Magic and Bird, and with Jordan making his run. But this succeeded that.
Who do you feel the blame falls on?
I can't put the blame [anywhere], but I would like to see the players be a little bit more flexible, because of this political and economic climate that we're in. Teams like Minnesota and Sacramento -- they're not making money. They can't break even. I thought that when the owners gave that 57 percent [Basketball Related Income in 1999], that they were out of their minds. I thought it'd always be like 50-50, or 51-49, but since they did, maybe you make an adjustment and walk. That's the logic for me, because you have a salary. All of these players are looking at the future, but I just think that right now if anything is falling around you, that you don't push your profession into a free fall. It's going to be difficult for fans to justify getting back into that arena while saying well, "You know, these guys are fighting over millions of dollars."
Given the current economic climate, does the NBA need to be more sensitive to its fans?
Well, that is what's going on in America. If you look at every election, every negotiation now, it's as if we have lost our sense of fair play. We have decided that all we need to do is just put it up against the wall, and it's my way or the highway, and it's not right. We have to be negotiating in good faith. The product is our fan base, and we can't keep asking the fans to put up with our inability to negotiate.
How long will it take the league to recover from this lockout?
Oh lord, I think this could be some damage that would take another five years to recover from. I'm hoping that everyone can get back to work, because we are looking at the players and management, but we are not looking at the vendors, the drivers, the parking lot attendants. These people are being put out on the streets. They are living check-to-check. Cities are going to be hurt by this tremendously.
Who is the best player in the league?
Kobe.
A lot of people would say Dwyane Wade or LeBron James.
Yeah, I know, with Dwyane Wade, I can have that discussion. But LeBron, he hasn't won it yet, so I can't. He's the best athlete, but the only way you can judge the best player is what they have done, and Kobe has five rings.
Is it unfair to criticize LeBron for not having won a title at 26, considering Michael Jordan didn't win his first until he was 29?
I don't even criticize him at all. The minute that he gets that one ring -- which probably will be this year -- he will exorcise the demons. You know, Jordan had the demons on him as well. Every player has it if you are that No. 1 or No. 2 guy ... until you get the championship.
What is your take on the NBA's current early entry rule, allowing players to leave college after one year, or when they turn 19?
I think that with the ruling the way it was used when high school guys came in, that it was abused and not fair to the veteran players. Then you have one guy that is one year out of college who will come in and push this guy out of the league -- and they are sitting on the bench in street clothes -- and the owners and coaches are telling me, 'well he's going to develop in two or three years.' In my opinion, I would like to see two years or more. It also helps the universities because we have people going to school for higher education and we have so many students coming in who cannot afford to pay. [These athletes] help the athletic department and some of that money helps other students to be at that school.
Are players coming out of school early not emotionally ready for the demand of the NBA?
That's what I'm saying. Now, you can be physically ready to play, and there's always been a few. I remember one year [2001] I spoke to players at the rookie transition period. The top six players were Tyson Chandler, Kwame Brown, DeSagana Diop, Eddy Curry, Kwame "Fumble Man" Brown and Jason Richardson. They were kids. Only one big guy made it and it was Tyson Chandler years later. If you look at that draft alone, it tells you something's not right here.
How do you feel about your upcoming Hall of Fame induction?
I feel real excitement. There was recently a piece on me, and out top of the 27 players with my numbers, they are in the Hall of Fame; the only one that's not is me. I'm just elated that I'm alive and around to see it.
Have you thought about your speech?
I'm going to speak from my heart and let it roll with what I feel. I'm the first one in the NBA to be the youngest guy. I am the first to be on the Olympic team. I still hold all the records. I did that in 1968, and I was 18 when I made the team. I'm the original youth for all sports! The NBA uses Haywood v. The NBA -- that is the US Supreme Court ruling to pave the way. My case opened the path for football players as well. In thirty years, we only had three guys go from high school to the NBA: Moses Malone, Darryl Dawkins and Bill Willoughby. At that time, it wasn't a game for the youth. Now, it is.
Email me at jordan.schultz@huffingtonpost.com or ask me questions about anything sports-related @206Child for my upcoming mailbag.
Plus, check out my new HuffPost sports blog, The Schultz Report, for a fresh and daily outlook on all things sports and listen to my weekly radio spot on 97.5 The Zone in Salt Lake City every Friday night at 6:25 ET.
Support HuffPost
The Stakes Have Never Been Higher
Related
Popular in the Community