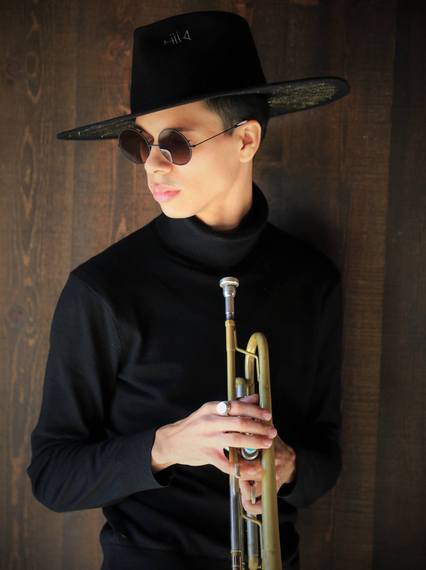 As a former New Yorker, I naturally gravitate to any music video that celebrates the streets of NYC like this one DIGGY. It's upbeat, light-hearted style and catchy sound had me saving it to my desktop, sharing it with friends and playing it again and again.
So you can imagine my surprise and delight, when it's show-stopping, trumpet playing star Spencer Ludwig, waltzed into an exclusive private food, music and wine event at Robert Biale Vineyards decked out head-to-toe in his recognizable all black outfit, complete with wide brimmed hat and pointy gold alligator boots!
Before I could even stop myself, I shouted out, "hey I just watched your video man!" A big smile appeared on Spencer Ludwig's face as I approached this quiet, friendly and very appreciative character. He was curious where I had seen the video, if I liked it and happily answered my barrage of questions. We bonded instantly.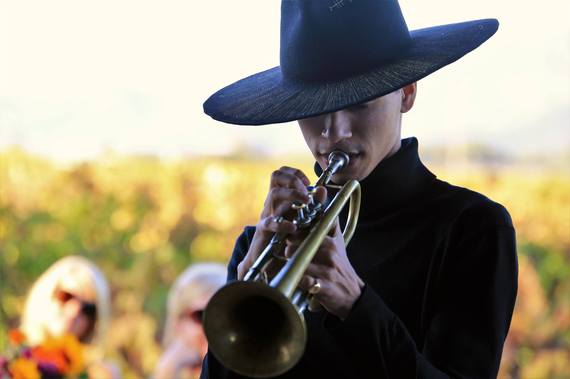 Here are some of the highlights of our conversation:
How long have you been performing with your trumpet?
I started playing the trumpet my senior year of high school after being inspired by the famous Miles Davis album, Kind of Blue. I had initially played French horn but it really wasn't the right instrument for me.
Miles Davis became a role model for me as a trumpet player but I also love rock n' roll music with the likes of Led Zeppelin.
You see, I was born in 1990 and grew up with so many different musical genre influences; new bands and new sounds were constantly surrounding me in Los Angeles.
I received a full college scholarship from California Institute for the Arts in Los Angeles but I still needed to work. This led me to teach music and take lots of different gigs to pay for my rent and food.
I started working wherever I could, playing with a variety of bands that needed a trumpet player, whether it be Indie Pop, Electric Pop or any other sounds that enabled me to be a part of the music scene.
Fortunately, I was given an opportunity to record and tour with the band, Capital Cities for three years (2012-2015). I really enjoyed touring and it soon became clear that perhaps I had and a bigger purpose. My well received trumpet performances helped me to believe that I had something more to offer the world on my own.
I come from the school of thought to always say yes to an opportunity and see what happens. I have opened huge arenas for Katy Perry and have played all over the world. As a solo artist singer/songwriter, I hope to inspire people to get up and move and dance.
Spencer Ludwig signed with Warner Brothers as a solo artist in 2015. It is clear to anyone that hears him, that his sound is special and that he has only just begun to make people dance.
REAL LIFE. REAL NEWS. REAL VOICES.
Help us tell more of the stories that matter from voices that too often remain unheard.