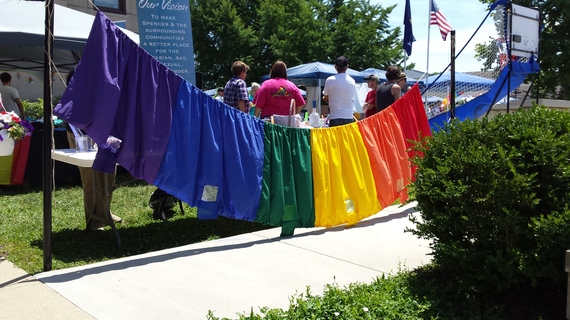 All across the nation, tens of thousands will gather some time in June for annual gay pride parades and festivities. TV cameras easily capture dancing go-go boys and prancing gender illusionists.
In a news media culture that covers the quick and easy, the most interesting events are often overlooked. This is especially true of local news organizations in Indiana. I've been to pride celebrations in San Francisco, Los Angeles, Chicago and New York City but the most eye-popping pride I've attended in recent years took place on June 7 in Spencer, Ind., a rural town of 2,200 residents -- 55 miles southwest of Indianapolis.
Every time I mention it, colleagues looked at me and said, "What? There's a pride celebration in Spencer."
Anticipating that no news organizations from either Indianapolis or Terre Haute would cover it, I, a former reporter, grabbed my old reporter's notebook and a digital camera, and drove 30 miles south of where I live.
Here's what I found: For at least one day a year, the residents of this central Indiana town are accustomed to seeing men in wigs and stilettos lip-syncing on the Owen County Courthouse square. It's quite something to behold.
"It's the only place in the state where a drag show happens on the courthouse square,"
says Jonathan Balash, president of Spencer Pride, Inc.
Spencer Pride began in 2007 as a word-of-mouth gathering of a few hundred people at Cooper's Park along the White River. Over the years it snowballed into an event that attracts about 1,000 people annually. Balash says in 2012 attendance peaked with 1,200. Not bad considering there are only 1,008 households in Spencer.
It would be easy to assume that the lion's share of the crowd comes from the nearby Bloomington, 17 miles to the east. Considered a gay-friendly mecca and home of Indiana University with more than 40,0000 students attending, but it's not so. By the time Spencer Pride rolls around school is out. Most of the pride-goers sojourn from all over the Hoosier State, and from as far away as Chicago, Louisville and Columbus, Ohio to participate.
"We tend to resonate with people who grew up in small towns like this," he says, pointing to the town known for its quietness and tree-lined streets.
This year's theme "Focus on Families," seemed to be apt. There was a petting station with roosters, two lambs and a goat, a play area for children and a mobile library. There were married couples, senior citizens walking around and high school kids sitting on the town square playing cards. Seventy-five vendors sprawled on all four sides of the Owen County Courthouse, the largest number yet. In addition to the rainbow accessories, food and other expected vendors known to visit pride events, Balash was proud to have Wal-Mart represented at a booth, another first.
A wide array of singers and musicians, from country to folk to rap and a regional favorite, the Quarryland Men's Chorus, took the stage. The music was loud and festive. Organizers placed the drag show at the end of the day so latecomers could attend.
No single person can lay claim to establishing Spencer's pride. Organizers say a handful of people saw a need and believed the community would be open. They were surprised just how open.
Felix McBeath remembers participating in one of the first conversations. He and a few friends talked about it in a lesbian bar in Ellettsville, nine miles east of town.
"One of my main concerns was that we reach out in the rural community," he says, flashing a big smile. "Just because we are all different doesn't mean we can't all get along in the same community."
Over the years, McBeath, who moved to rural Indiana in 1976 from Mississippi, has forged his own sense of identity and community. He moved to Bloomington for a brief time but then returned. He prefers the peace and quiet to which he had grown accustomed. Now 52, the openly gay Wal-Mart says if they can hold a pride festival in rural Indiana, it can happen anywhere in America.
Balash and McBeath believe the key to the success of their event is community-based leadership and getting the buy-in of local government.
Over the years it has been pretty peaceful. They've heard murmurings. One year someone scattered tiny nails all over the streets around the courthouse the night before so pride-goers might get flat tires. But Owen County Sheriff deputies got on their hands and knees and removed them all. "No one's car was damaged," Balash proudly reports.
Back when he and a handful of people started Spencer Pride, they weren't trying to be trendsetters or create the smallest pride event in the Hoosier State.
"We really didn't think about it in that context," Balash says. "We were just trying to be who we are."
Popular in the Community