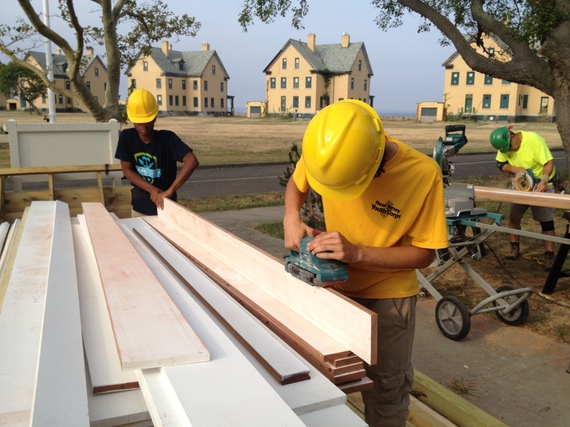 Corpsmembers with New Jersey Youth Corps of Phillipsburg restore a historic structure at Gateway National Recreation Area. The NPS site sustained extensive damage during Hurricane Sandy.
Mary Ellen Sprenkel
CEO, The Corps Network
Today the National Park Service celebrates its 100th birthday. The National Park Service embodies the best of what it means to be American. Since its founding, it has promoted the natural and cultural beauty of this country by protecting our national treasures and making them accessible to all citizens.
But after decades of use, our national parks are at a crossroads. Billions of dollars in backlogged maintenance projects threaten the accessibility of our parks. Additionally, despite changing national demographics, the average park visitor has become older and whiter. The most recent numbers show that just 22 percent of park goers are people of color.
To keep our parks relevant, the National Park Service is working to solve these two issues. Without comprehensive maintenance, we risk losing access to our parks. Without introducing new visitors to the park system, we risk not having dedicated advocates to conserve the parks for future generations.
There is a way we can solve both these issues at once: engage more Conservation Corps members in service at national parks. Corps train youth and returning veterans in conservation-related job skills and engage them in service projects on public lands. Trained Corpsmembers can help land and water managers with projects ranging from removing invasive plants to building trails and fighting wildfires.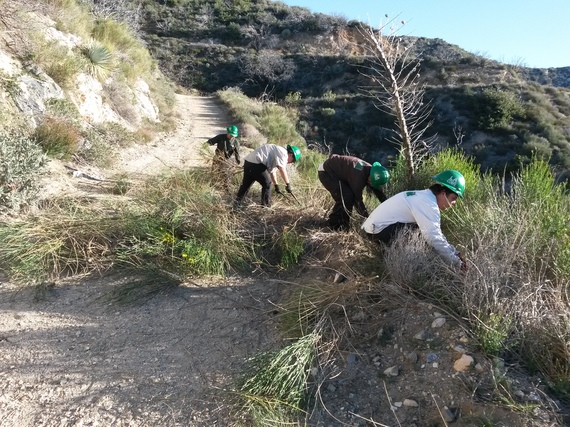 Corpsmembers with LA Conservation Corps remove an invasive shrub, Spanish broom, from a roadside in the San Gabriel Mountains.
Part of why Corps are a solution for the National Park Service is that more than 50 percent of Corpsmembers are people of color, and many come from cities. They represent demographics less likely to visit national parks. Corps can also help agencies like the National Park Service reduce project labor costs by 50 - 80 percent, allowing for more work without increased spending.
The nearly $12 billion maintenance backlog represents how overburdened parks are on meeting basic upkeep needs. Each year we fail to address aging infrastructure, the backlog grows, and parks fall further into disrepair. Not to mention, this backlog doesn't include projects needed to bring our parks into the 21st century. We need to expand campsites and add modern conveniences, like Wi-Fi and charging stations, to make parks more appealing for a new generation of outdoor enthusiasts.
Some 15,000 Corpsmembers already serve at national parks every year. In addition to the National Park Service, agencies like the U.S. Forest Service, Fish and Wildlife Service and Bureau of Land Management have embraced Corps as valuable partners. By passing the 21st Century Conservation Service Corps Act, we can engage more young people in service on public lands. This bipartisan-supported legislation, which has been introduced in both the House and Senate, would facilitate partnerships between Corps and federal resource management agencies. It would also encourage agencies to collaborate and use only existing funding streams to utilize Corps. In other words, more work would get done on public lands without added cost to taxpayers.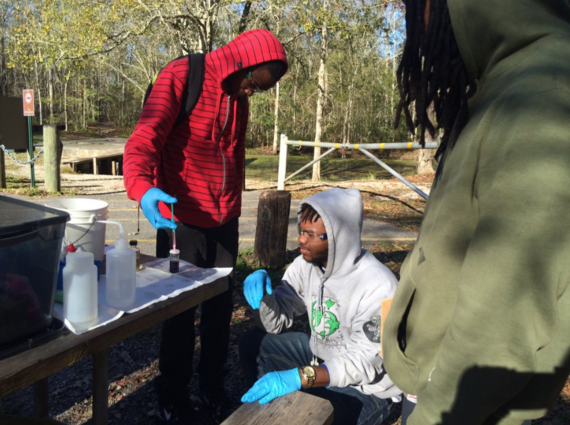 Corpsmembers with Limitless Vistas test water samples at Jean Lafitte National Historical Park and Preserve in New Orleans, LA.
The 21st Century Conservation Service Corps (21CSC) initiative has been working for years to promote public-private partnerships that support Corps engagement in projects on public lands. During her tenure as Secretary of the Interior, Sally Jewell has helped raise millions of dollars from private donors and companies like REI, Coca Cola, American Eagle Outfitters and KEEN to help fund Corps working in parks and forests.
Engagement of youth at our national parks and forests pays dividends beyond better trails and cleaner rivers. It turns young people into conservationists while teaching them valuable and marketable job skills.
Young people can translate their Corps experience into careers in expanding fields like historic preservation, environmental remediation and green infrastructure. By having a tangible impact on parks, Corpsmembers become life-long advocates for public lands and the environment. They also share this appreciation with family and friends, introducing entire communities to the importance of conservation. Making parks and conservation relevant to more and different people is vital to preserving historic structures and healthy green spaces for generations to come.
When we look at our national parks, we need to ask one fundamental question: Who will take care of these places 100 years from now? Unless we address the maintenance backlog and diversify the population visiting and protecting parks, the future is less than certain.
This is not something we can leave to chance. Let's seize the momentum of the National Park Service's centennial to prepare our parks for the next century. These are the places that bind us as Americans. They speak to our shared ideals and values. They bring out the best in us. With Corps, we can bring out the best in our parks.
Related
Popular in the Community