I gladly admit, I deeply resonate with Native American culture and the endless expanse of the American West. So, when I spent a night in a traditional Navajo hut in Monument Valley, Arizona, I was jumping with joy (literally, see above)!
I was traveling with a group of international explorers from Europe and Australia on a "Canyon Lands" tour organized by the boutique outfitter Travel Dream West. We spent two weeks visiting the famous canyons and national parks all across Nevada, Utah, Arizona and Colorado (view photos here).
This was a first for me, as I usually travel solo or with my husband. But at this point I was almost five months pregnant, so it seemed much smarter to join a group than be trekking by myself again since Joshua could not join me.
Our group usually spent the nights in local hotels. For one night though, the description in our travel documents read: "We will spend a night in a hogan, the traditional sleeping camp of the Navajo in the culturally rich Monument Valley." Translation: Roughing it! We were going to sleep in sleeping bags on the clay floor of a clay hut, or under the open sky. It promised to be an experience more unique and memorable than any night in a 5-star hotel.
As we approached the valley, I felt myself relax into the experience. From miles away we could make out the distinct rock formations of Monument Valley. These impressive rocks have reached for the sky for thousands of years and yet, the valley has only been known to a worldwide audience for less than 100 years, when it was discovered by Hollywood and the movie industry in the 1930s.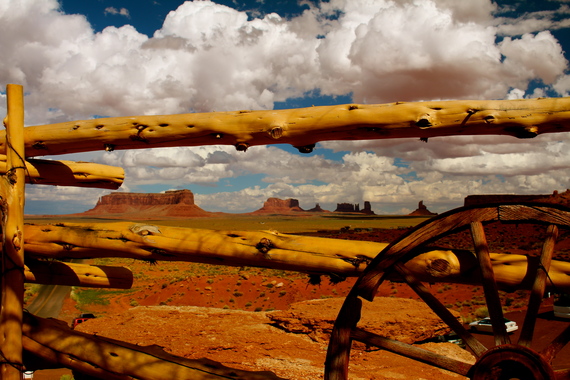 When we arrived at the gates of this national park, I not only found familiar movie settings, but a world that has been home to America's indigenous people for innumerable generations. To this day, Monument Valley is managed by members of the Navajo tribe and is part of the Navajo Nation, which stretches out over 16 million acres in Arizona, New Mexico and Utah. By the way, "Navajo" is the international name, while the Navajos themselves use their original name, "Dine" or "Dineh," to describe themselves, which means "the people."
According to our local Navajo guide, 14 families still reside in Monument Valley all year long. They live without power or running water and have to carry each gallon of water they use into the valley. The electricity they need comes from a generator, and the heat is provided via solar power or wooden stoves. They stay on the land of their ancestors for various reasons, one of which may be the sacredness of this place, which even I -- a white European -- could feel.
Communication with the natural world
Our local Monument Valley guide Jamie, an easy-going and funny dude, led us to a cave where we laid on the ground to observe the natural coloring of the rocks overhead. It looked uncannily like a huge eagle's head above us.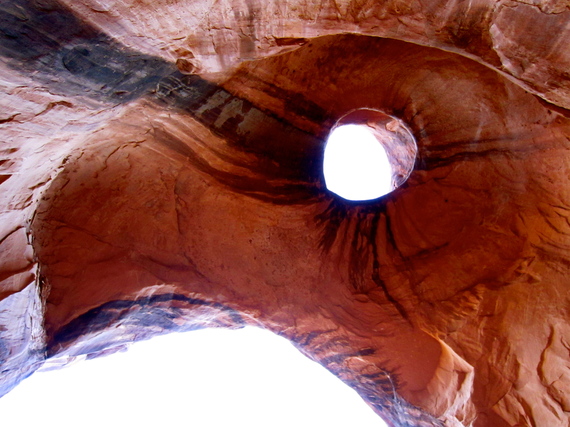 While Jamie played on his flute, another local guide talked about their ancestors and their supernatural ability to "communicate" with the natural world, with animals, plants, even stars and planets. He compared it with our 21st century tech world.
"A few years ago, we could never have envisioned communicating via smartphones the way we do today," said the guide, while Jamie continued playing his music. "My ancestors utilized supernatural powers to communicate with their environment and the universe. To them, it was just as normal to communicate telepathically as communication through technology is for us today."
That statement made me think. It would be very easy to judge the kind of communication he described with nature and the stars as nonsensical or esoteric humbug. But is it really implausible to communicate with the natural world? Or are we simply unable to imagine such a thing?
I don't know for sure, but I know this: If you arrive in the valley as a tourist and only look at it superficially, then you will leave with impressions of the landscape and maybe the Navajo BBQ and dance performance in the evening. But if you are willing to engage with nature and the sacred energy of this place, along with trying to really "feel" Monument Valley instead of just understanding it rationally, then you may go home with much more than you came with.
It was already dark when we arrived at our sleeping place, after the dinner and traditional dance performance. While the guides distributed the sleeping bags, cushions and thin mattresses, I inspected the hogan, a round clay hut. There were no windows, just a hole in the ceiling and a door facing east. It was only 9:30 p.m., but most of us made our beds right away either inside the hogan or outside, underneath the stars.
I was undecided as to where to sleep. "It will be cold during the night," Jamie warned me, "and at about 4:00 in the morning, most people will come in and then it'll be crowded." So I chose the best spot in the hogan -- close enough to the door for fresh air while still far enough from the entrance to be warm and quite comfy. While the others fell asleep, I set out for a walk.
It was a perfect night with temperatures at about 70 degrees. The full moon shone on the land so brightly that I could see miles and miles of the dark, silent and majestic landscape of the valley. I walked through the camp barefoot so I could enjoy the feeling of the earth under my feet.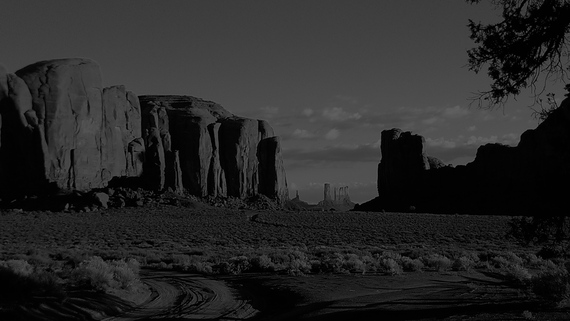 I found Jamie and our second guide, Pernell, sitting by their car, playing the flute. I sat down with them and we talked. Jamie and Pernell are both in their early 30s. They are both familiar with the many old Navajo traditions of their forefathers. "My grandfather regularly kicked me out of bed for our morning prayers," said Pernell.
"And you? Do you pass that knowledge on to your daughter?" I asked. He shrugged. "She doesn't live with me." I got the sinking suspicion that even if she did, Pernell would not have proven to be as diligent as his grandfather.
I don't know why but I've always felt a strong pull towards Native American wisdom and their old ways of honoring the earth. The reverence for the earth and all living beings simply makes sense to me. That night I hoped again, that the spiritually rich Native American culture will stay alive and vibrant for centuries to come.
I, for one, was determined to not let this spiritual experience just pass me by. As I continued my walk, I was deeply moved by the atmosphere of the night and the valley that had provided a sanctuary and a spiritual source for its inhabitants. It is said that the land and every single rock possesses its own energy here. In my mind, I saw generations of people living, loving and dying in the community of these rocks.
I took a deep breath and felt immense gratitude for this experience, as well as the unborn child that I carried under my heart. Grandmother Moon bathed us in a white light and I sent her light through my body directly to my baby. Time seemed to stand still for the two of us. Peaceful. Eternal. Without technology, but with thousands upon thousands of stars hanging above us.
I watched the rock formations in the distance lit up by the light of the full moon. Further away, there was lightning on the horizon. Finally, my baby and I made our way into the sleeping bag around midnight only after I had seen a shooting star and had made a wish. I crawled into the sleeping bag and watched the moon shine through the circular opening in the roof.
I felt safe and secure in the hogan. I realized that that was exactly the intention of this round hut made of clay. Similar to a sweat lodge, the female hogan (there is also a male hogan, shaped slightly different) also symbolizes the womb of Mother Earth. How fitting this was for my pregnancy and for my future life as a mother.
Just before 6:00 in the morning, Jamie woke us with his flute so we could all watch the sun rise. Jamie also took this photo below.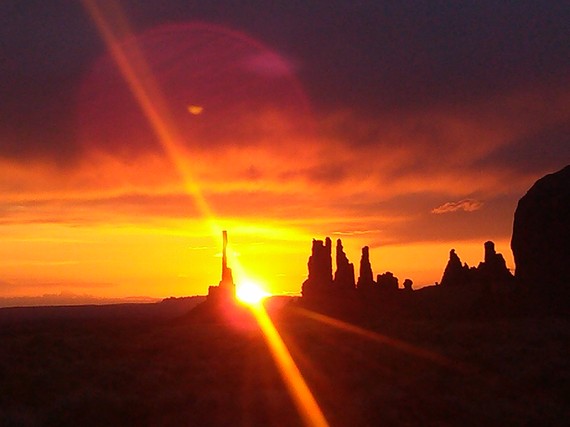 Shortly afterward, we drove out of the valley and met our regular guide from Travel Dream West. To my surprise, some of the guests didn't seem to find the night as magical as I had. They were disappointed that they had to sleep on mattresses on the ground and were not able to embrace the special things about that trip.
Hence my advice: If you need a soft bed and a typical modern restaurant, then don't spend the night in the valley. To all others I say: Have fun, and enjoy the magical energy of Monument Valley!