"They are odd, they are rare, they are not popular for being 'beautiful,'" photographer Alicia Rius mused. "So I wanted to show people that these creatures are stoic, elegant and above all, wonderful."
We could give you 20 guesses, but you might not make it to the animal she's attempting to describe. Stoic, elegant, wonderful -- these are likely not the words that spring to mind when you envision her chosen subject matter. At first glance, her models are something closer to bizarre, with their piercing eyes, wrinkled bodies and knack for placing themselves in jarring positions. Yet, when you let your eyes linger on the alien forms, framed in shadows to reveal every curve and expression, it's easier to see the beauty hiding in such tiny, naked frames.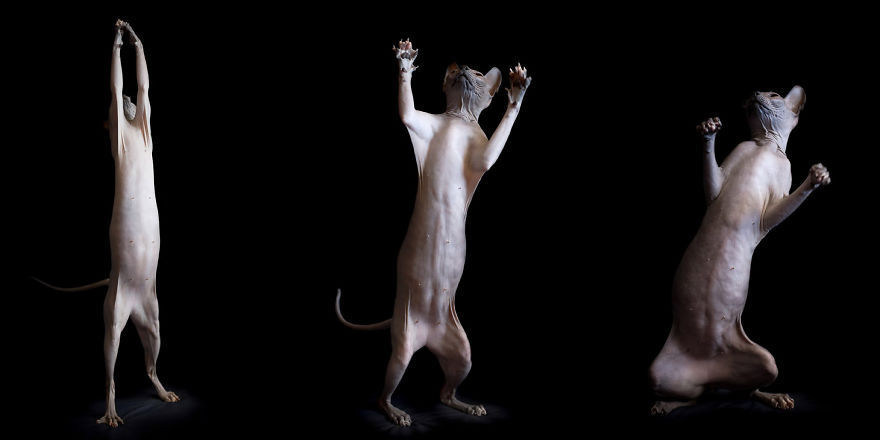 Rius began her series, devoted to the unconventional beauty of the Sphynx, last year. After moving to Amsterdam in 2012, she decided that she would "reinvent" herself by quitting her job in marketing to pursue what she loved most: animal photography. Pretty soon, she wound her way to the world of sphynxes, those hairless cats known for their extroverted personalities, energy, intelligence and penchant for showering their owners with affection.
These are the same qualities that made Rius' photo shoots that much more challenging. "It takes patience," she said. "I make them play, jump and sit still, but they will also start grooming themselves and then the pose and body shape is great and that was unexpected. I always have some shoots I want to get but I always leave with photos I didn't think about and they are great."
Her images capture moments of these cats' lives, frozen in front of a black backdrop that accentuates every crevice of their bodies, every flicker of their green and blue eyes. While some snapshots reveal a side of the felines viewers likely see quite often -- a wiry tale, a puckered stomach -- others manage to feature a snarl here and a wave of a paw there that showcase how utterly remarkable the breed can be. "Without fluffy and fancy coats, this breed shows what a true cat is," the artist wrote on Bored Panda. "Everything is raw, exposed, vulnerable."
"When I started to do the series I wanted the viewers to experiment the same mixture of feelings I feel," she concluded to HuffPost, "to awaken their curiosity to want to know more about the hairless cats and to leave the viewer in bewilderment. Although many people will still dislike these cats, I hope they can take the time to appreciate their majestic look and unique beauty."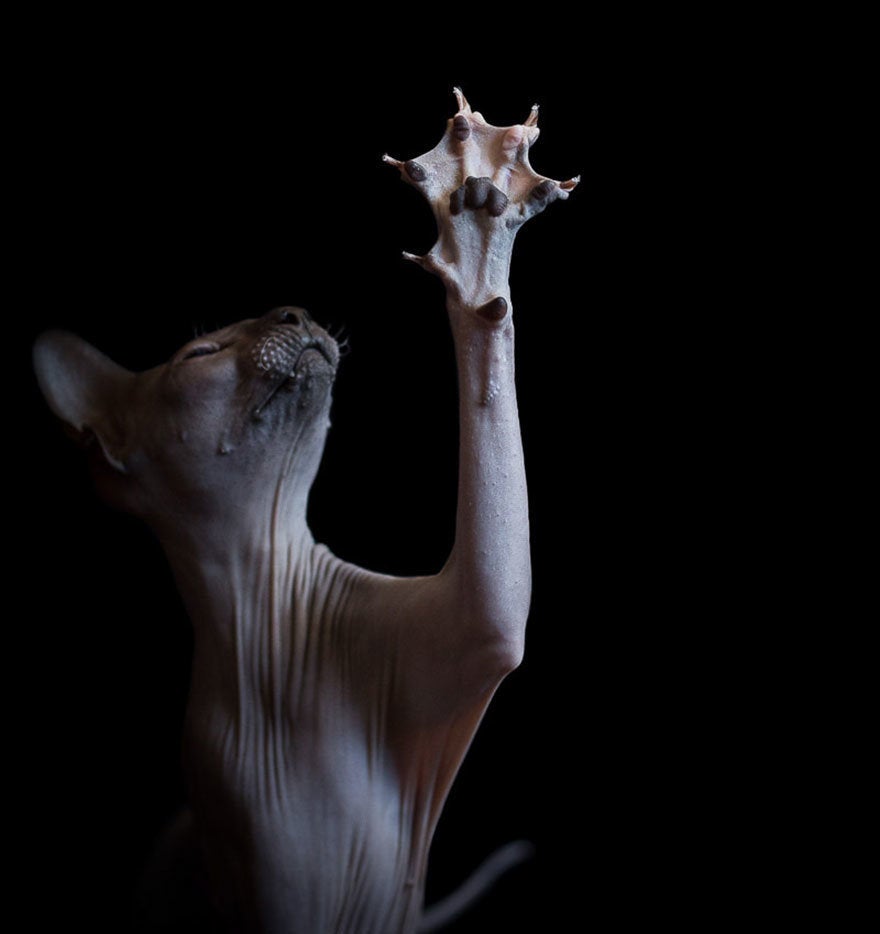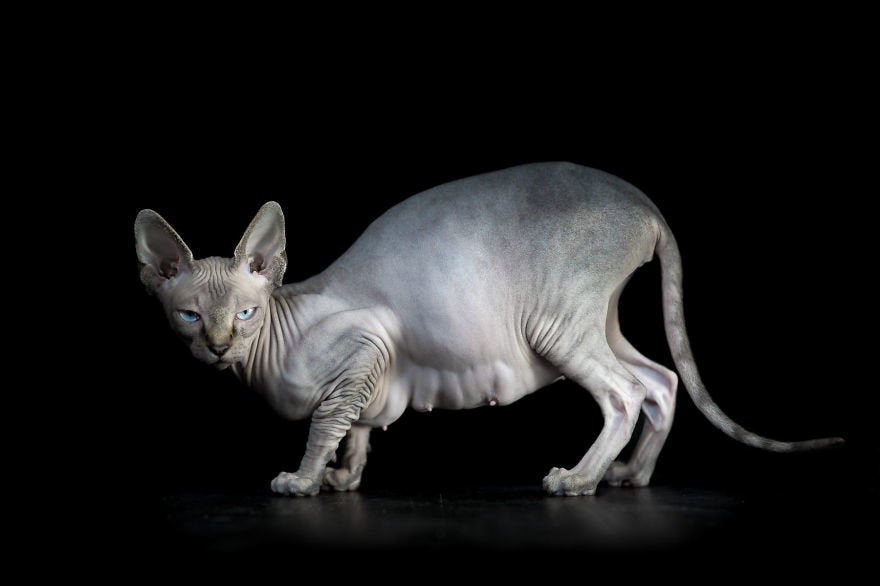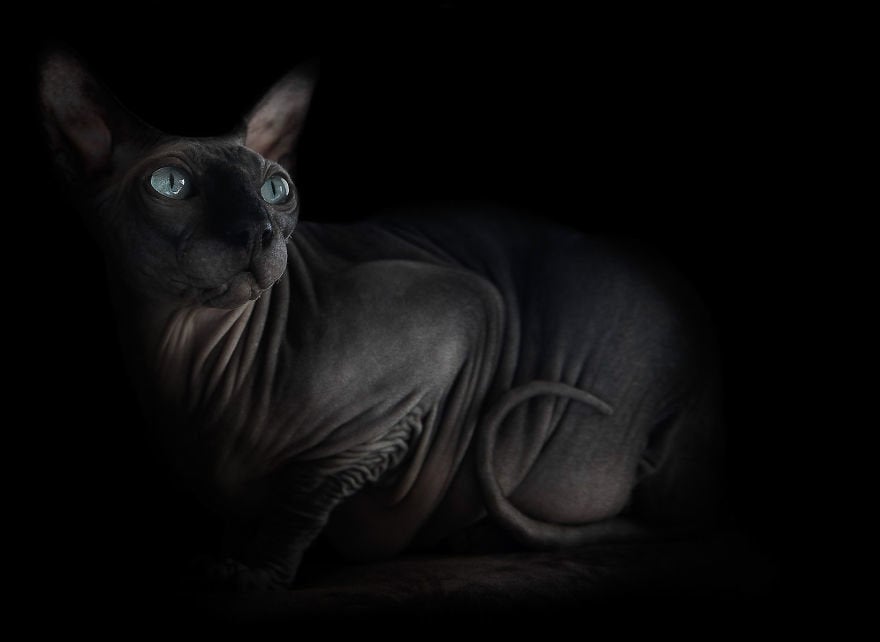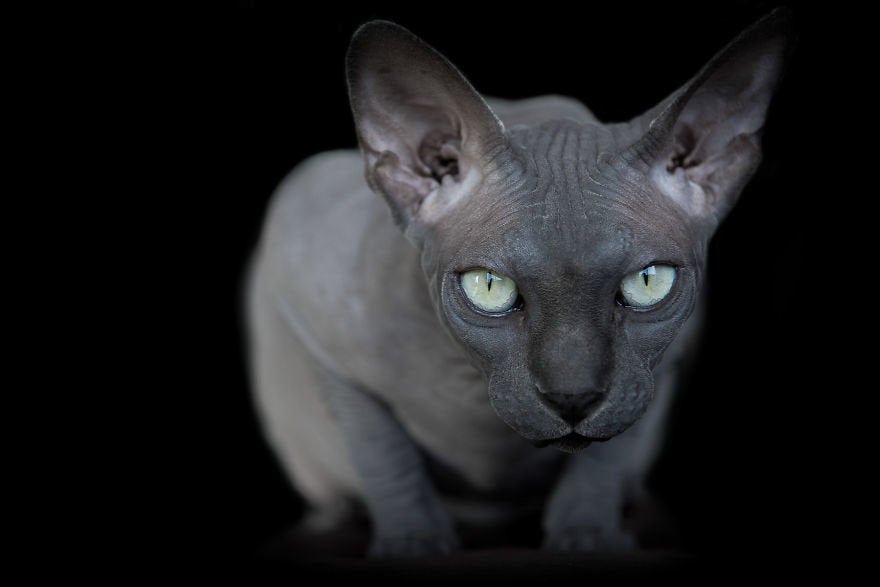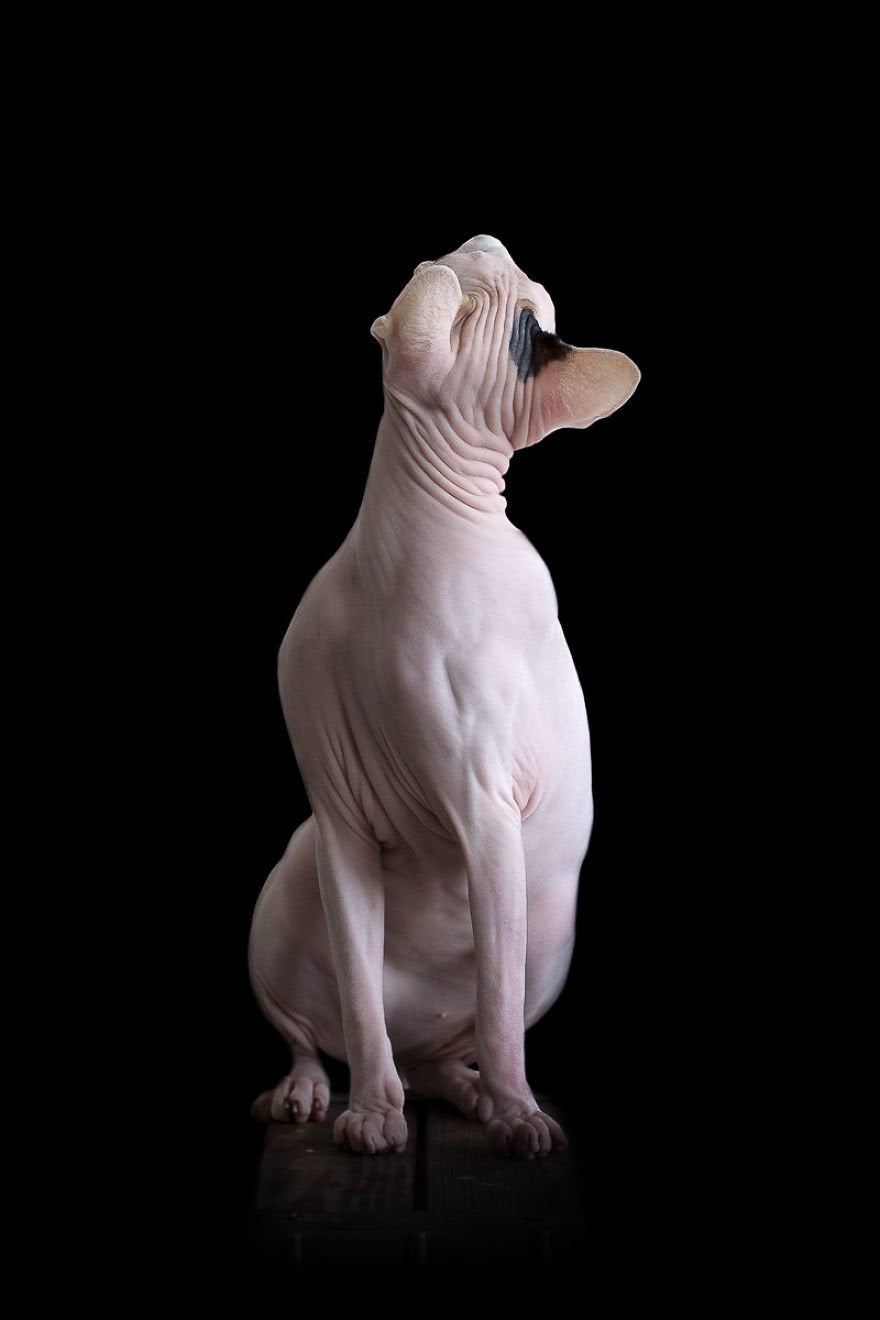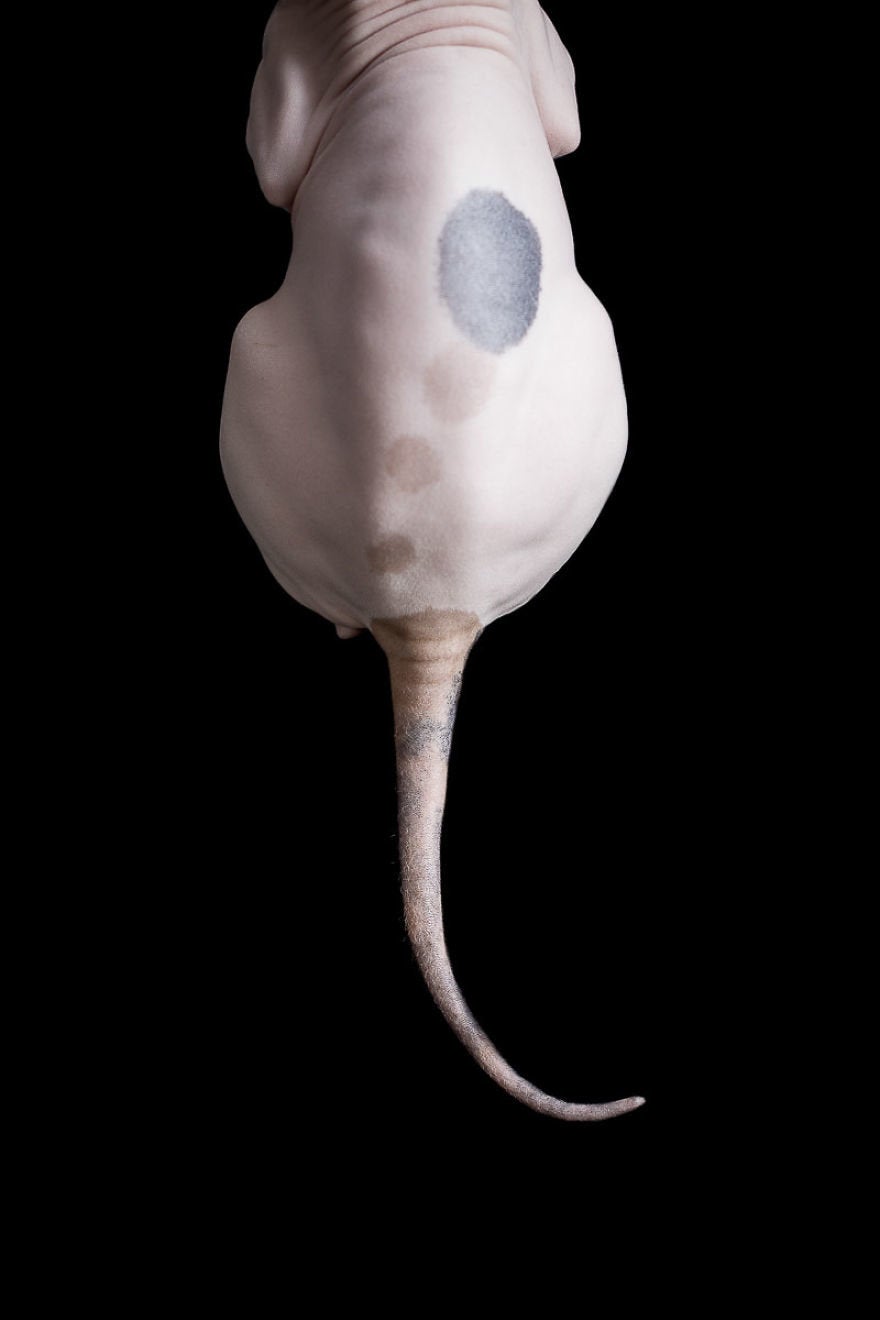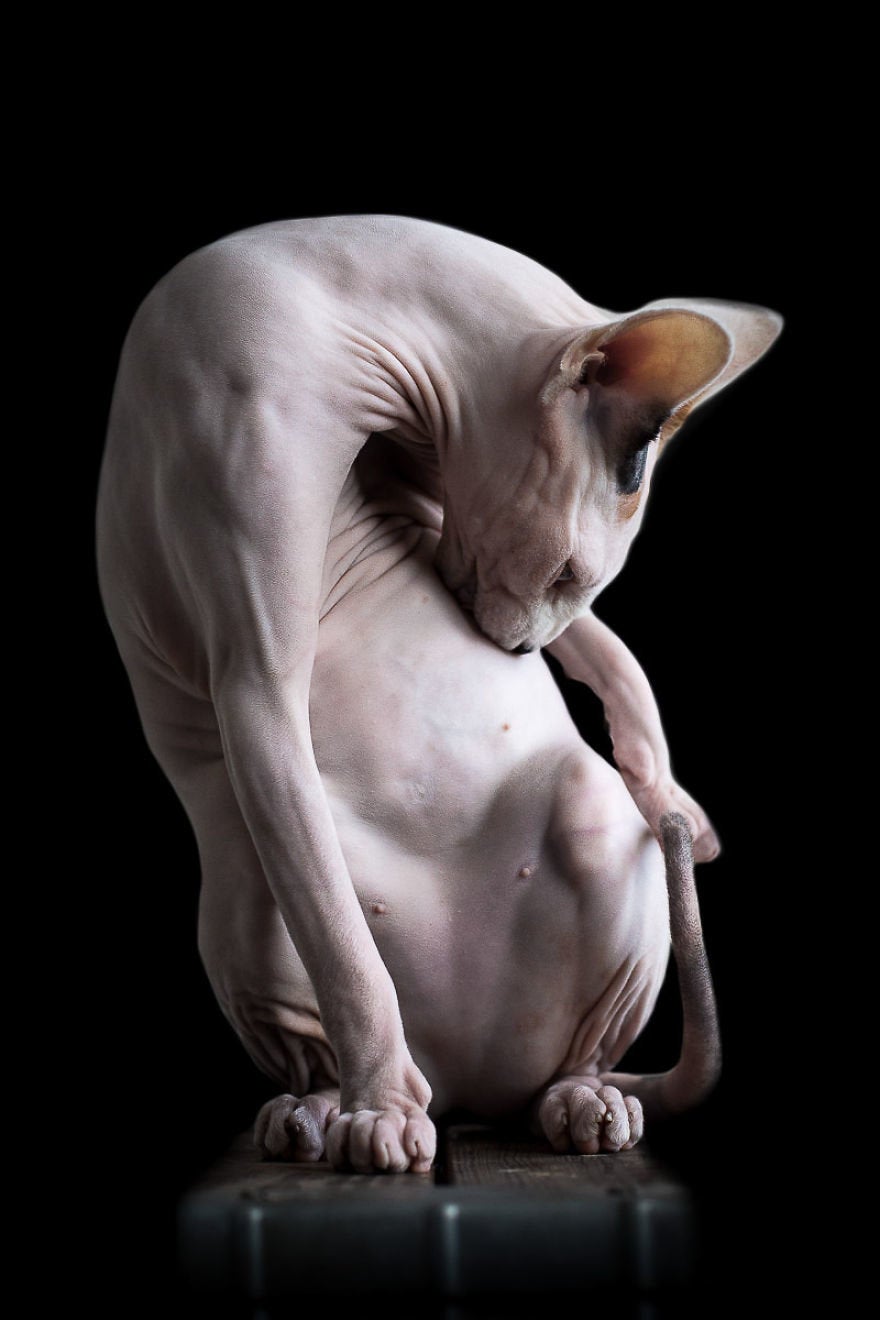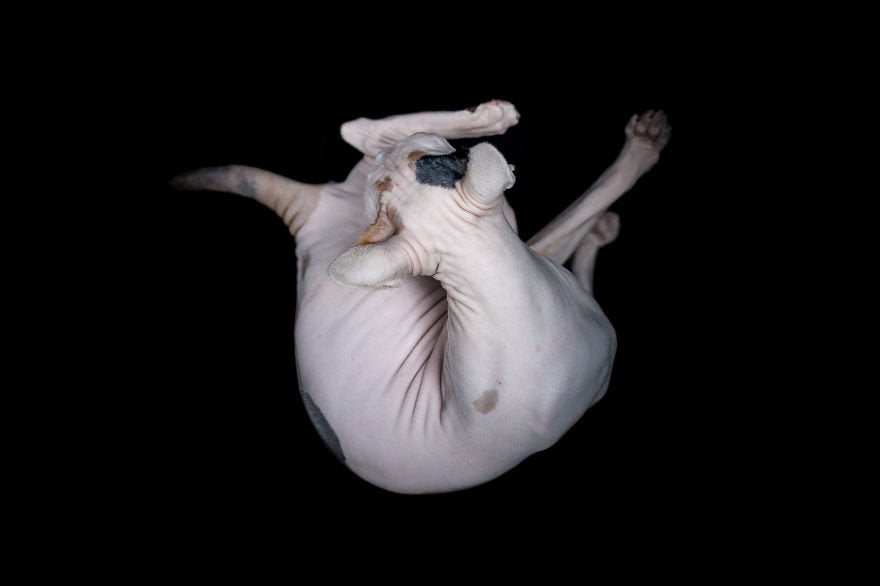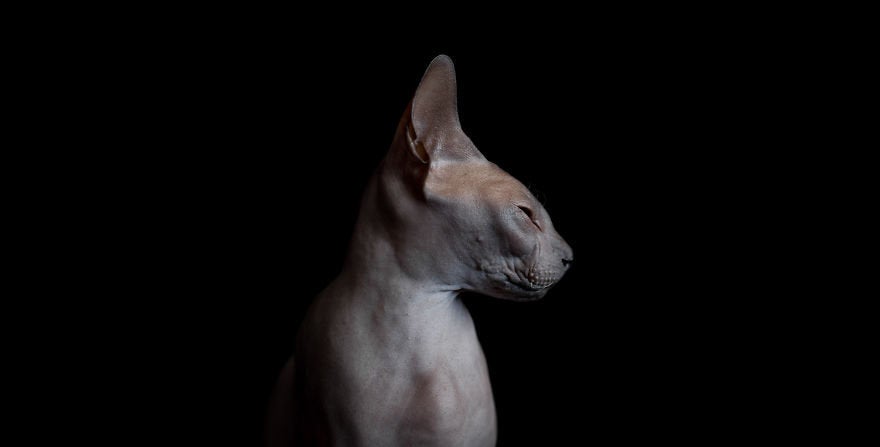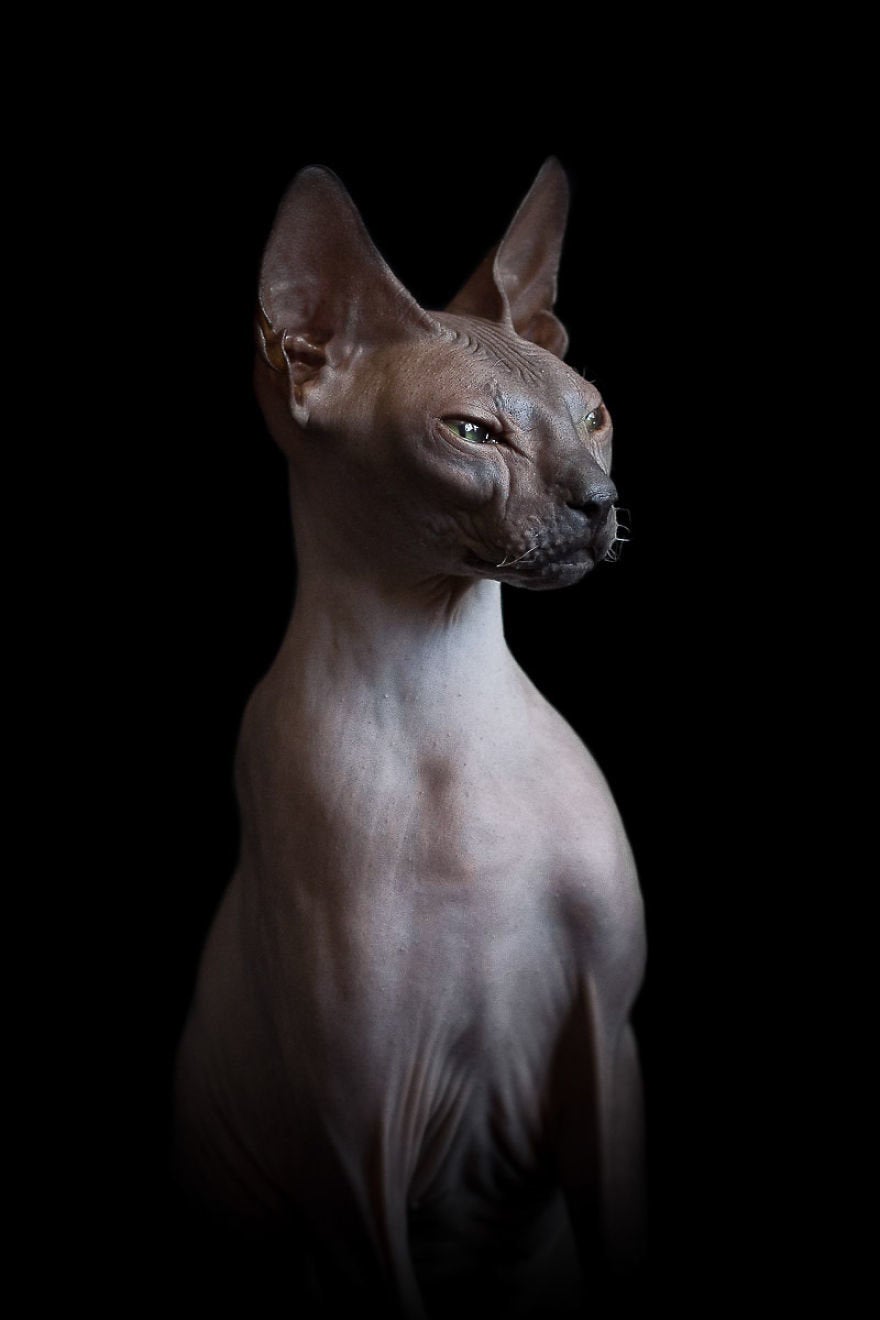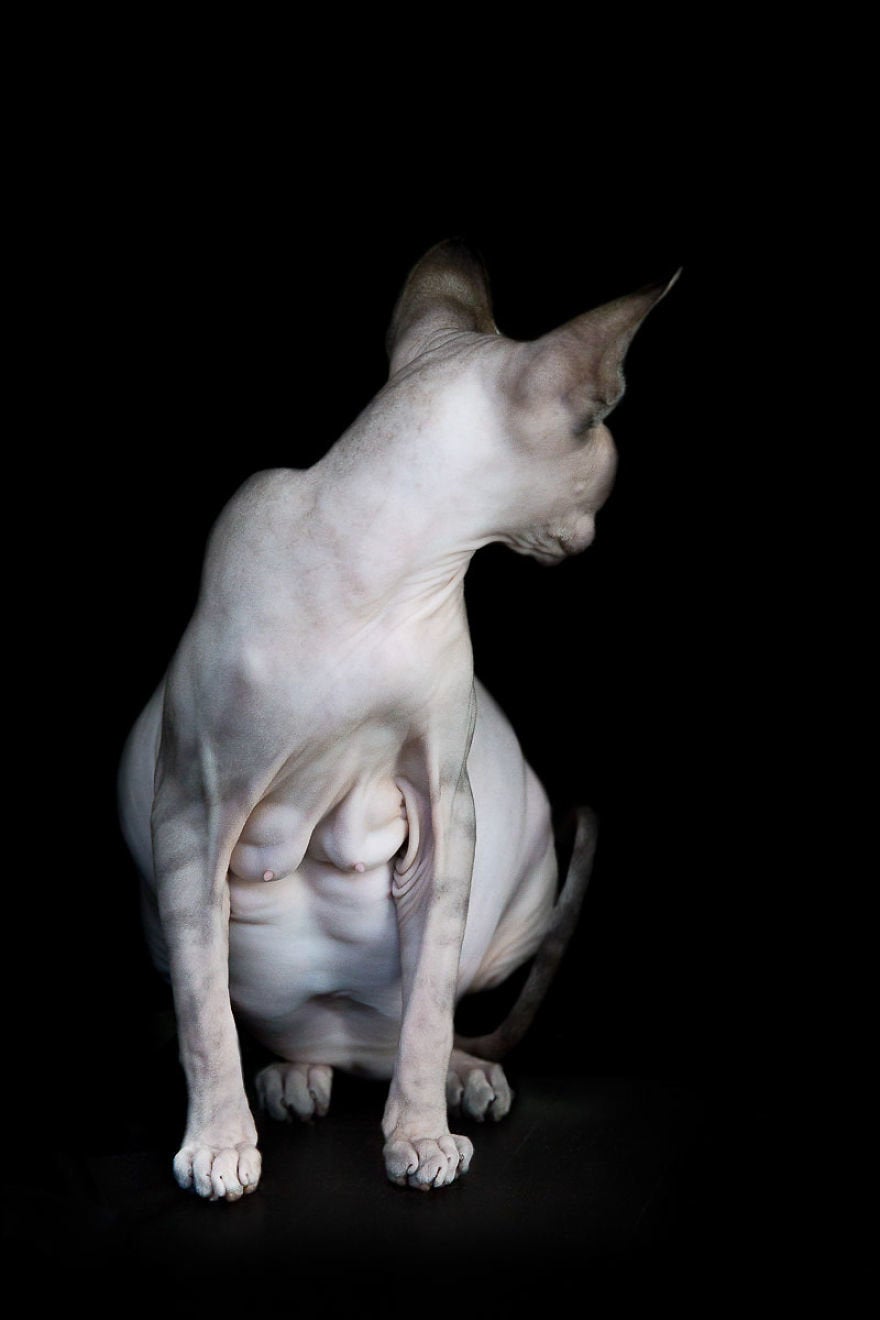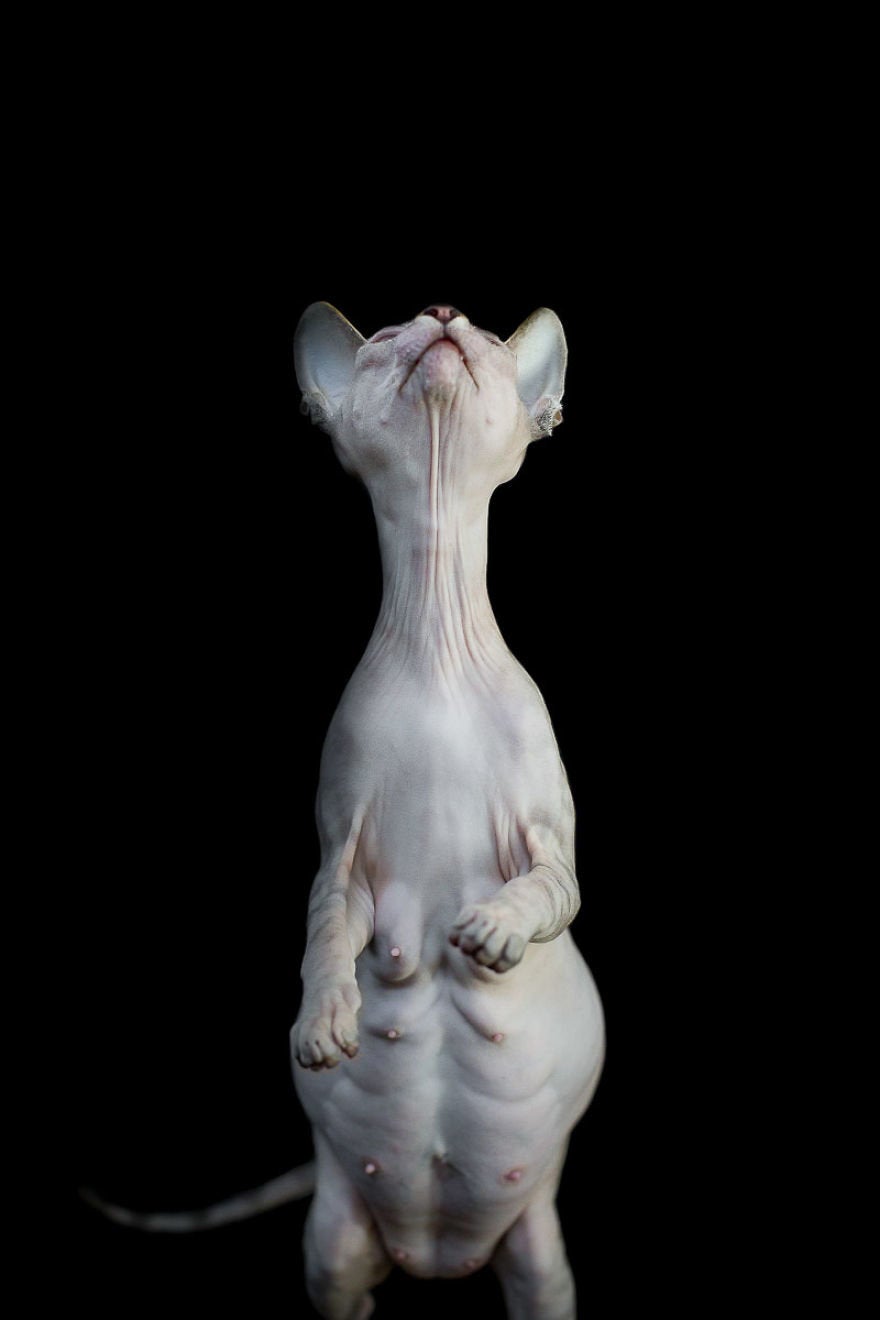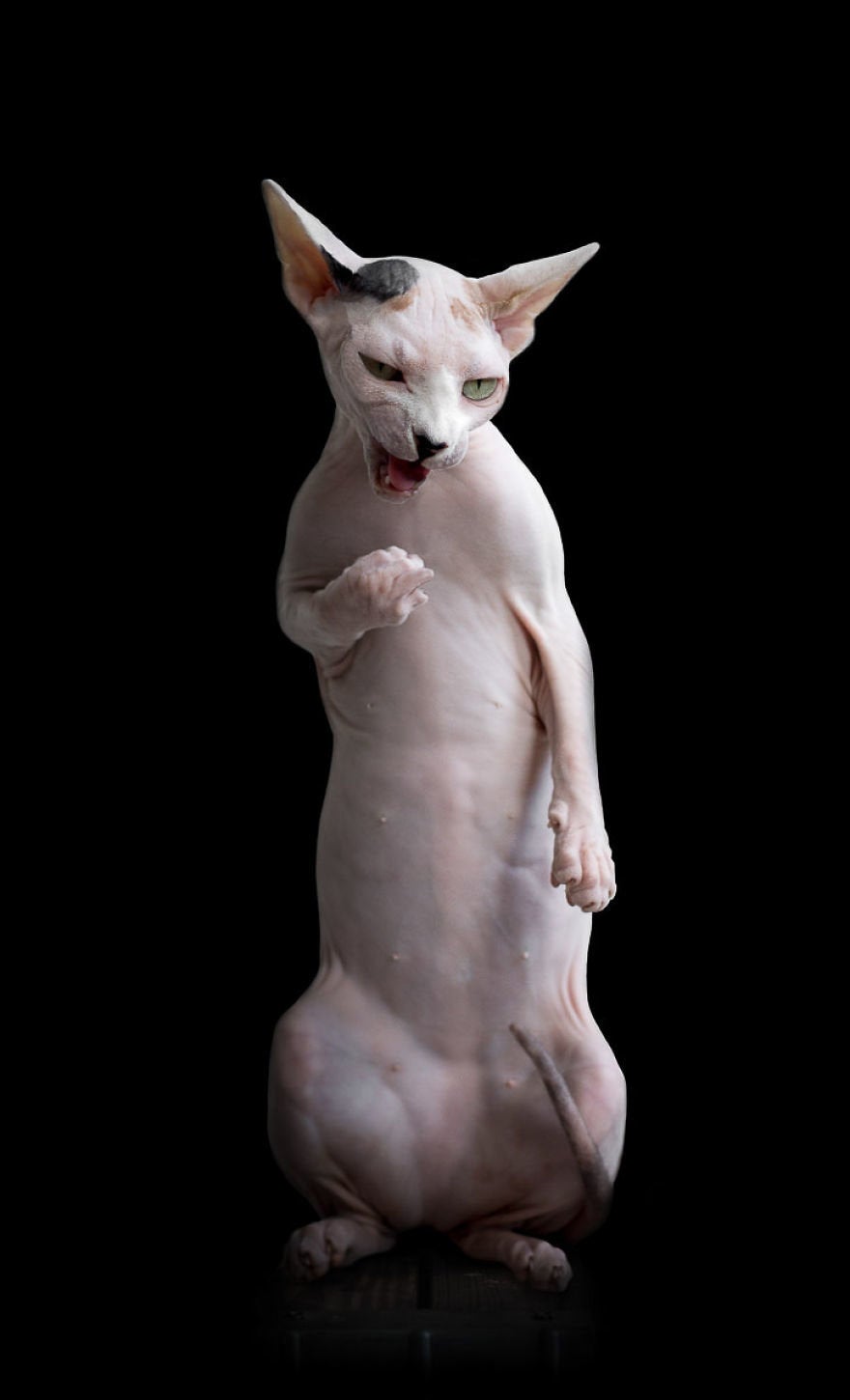 Related
Popular in the Community