We've gotta admit: we were a little shocked to see fashion designer Victoria Beckham back in her whole Spice Girls alter ego on Sunday night. After all, it's been about 15 years since the girl group's heyday, when Beckham and her cohorts first skyrocketed to international fame with their quirky style and devastatingly catchy pop hits.
Although early rumors suggested Victoria, 38, had refused to do the reunion, she must have relented, maybe after husband David did his role in a sexy speedboat. In a black Giles Deacon strapless mullet dress and sky-high Louboutins, Posh (does she even like to be called that anymore?) strutted her stuff as the group ran through a melee of hits, including "Wannabe" and "Spice Up Your Life." She didn't, however, chop her hair back into that short bob, instead keeping her long, wavy extensions. "I was a pop star for the night!!" she tweeted later.
Fashion-wise, the ladies stuck to their perennially bold and sexy look, but luckily, no one reprised the chunky shoes or skunk highlights. Mel B oozed sex appeal in a sparkly bodysuit, while Mel C and Emma Bunton opted for a monochromatic white pantsuit and pink dress, respectively. Geri Halliwell paid tribute to her famous Union Jack dress in an all-red look.
Although, we couldn't help but notice that Victoria seemed a little less enthused about the song and dance routine than her co-stars (see the GIF below). But it could have just been part of her shtick -- girl was never the smiley one.
Check out Beckham and the Girls' epic Olympics reunion below!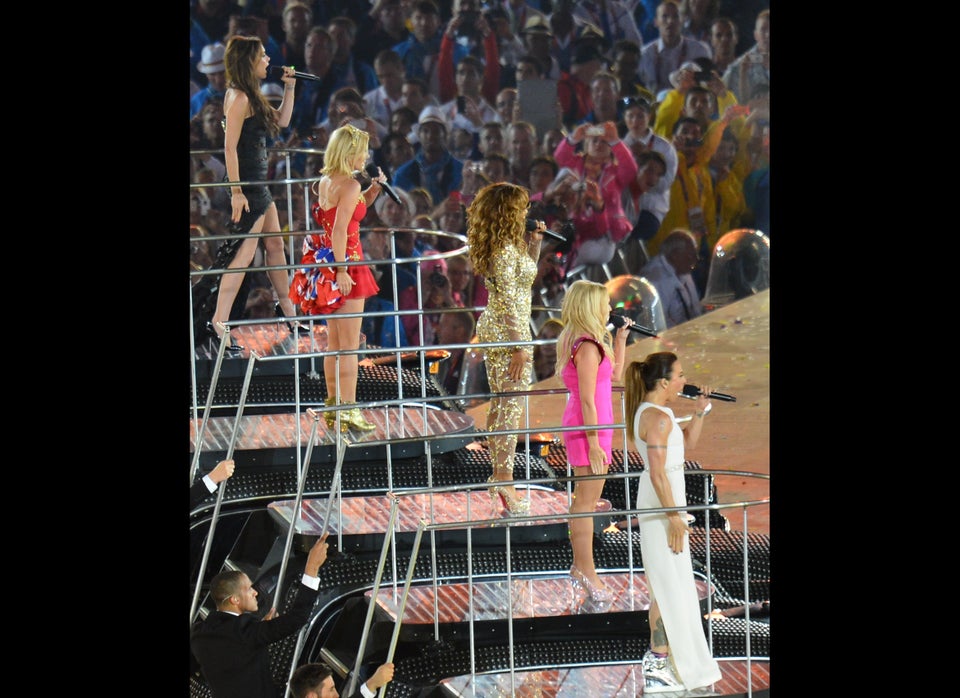 Spice Girls Perform At The Olympic Closing Ceremonies
Related