Say this with me... "We can make an Indian dish." We can do this. For real!
I know it sounds easy for me to say, because I'm Indian, but it's really not overly complicated. The recipe is fairly simple and straightforward and it MIGHT just require an extra trip to the grocery store to grab a few spices that you may not have on hand at home (BUT every grocery store will have it in their spice aisle, so don't fret). I mean, how scary can potatoes and green beans be?? You got this one in the bag!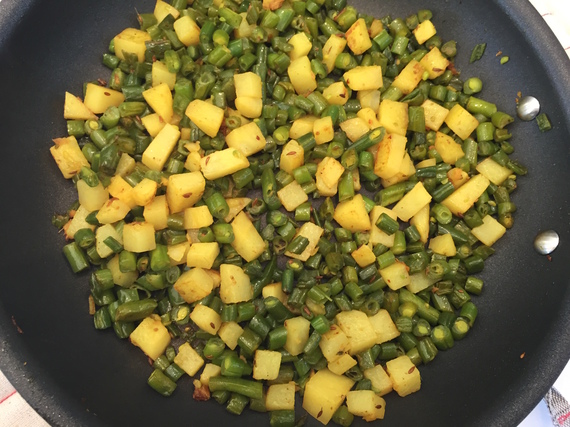 We love Indian food because it's full of flavor, spices, and vegetables. One of the number one complaints we get from other parents is that they can't get their kids to eat vegetables. Well, most Indian dishes ARE vegetables, so they are great to turn to when you think your kid has been lacking in the produce department. If I feel like my kids haven't been eating well (YES, this happens) and need a detox, I always make an Indian dish to help clean out their system and replenish them. Here's one of our go-to's.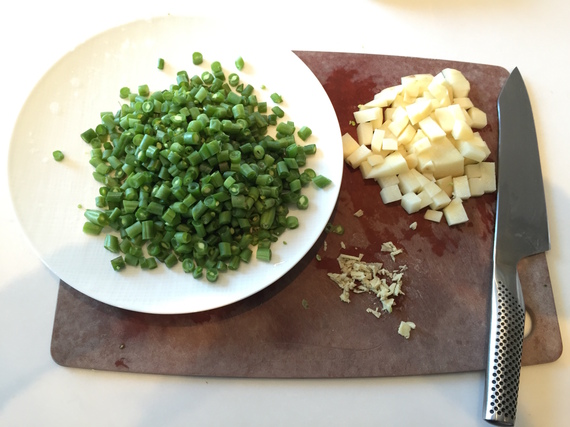 You should serve this vegetable dish with a side of brown rice and plain yogurt. Or you can serve it with some Indian breads like paratha or naan. No judgement if you want to buy the pre-made Indian breads at the grocery store, but here's SUPER EASY recipe on how to make paratha if you'd like.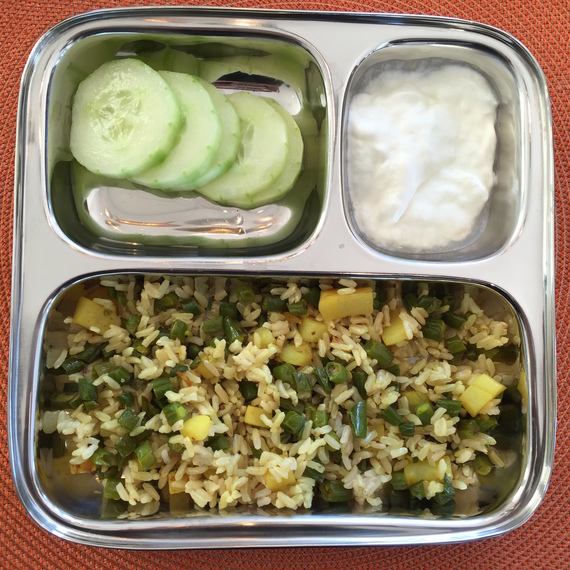 And mom, sorry... I totally adapted and simplified your original recipe that you taught me so long ago:)
Ingredients:
1/2 Cup Peeled and Diced Potato
1 1/2 Cup Chopped Green Beans
1/2 Tbsp Peeled Minced Ginger
1 Tbsp Coconut Oil (or Vegetable Oil)
1/2 Tsp Cumin Seeds
3/4 Tsp Ground Coriander
1 Tsp Ground Tumeric
Pinch Red Chili Powder (optional)
2 Tsp Salt
Method: ( Note steps 1-9 a kid can and should do!)
Wash all the veggies thoroughly
Peel, dice, and chop the vegetables (Use your judgement on how much your kid can help you with this). I often give my son a few green beans to do but don't have him do them all or it would take FOREVER.
Measure out vegetables, and all ingredients
Heat a large nonstick pan over medium heat and add oil
When oil starts to get warm (you can tell by hovering your hand over the pan and it starts to feel toasty) add in the cumin seeds. The cumin seeds should start to sizzle. You want them to roast, NOT burn, so keep an eye on them. After about 30 seconds you should smell the aroma of the roasted seeds.*
Add in the ground coriander, ground turmeric, and red chili powder and stir throughout the oil. You want these spices to roast and not burn - about 15-30 seconds.
Add ginger and stir all aromatics in pan (spices and ginger) until coated and ginger starts to sizzle.
Add green beans, potatoes, and salt and stir until everything is well coated.
Allow everything to cook uncovered, stirring every 2-3 minutes so they don't stick for about 10 minutes - the vegetables should start to brown slightly.
Turn stove to low and cover for about 7 minutes. This allows the vegetables to steam and soften a bit.
Taste and add salt if desired.
If the vegetables need to brown more, turn up heat and cook quickly over high heat, stirring consistently. If they are still too hard, cover again and turn stove to low, to steam and soften more.
*Only allow your child to help with steps 5-9 if you feel comfortable with them at the stove. For tips on inviting your kids to help you at the stove, read this.