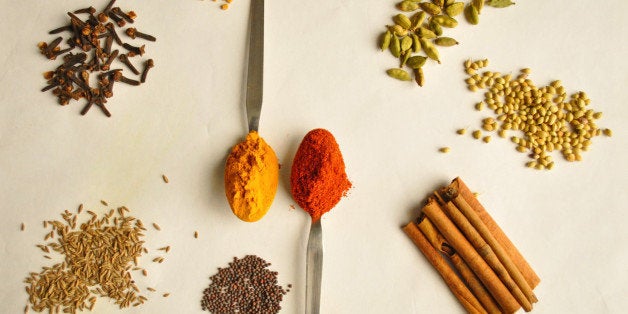 Teaching people how to cook with spices could help them get their sodium levels down, a small new study suggests.
Researchers from the University of California, San Diego and Johns Hopkins University found that sodium intake decreased more when people were taught how to use spices and herbs in their cooking, choose low-sodium foods at restaurants and monitor their diet, than when people were left to go it alone.
"Given the challenges of lowering salt in the American diet, we need a public health approach aimed at making it possible for consumers to adhere to an eating pattern with less salt," study researcher Cheryl A. M. Anderson, Ph.D., M.P.H., associate professor in the Department of Family and Preventive Medicine at the university, said in a statement. "This intervention using education and tasty alternatives to sodium could be one solution."
The study was funded by the McCormick Science Institute, which is a research organization that receives funding from the spice company McCormick & Company, Inc. However, McCormick Science Institute had no role in the data collection or analysis. The study was presented at a meeting of the American Heart Association; because the findings have yet to be published in a peer-reviewed journal, they should be considered preliminary.
Fifty-five overweight people with an average age of 61 participated in the first part of the study; most of the participants were African American, 63 percent had high blood pressure, and 18 percent had diabetes.
They first consumed a low-sodium diet -- for which researchers provided all foods and drinks -- for four weeks. During this part of the study, the participants decreased their sodium intake from an average of 3,450 milligrams per day to 1,656 milligrams per day.
Then, 40 of the participants from the first half of the study took part in the second half of the study. Twenty were assigned to a 20-week intervention where they received advice on replacing sodium in their diets with spices and herbs, watched cooking demonstrations and received dietary advice. They also received spices to use for their own cooking. The other 20 did not go through this intervention. Researchers wanted to see how well the participants were able to maintain low sodium consumption from the first part of the study to the second part of the study.
People in the intervention group "were encouraged to purchase fresh foods, and to cook at home using spices and herbs to flavor foods," Anderson told HuffPost. "Eating foods that taste good are important for adherence to healthful eating, and we encouraged them to share how they were modifying their recipes to remove sodium and flavor with herbs and spices."
Even though sodium consumption increased in both groups for the second part of the study, those who were in the intervention group consumed 966 fewer milligrams per day of sodium, on average, than the other group.
According to the current dietary guidelines, U.S. adults should consume 2,300 milligrams of sodium or less each day, with some groups being advised to consume 1,500 milligrams or less each day. Sodium consumption is linked with blood pressure, and high blood pressure is a known risk factor for heart disease and stroke.