We've always been obsessed with Mexican food -- tacos, enchiladas, huevos rancheros, the list goes on. Maybe it's the cheese, the excuse to slather guacamole over something, or just the combination of all of those yummy Latin flavors together, but if we were placing an order for our last meal, Mexican food is definitely high up the list.
Our new obsession are these Spicy Chicken Tostadas, topped with avocado crema -- remember, avocados are good for you! If you're not a cilantro fan, the crema is just as delicious with basil.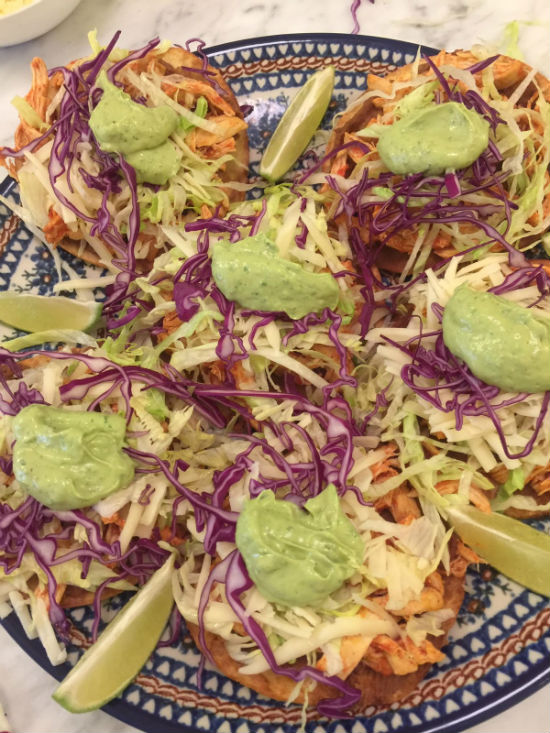 Spicy Chicken Tostadas with Avocado Crema
1 ripe avocado
1/4 cup sour cream
2 tablespoons chopped cilantro
2 tablespoons fresh lime juice
1/8 teaspoon sea salt
Place all of the ingredients in the bowl of a food processor and blend until smooth. Refrigerate until ready to use
3 large boneless skinless chicken breasts (about 1 3/4 pounds total)
2 cups low-sodium chicken stock
1/2 cup plus 2 tablespoons canola or vegetable oil
1/2 cup chopped onions
1 clove garlic, minced
1 cup tomato puree
1 finely chopped chipotle chili pepper (canned in adobo sauce), plus 1 tablespoon of the sauce
1/2 teaspoon sea salt
One 15-ounce can organic refried beans
6 corn tortillas
1/2 cup shredded iceberg lettuce
1/2 cup shredded cabbage
1 cup shredded Monterey Jack cheese
1 lime cut into wedges
Place the chicken breasts in a large skillet. Add the chicken stock and 2 cups water and bring to a boil. Lower the heat to medium and simmer partially covered for 25-30 minutes until the chicken is cooked through. Remove the chicken from the liquid and allow to cool. Shred the chicken with a fork or your hands and set aside.
Heat 1 tablespoon of oil in the same skillet over medium heat. When the oil is shimmering, add the onions and garlic. Cook until soft, about 5 minutes. Add the chicken, the tomato puree, the chipotle pepper with juice, and 1/2 teaspoon salt, and raise the heat to high. Sauté the chicken, stirring frequently until the sauce has evaporated, about 4 to 5 minutes. Remove from the heat.
Place 1 tablespoon of oil in another skillet. When the oil is shimmering, add the refried beans. Cook, stirring occasionally, until heated.
Line a large plate or baking sheet with paper towels.
Heat 1/2 cup of oil over medium heat in a saucepan large enough to hold a tortilla. When the oil is hot, fry the tortillas one at a time, turning once or twice with tongs until golden brown and crispy, about 1 1/2 minutes per tortilla.
Drain the tortillas on the paper towel lined plate or baking sheet.
To assemble the tostadas: Spread a layer of beans on each tortilla, spoon on a mound of the shredded chicken mixture, put the lettuce and cabbage on top, sprinkle with the shredded cheese, and finally, end with a generous dollop of the avocado crema on top. Serve with lime wedges.
The Pollan Family Table (Old Harvest Way, LLC)
REAL LIFE. REAL NEWS. REAL VOICES.
Help us tell more of the stories that matter from voices that too often remain unheard.