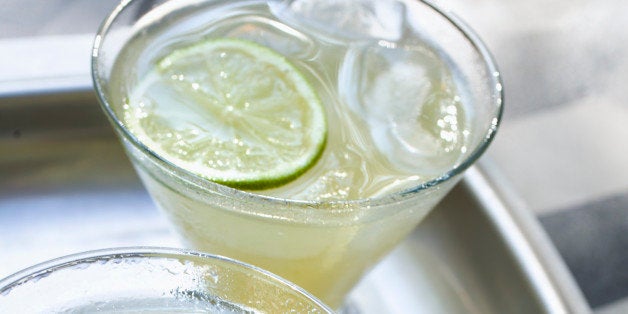 Have you been excited to find spicy jalapeno margaritas on all the menus at your favorite Mexican restaurants? If so, then you are definitely going to want to make these cocktails with a kick for yourself and your friends! The secret behind this bright and light cocktail is the jalapeno simple syrup and the freshly squeezed limes and lemons. No fake sour mix here!
If you have never made simple syrup before, what are you waiting for? Flavored simple syrups make cocktails magical. For this jalapeno margarita, you will need to make a jalapeno simple syrup. It's such a simple process, you will wonder why you've never done this before...
To make jalapeno simple syrup: Combine equal parts sugar and water. For this recipe, I combined a half cup sugar and a half cup water. Add one jalapeno, sliced. Whisk the sugar and water together and bring the heat up to medium or medium high. You will want your simple syrup to come to a boil so that the sugar is fully dissolved into the water. Turn the heat down and simmer for about 5 to 10 minutes. Set aside and let it cool.
To make your spicy jalapeno margaritas, you will need another jalapeno, one lemon, two limes, tequila, cognac, and ice.
Spicy Jalapeno Margaritas (Recipe)
3 ounces jalapeno simple syrup
8 ounces tequila
2 ounces cognac
2 limes, juiced
1 lemon, juiced
1 jalapeno, sliced
To make your spicy jalapeno margarita extra spicy, muddle a few slices of jalapeno in your cocktail shaker before adding the additional ingredients.
Combine the simple syrup, tequila, cognac, lime, and lemon in your cocktail shaker. Add ice. Shake until your hand is too cold to shake anymore! Pour over ice into three margarita glasses. Garnish with additional lemon or lime slices and jalapenos. Enjoy!