It's a sight that's not for the faint hearted.
Video shows a tiny spider crawling out of a woman's ear after she sought help for an extreme headache in southern India, according to SWNS TV, which uploaded to the footage to YouTube Friday.
The creepy crawly was revealed during an inspection at Columbia Asia Hospital in Hebbal, the news service reports.
The woman, identified only as Lekshmi L by local media, said she was taking a nap on her veranda in Karnataka when she woke up with an overwhelming pain in her head and a tingling sensation in her ear.
Her husband drove her to hospital, The Indian Express reports. Doctors looked inside her ear and confirmed a spider had made itself at home there.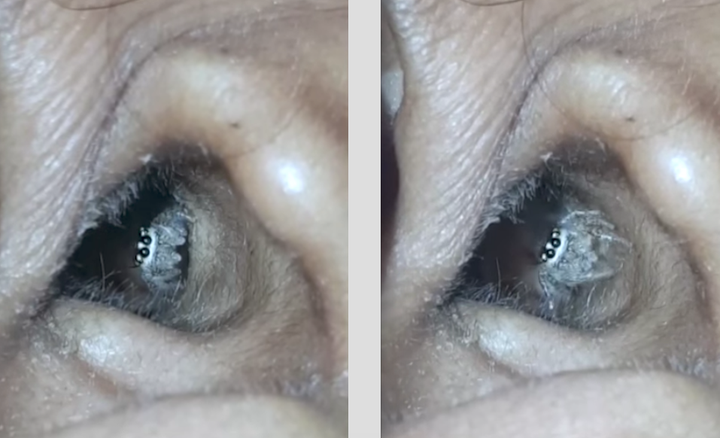 "I was terrified as I could feel the movement of a creature in my ear," the woman said, according to The Sun. "I couldn't think of anything and was petrified when the doctor confirmed the presence of a spider in my ear."
Dr. Santosh Shivaswamy at Columbia Asia Hospital stressed that it's one thing to remove a foreign object from an ear canal and another to remove a living creature ― especially when the patient knows exactly what it is.
"When a living [creature] makes its way inside a human ear, the patient's anxiety makes it difficult to continue the procedure," she said, according to The Mirror.
Fortunately, the eight-legged squatter calmly left her ear on its own, as the video shows.
In other instances, the victim wasn't as lucky.
In 2015, a spider was found weaving a web inside of a woman's ear cavity in China. When doctors tried to remove it, the arachnid responded aggressively, causing her even more pain.
The pain the creature caused her was described as "a full-body shock from my toes to my temples," she wrote. "With every stab I saw a flash of light."
CORRECTION: An earlier version of this article described the spider as an insect.
Support HuffPost
The Stakes Have Never Been Higher
Popular in the Community