Mealbreaker (n.): a nasty, non-edible surprise found in food while it is being eaten; often lawsuit-provoking, sometimes fabricated, always disgusting.
Florida resident Victoria Harrah claims she got quite a shock recently when a piece of beef ravioli from a can of Chef Boyardee contained an unwelcome additive: a large spider.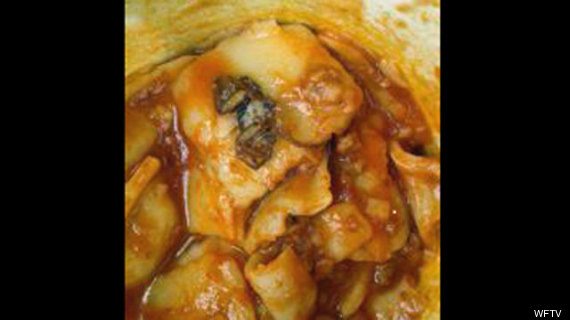 Photo used with permission from WFTV
Harrah told WFTV how it happened: "I took my ravioli, dunked it in the sauce and all of a sudden, when I bit into it, it was crunchy," she said. "Once I spit it out, I saw the legs," said Harrah. "Once I saw the legs, I started screaming, throwing up..."
The Sun Sentinel reports that this isn't Harrah's first encounter with a spider. She was bitten by a brown recluse 20 years ago, and still has visible scars on her back from pus sacs that were removed in the aftermath.
Harrah revealed that although Chef Boyardee's parent company, ConAgra Foods, was apologetic, representatives told her that the incident may have been imagined. Previous reports of insects in the product, they told her, may instead be pieces of meat that had not been ground completely.
"They were apologetic but they told me it was a figment of my imagination," Harrah explained. "I know what a spider is and this thing was baked into the noodle. I know for a fact it came from the can."
ConAgra nonetheless sent a representative to the state to pick up the can, but Harrah instead called the U.S. Department of Agriculture. Officials told her to put the can in the freezer for inspectors to examine, and it remains there now.
Harrah had eaten the product for the last 30 years, but now swears she'll never buy it again.
Chef Boyardee historians might note that the product's only previous association with spiders was a mid-nineties tie-in with the Spider-Man comic book franchise. Boyardee created a pasta with "webbed out Spider-Man shapes" pitched with the tagline, "So hot, it's practically radioactive."
Spiders are just the start of things people find -- or claim to find -- in their food. Check out our previous Mealbreakers below:
Calling all HuffPost superfans!
Sign up for membership to become a founding member and help shape HuffPost's next chapter
BEFORE YOU GO
PHOTO GALLERY
Mealbreakers