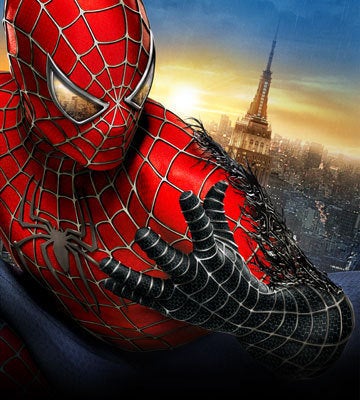 (UPDATED) Big news for Spider-Man fans!
'Spider-Man 4' with Sam Raimi directing and Tobey Maguire starring is off. Rather than releasing in 2011, an all-new 'Spider-Man' with a new director, new cast and new script will come out in 2012.
Raimi told Sony, reports Nikki Finke, that he couldn't turn around a quality movie by the May 2011 release, and instead the whole franchise will start anew with Peter Parker back in high school.
Maguire and Raimi both released statements:
"I am so proud of what we accomplished with the 'Spider-Man' franchise over the last decade," Maguire said in a statement Monday. "Beyond the films themselves, I have formed some deep and lasting friendships. I am excited to see the next chapter unfold in this incredible story."

"Working on the 'Spider-Man' movies was the experience of a lifetime for me," Raimi, who directed all three "Spider-Man" films, also said in a statement Monday. "While we were looking forward to doing a fourth one together, the studio and Marvel have a unique opportunity to take the franchise in a new direction, and I know they will do a terrific job."

Meanwhile the plagued $50 million Broadway musical 'Spider-Man' has been pushed back until this fall. The Bono-scored mega musical, the most expensive Broadway musical in history, has had financing problems and will open in November instead of March.
Julie Taymor, who directed 'The Lion King,' is staging the production.
Some financing issues were sorted with Disney cash when the company bought Marvel.
Popular in the Community