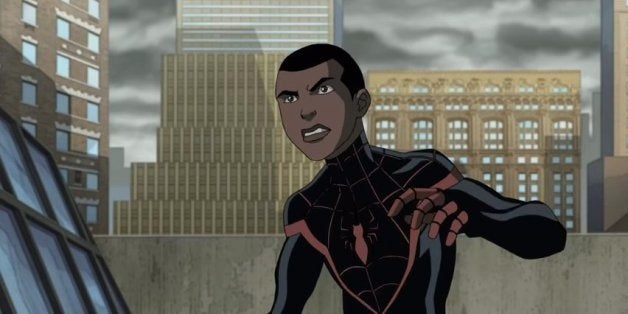 When Marvel's relaunched Spider-Man comic series comes out this fall, a new face will be behind the spidey mask.
The new series, written by Brian Michael Bendis and drawn by artist Sara Pichelli, will relaunch with Miles Morales, a half-black, half-Latino teenager, as Spider-Man, according to the New York Daily News. Morales has appeared as a version of Spider-Man in Marvel's offshoot Ultimate Spider-Man series since 2011, which is separate from Marvel's larger Spider-Man universe where Peter Parker is behind the mask. When the limited comic series Secret Wars ends this summer, however, Morales will re-emerge as the official Spider-Man on the page.
Bendis, the writer and co-creator of the new Spider-Man comics wants fans to know that Morales will indeed be the main superhero and no longer an alternate version of the web-slinger. "Our message has to be it's not Spider-Man with an asterisk," Bendis told the Daily News, "it's the real Spider-Man for kids of color, for adults of color and everybody else."
This Marvel announcement comes just days after a leaked legal licensing agreement between Sony Pictures Entertainment and Marvel Entertainment was released by Wikileaks. The document describes that one of the "core elements" of Spider-Man is that "he is a heterosexual Caucasian male." According to Variety, the contract, which went into effect in Sept. 2011, also includes "Mandatory Spider-Man Character Traits." One states that the character is "not a homosexual (unless Marvel has portrayed that alter ego as a homosexual)."
Marvel and Sony declined to comment.
While Morales may not replace Peter Parker on the big screen any time soon, he has portrayed Spider-Man on the small screen. Donald Glover voiced Morales in two episodes of Disney XD's series "Marvel's Ultimate Spider-Man: Web Warriors."
Popular in the Community